Joni Mitchell First Four LP Box June 25th From Rhino Celebrates Blue 's 50th Anniversary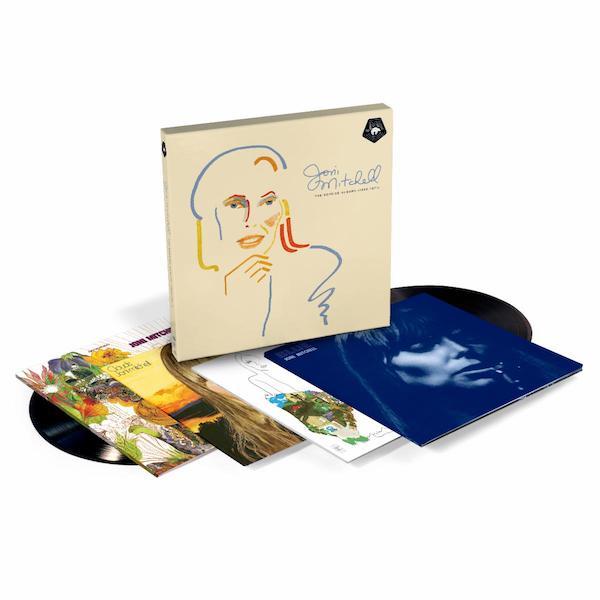 Rhino releases on June 25th a box set containing re-mastered versions of Joni Mitchell's first four Reprise albums (1968-71). The date is the 3 days after the 50th anniversary of the original release of
Blue
, which many fans consider a pivotal album in her recording career and one of the most thoughtful musical expressions of love lost ever. It was also her final Reprise release.
Blue
, like albums by Nick Drake and a few others from that era continue to be rediscovered by succeeding generations of fans and musicians alike.
Mitchell and mixing engineer Matt Lee re-mixed Song to a Seagull. "The original mix was atrocious," says Mitchell. "It sounded like it was recorded under a jello bowl, so I fixed it!" Even original producer David Crosby would surely agree.
While the Song to a Seagull was remixed to 192/24 digital and that LP was cut from the high resolution file, the other three, Clouds, Ladies of the Canyon, and Blue were cut from the original analog master tapes. Bernie Grundman mastered both the CDs and the LPs. Both RTI and Optimal are pressing the LPs for different global regions.
Both the CD box ($49.98) and the 4-LP 180gram box ($109.98) will be available June 25th limited to 10,000 copies each. The remasters will also be available digitally on streaming services. The box cover features an unseen self-portrait Mitchell created during that time. The set includes an essay by Brandi Carlisle.
Fans who pre-order either version from Joni Mitchell's website will receive an exclusive limited edition 7"x7" print of the box cover art. At the website, launched today, you can also find "tsotchkes" including apparel and home goods. I went there and was unable to find "a case of you".
<!- ------------------------------------>