Kinks Arthur.... 50th Anniversary Box Set Drops October 25th on BMG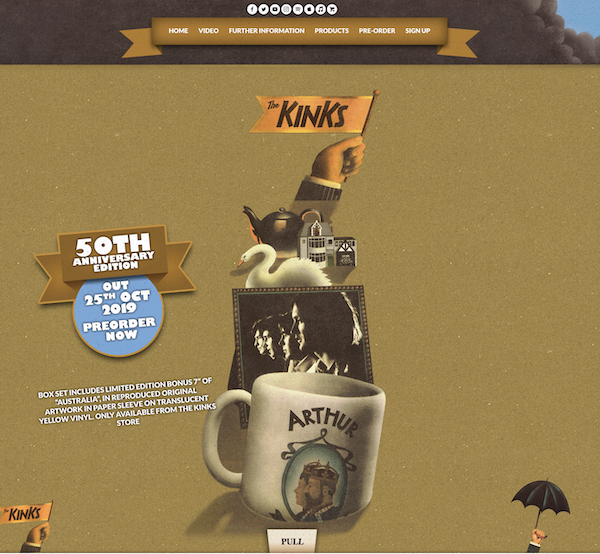 One of the greatest of all Kinks albums—and a concept album about emigrating from the England to Australia that still resonates,
Arthur Or The Decline And Fall of The British Empire
gets the limited edition 50th anniversary box set treatment and it seems as if, like the album itself there's no filler, though for those who are interested in the album but not all of the extras, those too are available.
The set includes 4 CDs (whatever those are) containing the remastered mono and stereo album, singles B-sides, alternative track versions, new Doo Wop choir recordings (where's She-Na-Na when you need them), Ray Davies remixes and demos medley, theatrical and BBC tracks, and most significantly the "Lost" Dave Davies album. A total of 81 tracks including 5 previously unreleased and 28 unreleased versions.
Also in the box: 4 7" singles, a 68 page deluxe book with essays, new band interviews and rare images. Also, posters and photos and a Kinks metal pin badge you are dared to wear to family events next holiday season (my dare, not Ray's).
There will also be 2 LP and 2 CD sets plus "digital". The LP sources used are not given but chances are it will be cut from high resolution digital masters by who knows whom, and pressed at who knows where, so hold on to those blue Pye label U.K. originals that sound sooooo great!
The vinyl offering is available in various iterations: a 2 LP set, a 2LP and 2CD set and a 2LP one CD set—and all are available now for pre-order thorough the Kinks store.
Not available through The Kinks store and only obtainable here is this photo of Ray Davies thumbing through a copy of The Tracking Angle magazine. This was from back in 2005 when Velvel released The Kinks' RCA era albums on SACD. You can read the interview with Ray here.
<!- ------------------------------------>