The Kinks Will Serve Up Muswell Hillbillies and Everybody's In Show-Biz - Everybody's A Star in a Deluxe 6LP Box Set Via BMG on September 9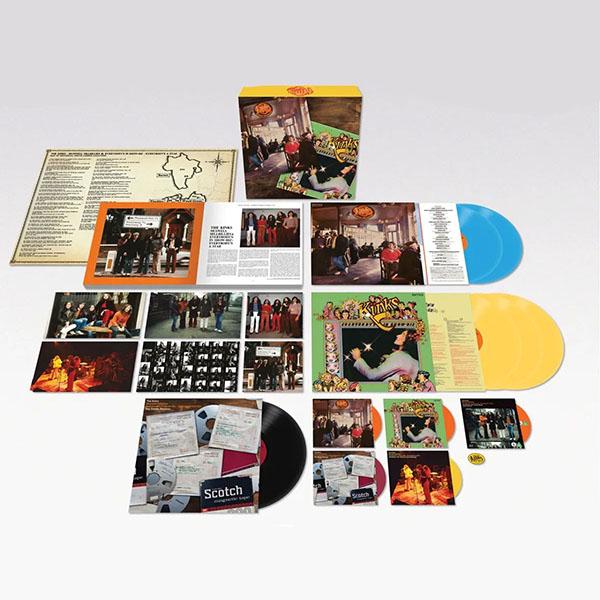 Celluloid heroes never really die, and neither do The Kinks. To wit: The Kinks will be releasing Muswell Hillbillies / Everybody's In Show-Biz - Everybody's A Star in a deluxe box set configuration that combines deluxe LP reissues of these two classic early-1970s Kinks albums in addition to an all-new Ray Davies remix LP on September 9, 2022, via BMG.
The collection is matte-laminated with spot-gloss in a rigid-card deluxe box that contains 6LPs (five of them on color vinyl — blue for the two Muswell LPs, yellow for the three Show-Biz LPs), as well as 4CDs, 1BD, a 52-page book, printed band photos, a Muswell map, and a badge. Separate, individual versions of Muswell Hillbillies and Everybody's In Show-Biz - Everybody's A Star will also be made available on black vinyl, if you don't wanna spring for the big box. Muswell will come in its own 1LP gatefold edition, while Show-Biz will be in a 2LP gatefold edition (see pricing below).
The label confirms with me directly that the five color LPs in the big box set are 140g, while the 6th black-vinyl LP containing 11 new 2022 Ray Davies remixes is 180g. (The full track listening of said remixes can be found in the sidebreak section that follows the main story.) The vinyl was pressed by GZ in the Czech Republic. Kevin Gray at Cohearant Audio in Los Angeles cut the Everybody's In Show-Biz LPs and the first disc of Muswell Hillbillies, while Tony Cousins at Metropolis in London cut the second Muswell Hillbillies disc and the Remixes LP. Muswell is the 2014 gatefold deluxe 2LP remastered from then newly discovered Ray Davies original master tapes, while Show-Biz is the 2016 gatefold deluxe 3LP, also remastered from the original master tapes.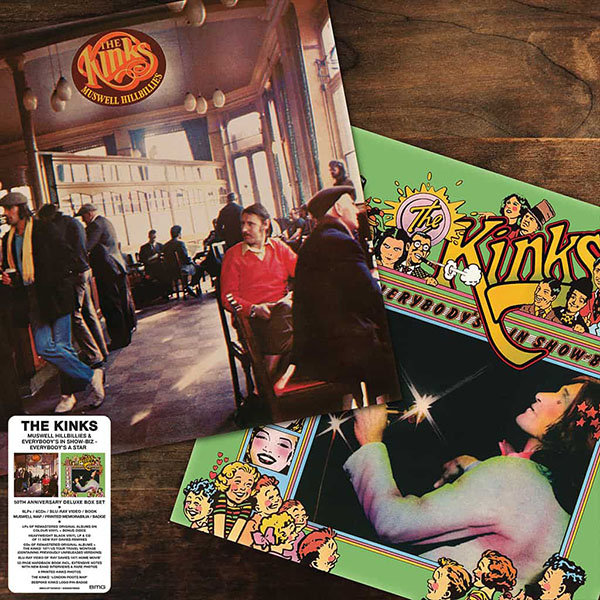 While the big box generally lists for $199.99, you can preorder it here from The Kinks Official Store for $174.98. If you indeed purchase the box through the official Kinks store, a free 7-inch 1972 RCA Spanish promo single for "Supersonic Rocket Ship" b/w "20th Century Man," in a replicated picture sleeve on black vinyl, will also be included — "while supplies last," as the traditional nomenclature goes. Meanwhile the 1LP Muswell runs for $29.98, and the 2LP Show-Biz goes for $35.98. (And if you look closely at the actual LPs in the pics that follow below, you'll note they mirror the orange RCA labels of yore, albeit with BMG taking the place where the RCA name used to appear on them.)
To get your Kinks juices a-flowing, check out the previously unreleased version of "Celluloid Heroes (US Single Version 2022 Edit)" below. Ray Davies composed this classic Kinks track, reflecting on everyday folk aspiring to be Hollywood stars. The song namechecks several famous actors of 20th century film legend, including Greta Garbo, Rudolph Valentino, Bela Lugosi, Bette Davis, and Marilyn Monroe. The track also mentions L.A.'s Hollywood Boulevard, alluding to its Walk of Fame.
The facts about the origins of these two seminal Kinks albums are these. In 1971, The Kinks embarked on a new phase of their career by signing with RCA Records. Freed from their old label Pye's insistence on concocting hit singles, Ray Davies' songwriting accelerated the band's move towards a new identity as makers of thematically ambitious, tenderly personal albums, building on preceding cult successes such as November 1968's The Kinks Are The Village Green Preservation Society. Buoyed by the decade-opening success of June 1970's "Lola" — which topped the charts in numerous European countries, hit the Top 10 in both the U.S. and the UK, and has since become an anthem for the ensuing generations that have followed it — this most English of bands also firmly turned their sights towards the States, where their ever-energetic live shows were reciprocally building a fervent new American fanbase.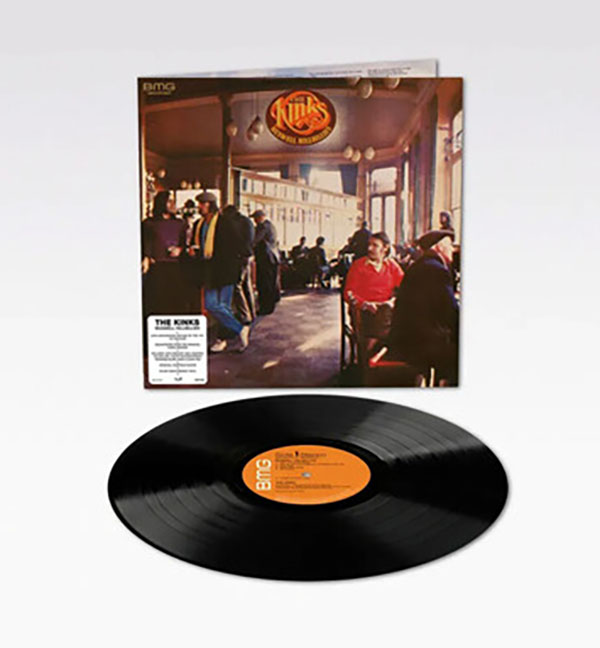 The first offering of The Kinks' RCA era, November 1971's Muswell Hillbillies, conversely looked back on brothers Ray and Dave Davies' London roots, telling tales of working-class families migrating from the war-torn and redevelopment-ravaged inner city to the strange, leafy suburbs of North London.
"Now with a new record company and a new image, I could bring some of the old wild western spirit into my music," recalls Ray Davies. "These albums capture the re-emergence of The Kinks as a touring band." Dave Davies adds, "Muswell Hillbillies is one of my favorite Kinks albums. It's a bit of a backstory to the Davies family and the characters involved."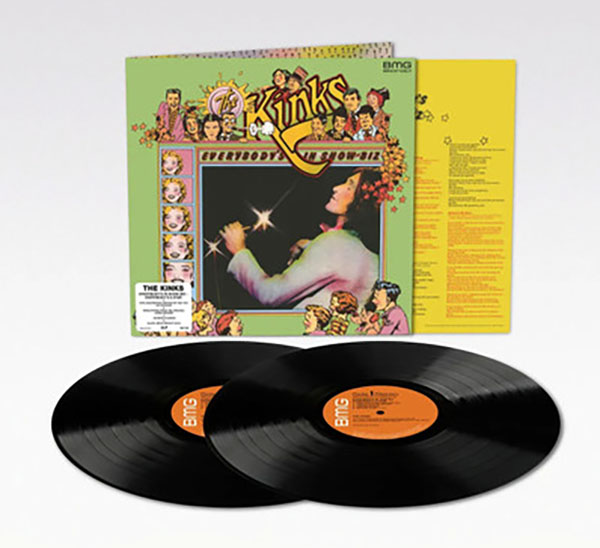 The release of Muswell Hillbillies was supported by more U.S. touring, including two nights at New York's iconic Carnegie Hall on March 2-3, 1972. Tapes of those particularly galvanizing shows — shows that leaned heavily on Muswell material — formed the live half of August 1972's double album, Everybody's In Show-Biz - Everybody's A Star. That album's studio sides explored The Kinks' long months on the American road with wistful humor. Side 2's epic finale, the aforementioned "Celluloid Heroes," confirmed the band's new world order. Among the elite cream of Kinks songs, "Celluloid Heroes" saw Ray use Hollywood as a prism through which to view ordinary Americans' bittersweet dreams.
Here are some more details about what else resides in the big box in addition to the 6LPs. The CDs containing the original Muswell Hillbillies and Everybody's In Show-Biz remastered albums are nestled in gatefold wallets, and they include their original artwork. The CD containing the 11 new, previously unreleased Ray Davies track remixes and the travel montage is also nestled in a gatefold wallet, albeit with new artwork.
The Blu-ray contains a previously unseen, digitally restored Ray Davies 1971 home movie as narrated by Ray, and it runs 15 minutes long. The 52-page hardback is printed on gloss art paper, and includes extensive text with new band interview quotes, rare and unseen photos, and related memorabilia.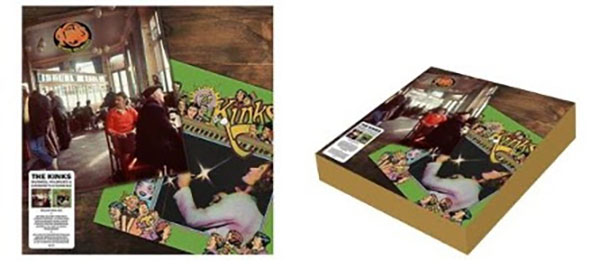 The Kinks' "London Roots" map is A2 size and on uncoated sepia paper stock, and it highlights the band's north London roots with key historical Kinks-related locations, as chosen by the band. Other included memorabilia are six glossy Kinks photos from 1971-1972, and a bespoke, metal and enamel, yellow and black Kinks RCA-era-logo heavy pin-clasp badge. 'Round back of the box, a 12-inch color paper onsert displays and delineates all the inner contents.
Finally, the full 6LP sidebreak delineations are listed below. Chime in about your own Kinks-related early-'70s vinyl proclivities — and/or all Kinks-era vinyl, if you like — in the Comments section below.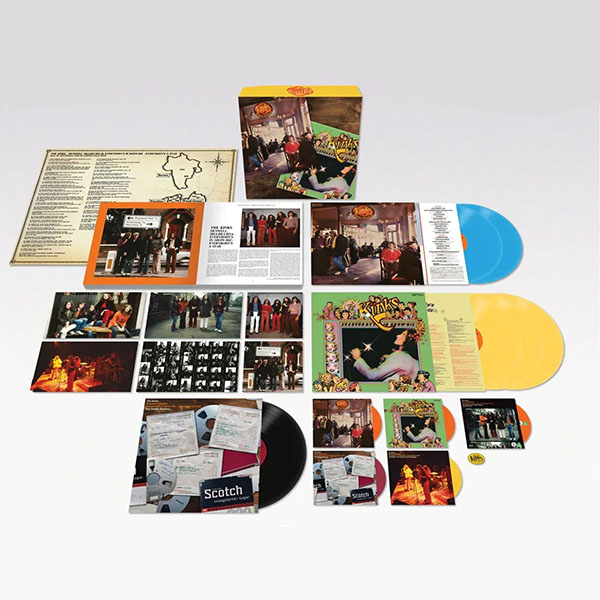 THE KINKS
MUSWELL HILLBILLIES /
EVERYBODY'S IN SHOW-BIZ - EVERYBODY'S A STAR
140g/180g 6LP box set (BMG)
Note: box set also includes 4CDs & 1BD
MUSWELL HILLBILLIES
LP 1 - SIDE 1
1. 20th Century Man
2. Acute Schizophrenia Paranoia Blues
3. Holiday
4. Skin and Bone
5. Alcohol
6. Complicated Life
LP 1 - SIDE 2
1. Here Come the People in Grey
2. Have a Cuppa Tea
3. Holloway Jail
4. Oklahoma USA
5. Uncle Son
6. Muswell Hillbilly
LP 2 - SIDE 1
1. Lavender Lane
2. Mountain Woman
3. Have a Cuppa Tea (Alternate Version)
4. Uncle Son (Alternate Version)
5. Kentucky Moon
6. Nobody's Fool (Demo)
LP 2 - SIDE 2
1. Acute Schizophrenia Paranoia Blues (BBC Peel Session)
2. Holiday (BBC Peel Session)
3. Skin and Bone (BBC Peel Session)
4. 20th Century Man (Alternate Instrumental Take)
5. Queenie (Backing Track)
6. Muswell Hillbillies (Radio Spot)
EVERYBODY'S IN SHOW-BIZ - EVERYBODY'S A STAR
LP 3 - SIDE 1
1. Here Comes Yet Another Day
2. Maximum Consumption
3. Unreal Reality
4. Hot Potatoes
5. Sitting in My Hotel
LP 3 - SIDE 2
1. Motorway
2. You Don't Know My Name
3. Supersonic Rocket Ship
4. Look a Little on the Sunny Side
5. Celluloid Heroes
LP 4 - SIDE 1
1. Top of the Pops (Live at Carnegie Hall, New York, 3rd March 1972)
2. Brainwashed (Live at Carnegie Hall, New York, 3rd March 1972)
3. Mr. Wonderful (Live at Carnegie Hall, New York, 3rd March 1972)
4. Acute Schizophrenia Paranoia Blues (Live at Carnegie Hall, New York, 3rd March 1972)
5. Holiday (Live at Carnegie Hall, New York, 3rd March 1972)
LP 4 - SIDE 2
1. Muswell Hillbilly (Live at Carnegie Hall, New York, 3rd March 1972)
2. Alcohol (Live at Carnegie Hall, New York, 3rd March 1972)
3. Banana Boat Song (Live at Carnegie Hall, New York, 3rd March 1972)
4. Skin and Bone (Live at Carnegie Hall, New York, 3rd March 1972)
5. Baby Face (Live at Carnegie Hall, New York, 3rd March 1972)
6. Lola (Live at Carnegie Hall, New York, 3rd March 1972)
LP 5 - SIDE 1
1. Till the End of the Day (Live at Carnegie Hall, New York, 2 March 1972)
2. You're Looking Fine (Live at Carnegie Hall, New York, 2 March 1972)
3. Get Back in Line (Live at Carnegie Hall, New York, 3 March 1972)
4. Have a Cuppa Tea (Live at Carnegie Hall, New York, 2 March 1972)
5. Sunny Afternoon (Live at Carnegie Hall, New York, 2 March 1972)
LP 5 - SIDE 2
1. Complicated Life (Live at Carnegie Hall, New York, 2 March 1972)
2. Long Tall Shorty (Live at Carnegie Hall, New York, 3 March 1972)
3. History (Studio Outtake)
4. Supersonic Rocket Ship (Alternate Mix)
RAY DAVIES 2022 REMIXES LP
LP 6 - SIDE 1
1. Have a Cuppa Tea (Ray Davies 2022 remix)
2. 20th Century Man (Live at Carnegie Hall, New York, 3rd March 1972) (Ray Davies 2022 remix)
3. Motorway (Ray Davies 2022 remix)
4. Alcohol (Ray Davies 2022 remix)
5. Acute Schizophrenia Paranoia Blues (Live at Carnegie Hall, New York, 3rd March 1972) (Ray Davies 2022 remix)
LP 6 - SIDE 2
1. Supersonic Rocket Ship (Ray Davies 2022 remix)
2. Here Come the People in Grey (Ray Davies 2022 remix)
3. Here Comes Yet Another Day (Ray Davies 2022 remix)
4. Holloway Jail (Ray Davies 2022 remix)
5. Sitting in My Hotel (Ray Davies 2022 remix)
6. Oklahoma USA (Ray Davies 2022 remix)
<!- ------------------------------------>