Legendary Mastering Engineer Doug Sax Has Passed Away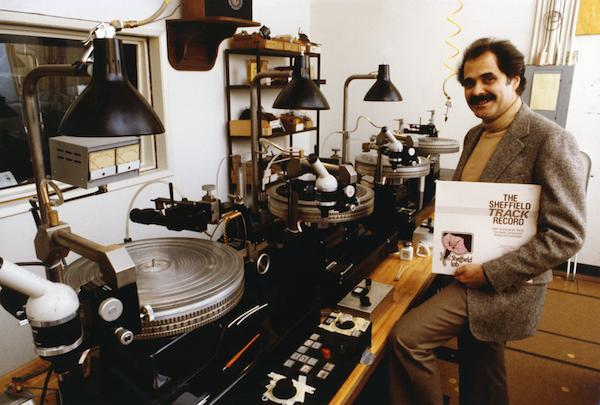 It is with much sadness that I inform you that Doug Sax, the great mastering engineer, direct-to-disc pioneer, co-founder of Sheffield Labs, founder of
The Mastering Lab
and of course a truly wonderful and pleasingly cantankerous person, passed away the morning of April 2nd. On April 26th he would have been 79.
This newly posted photo was kindly supplied by mastering engineer Eric Boulanger (with thanks to Bob Ludwig), who will continue cutting at The Mastering Lab, which will remain open. Doug stands proudly in front of his 4 lathe set-up attached to MGM's scoring stage, probably taken in the 1982, which is when The Sheffield Track Record was first released. The main room is now the Barbra Streisand Scoring Stage and this room is now ADR3 (ADR stands for "automatic dialog replacement").
I have known for a while now that his cancer had returned and that he had chosen to not again undergo treatment but his passing came far sooner than many who did know and kept it under wraps had anticipated. A source told me he's been "close for more than a week".
I was working on an obit, but now, forget it. I'll just "stream".
Doug Sax was one of those legends in the business that everyone knew, loved and of course respected. Audiophiles may have become aware of him in the '70s by reading Stereophile or The Absolute Sound, or through the stunning recordings he released on his Sheffield Labs label that he co-founded with the pianist Lincoln Mayorga. His mastering facility, The Mastering Lab, is one of the world's best sounding, especially with Doug at the lathe. Of course he moved into digital mastering as well.
Sax was a proponent of tube electronics and upon its introduction not at all a CD fan. He famously distributed a T-shirt with "Stop the Digital Madness" on it in large letters. He did not like early CD sound and was never convinced the early productions using video tape storage achieved 16 bit resolution.
Sax understood the issues involved with proper LP playback and realized that for the average person CD was fine, but he also acknowledged that he knew what the tapes sounded like because he made many and mastered using many others and he said when he heard the CD versions they never got what he knew was on the tapes.
He knew digital was going to be in our futures and that for it to improve it had to be acknowledged that it wasn't so good! That may sound obvious but when the CD was introduced the pressures were intense to declare it perfect and hype the crap out if, which most in the industry were happy to do. Not Doug.
He was the favorite lacquer cutting engineer for many recording artists back when recording artists usually didn't pay attention to such things. Among them are Pete Townshend and Roger Waters. If you look at an original Decca "Quadrophenia" or an original U.K. Track version, you'll see on both the famous TML (The Mastering Lab) stamp followed by a letter "M" for main, or "S" for "slave". "X" was the second slave lathe.
When vinyl appeared all but finished, Doug retired his lathes, but he didn't sell them. He moved The Mastering Lab from Los Angeles to Ojai and some years later when orders came in for lacquer cutting, Sax realized there was a business to be had in vinyl and he resurrected the "M" and "S" lathes. He was once again cutting great records—like the Analogue Productions Doors double 45s. A full list of his credits would take many pages.
After having read about Doug and enjoying so many of the records he mastered, I finally got to see and meet him at a CES in the early 1980s. For an audio geek it was like meeting a rock star, which he surely was among audiophiles and his peers. Back in 1979 when I was working on the animated film "Animalympics", the producer hired the late Jimmie Haskell to compose and produce the incidental music (at my suggestion 10cc's Graham Gouldman wrote the songs). I had to choose classical music for the gymnastics "competition" and ended up with an excerpt from the original piano arrangement of "Pictures at an Exhibition". Rather than go through the hassle of licensing a recording, Haskell got a musician he knew to play and record it. It was Lincoln Mayorga.
A few years ago when Bob Ludwig invited me to appear on an AES mastering panel with Doug and him and later at one at SXSW, for me it was a deep honor that to this day I have trouble believing actually happened. I am hardly a mastering expert. I just have a way of communicating why vinyl, much to Sax's and Ludwig's surprise, came back.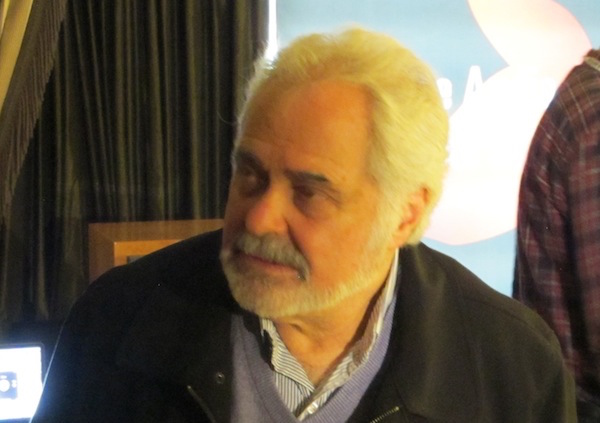 Doug Sax at CES 2014
In a long interview published in Stereophile back in 1989, Bob Harley, then with the magazine and now editor at The Absolute Sound asked Sax:
What is the future of LPs?
Sax: If there's a future in this? [points to his cutting lathe] If digital gets itself together, it will never come back. There will never be any reason. But let's say digital doesn't get any better than it is today—then this will be sort of like tube amps where you have more people wanting to buy them in five years, critical listeners, than want to buy them now. This lathe—made by Scully in 1948, the first lathe made in this country that had the ability to vary the spacing between the grooves on command from the program—made my first record. If you get a piece of equipment that you use professionally for 20 years, generate income from, you've got a good investment. There is a visual value for machinery that looks like machinery instead of like kiddy toy stuff. And the black disc itself, I've always enjoyed the whole look of it. When you get a perfect disc, a master lacquer that you cut just right, there is a look to it, a shine. You have a finished product that you can look at without even listening to it and say, "I made that good." And you never get that feeling when you ship out a CD master tape. This lathe will go home with me when it retires.
Harley: You must be attached to it after all this time.
Sax: In one sense yes, in another no. I don't want to be wedded to the past, but I don't want to forget its virtues.
When it was retired, the lathe did go home with Doug Sax. Enough people remembered its virtues for it to be pressed back into service.
Now Doug Sax has gone home and we will forever remember his many virtues at and away from his mastering suite every time we play a record he mastered.
<!- ------------------------------------>