Lehmann Audio Black Cube SE II MM/MC Phono Preamp Reviewed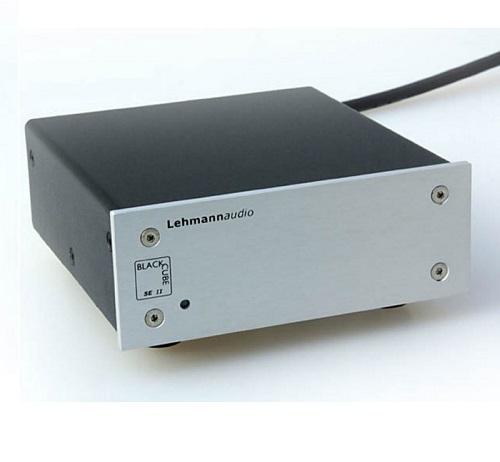 Norbert Lehmann's Black Cube phono preamplifiers have surprised and at times amazed for their superior sonic performance at near bargain-basement prices. He's been designing, building and upgrading his phono preamplifiers for nearly two decades beginning in 1995 with the original Black Cube.
The $1099 Black Cube SE II (also available in silver, which seems like a misnomer) connects via a 4 pin Neutrix connector to an upgraded PWX outboard power supply containing an ample toroidal transformer and high quality foil capacitors and metal foil resistors, is claimed to improve dynamics, lower the noise floor and help produce holographic-like imaging compared to the standard supply.
RIAA is passive between two linear gain stages, the first of which is based on the latest op-amp based dual-mono microphone preamp, while the second is a Burr-Brown op-amp.Via dipswitches located on the main chassis bottom, gain can be configured at 36,46,56 and 66dB. Another set of dipswitches selects MM and MC, while another selects MC loading at either 1k or 100 ohms. Fear not! Two sets of internal slots allow you to insert your choice of resistors or capacitors in two configurations.
In one slot set the caps or resistors are always connected in parallel with the 47k input resistor, the 100pF input capacitor and whichever other switch activated impedance load you might choose. The other slot set is switchable "in" or "out". And guess what? If you want to set MC loading to 47kHz, you can!
In addition Lehmann includes sixteen bass roll-off curves between 7Hz and 90Hz. If your speakers don't have extended low frequency response this is a very useful feature that can save amplifier power for audible frequencies instead of wasting it on pointless woofer pumping. You are not likely to hear low frequency response differences if your speakers don't go much below 60Hz but your amplifier will thank you.
Lehmann also offers the ability to bridge the output capacitors so you can D.C. couple the output, but D.C. offset voltages present at the output can do serious system damage if your preamplifier isn't A.C. coupled and in that case your amplifier will definitely not thank you nor will your speakers. In other words don't mess with the jumpers!
So let's get right to the point: how does the Black (or Silver) Cube SE II sound and especially compared to the $1199 Musical Fidelity MI Vinl and the $1500 Rega Aria?
Immediately noticeable was the Cube's superior soundstage dimensionality. The Black Cube SE II produced a deeper soundstage than either of the other two. Its ability to separate and clarify instuments on the stage was also noticeably superior to the other two. I was surprised by how much greater was the separation between instruments. The Cube's ability to unravel complex musical passages was also better.
The upcoming Analogue Productions reissue of the classic Fiedler/ BSO/Earl Wild "Rhapsody In Blue"/"American in Paris" made clear that the Black Cube SE II split the differences between the tautness and punchiness of the Rega Aria and the M1 Vinl's softer, smoother, more relaxed presentation.
Going back to the Cat Stevens album Mona Bone Jackon referenced in the Aria review, the bass wasn't quite as well defined, or as deeply felt but it was more supplely textured. The very top of Stevens' voice still had a bit of an edge on the opening tune—that's in the recording—but the edge was more cleanly defined than via the Aria. The M1 Vinl softened it.
The Cube managed to be sweet and supple without sounding soft or ill-defined. It's bass control in context of the entire sonic picture was ideal. In the attack-sustain-decay department, which I think is key to defining and describing sonics, the Cube produced a graceful, yet precise attack, a generous sustain unusual at this price point and with its coal-black backgrounds, decay generosity and resolution befitting a far more expensive phono preamplifier.
Most impressive though was the Lehmann Black Cube SE II's transparency and midrange ease. In that department you'd never guess you were listening to that little black box priced so reasonably, though you're also hearing the power supply's contribution you can be sure.
Of the three referenced phono preamplifiers, my choice would be the Lehmann Black Cube SE II, though if you listen primarily to rock, you should consider the Aria too. The Musical Fidelity M1 Vinl offers front panel push button convenience the others don't but its sonics, while pleasant and competent come off sounding somewhat soft and vague compared to the other two. Do I have any sonic criticisms of the Black Cube SE II? If anything the very top octaves are slightly overly expressed (particularly in cymbals) but so cleanly you won't care—especially because the midband is so seductive.
Everyone Should Hear A Comparison Among These Three Phono Preamps
And so you will! Along with the phono section of PS Audio's NuWave Phono Converter, but after that's reviewed, which is coming next. After that's reviewed, I've arranged with Wilson Audio Specialties to use a track from one of Dave Wilson's most spectacular and dynamic recordings Winds of War and Peace with Lowell Graham conducting The National Symphonic Winds. Recorded using but a few microphones to 30IPS ½" tape on a John Curl modified Studer, the sonics on this record from 1988 are spectacular, particularly but not limited to the enormous bass drum thwacks produced using what the conductor calls the "MOD" or "mallet of death".
Wilson Audio Specialties is in the process of converting many of these analog recordings to digital for downloading from Wilson Audio Specialties' website.
So here's the plan: after the "stand-alone" NuWave phono preamp section review, analogplanet.com will post 96/24 files produced using another brand of A/D converter (just to keep the phono preamp comparison fair). As with the recent cartridge survey, the four phono preamps will be identified (Rega Aria, Lehmann Black Cube SE II, Musical Fidelity M1 Vinl and the PS Audio NuWave) with photos but the four files will not. You will be asked to vote for your favorite followed by the other three in your order of preference. We will then post the results and identify which file was which. So stay tuned!
<!- ------------------------------------>