"Little" Steven Van Zandt's Keynote Discussion At Making Vinyl 2018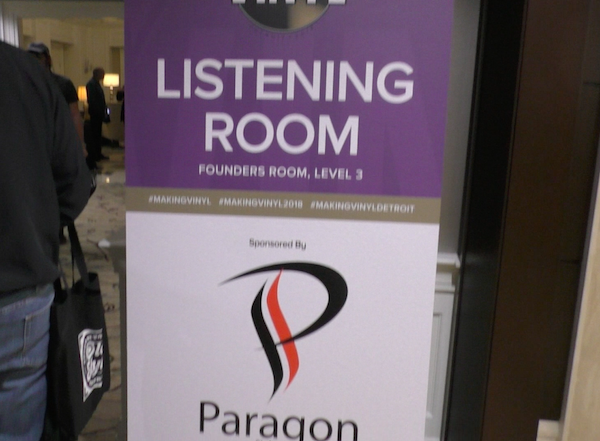 At last month's "Making Vinyl" conference in Detroit Keynote speaker Steven Van Zandt chose not to present a formal address. Instead, he sat down with music journalist Gary Graff to talk about his relationship with vinyl records and especially his TeachRock (teachrock.org) organization that provides to schools free of charge music educational resources.
Van Zandt of course wears many career hats as an actor ("The Sopranos", "Lillyhammer"), a musician (Bruce Springsteen & the E Street Band, Little Steven & The Disciples of Soul), a radio broadcaster ("Underground Garage" channel plus a second one on Sirius/XM), a record label owner (Cool Wicked Records) and an educator.
No wonder he didn't have time to write a speech!
Technical issues prevented recording his talk in HD and the chip ran out of memory before the discussion ended, but it's still worth watching "as-is". More videos from "Making Vinyl" will be posted as time permits. The top image is of the banner alerting attendees to the music room set up by Paragon Audio, Ann Arbor Michigan. After noting that last year's "Making Vinyl" event did not feature any music or a way to play records, I asked my friend Larry Marcus if he'd be willing to do this and he generously obliged, thus giving many "vinyl enthusiast" attendees their first opportunity to hear high quality vinyl playback a fine audio system.
Acoustic Sounds'/Analogue Productions' Chad Kassem brought with him a UHQR test pressing of his upcoming stereo reissue of Jimi Hendrix's Axis: Bold As Love. The expression on the face of Record Store Day founder Michael Kurtz as he sat on the floor listening for the first time to an album he's heard probably a hundred times was priceless—unlike the Clearaudio/McIntosh/ Sonus Faber system, which costs tens of thousands of dollars.
<!- ------------------------------------>