Lou Reed's Raw, Essential New York Gets Rhino Deluxe Reissue Treatment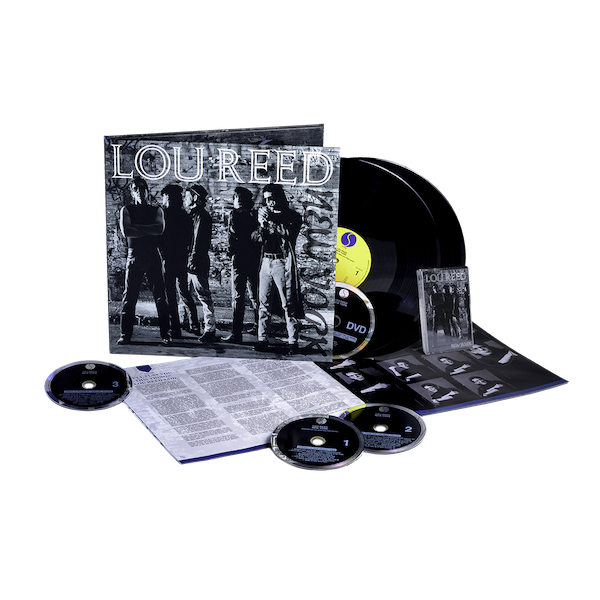 Lou Reed's Sire Records debut
New York
first released in 1989 gets the deluxe Rhino treatment in a new box set scheduled for September 25th release. The original was a gold record-selling, Grammy nominated album with the memorable "Dirty Boulevard" a #1 hit on the Modern Rock charts.
The box includes a "newly remastered" version of the original album on double 180g "audiophile vinyl" as well as 3 CDs and a DVD along with a 12X12 hardcover book written by David Fricke. The extras include 26 unreleased studio and live recordings of album tracks from the Loud Reed Archive as well as the DVD-debut of "The New York Album", a long out-of-print concert video recorded during the New York tour previously available only on VHS and laserdisc.
The press release says "the second disc" presents unreleased live versions of every album track, compiled from multiple performances, but none are from the DVD to avoid duplication. It's not clear if the "second disc" refers to the second 180g LP, with the original LP again on a single LP, with the second LP containing the live album versions or what? We will update this page as we press Rhino for details. Laurie Anderson, Don Fleming, Bill Inglot and the late Hal Willner produced the reissue, which offers hope for good sound. Audio will also be available through digital and streaming services. If you order directly from Rhino.com you'll receive free a cassette version of the album.
New York is a standout in the Reed catalog both musically and sonically. Bob Ludwig mastered the original LP DMM when he was still at Masterdisk and the sound is outstanding. No surprise since Lou Reed was a confirmed audio enthusiast who owned Wilson Audio Specialties loudspeakers and paid particular attention to the sound of his recorded and live performances. I saw Reed perform at Carnegie Hall as part of the 2004 JVC Jazz Festival. Reed and his sound people produced a perfect blend of the amplified instruments and the hall acoustics to produce the best rock show sound I've ever heard in that hall. The performance was equally memorable.
Who was in charge of mastering this box set, what were the sources used to cut lacquers and by whom as well as where it was pressed was not addressed in the press release. I'm getting sick and fucking tired (pardon my cursing, though I figure Lou would approve) of getting these kinds of press releases touting "audiophile vinyl" with no information whatsoever about sources, mastering engineer and pressing plant to help us decide whether or not we want to purchase. I can tell you that the original 1989 LP sounded superb. Can it be bettered? Perhaps but as I've often written, I'm loathe to ever bet against Bob Ludwig's mastering from a fresh tape (assuming it was from tape). I'll ask Bob!
<!- ------------------------------------>