Mark Knopfler's Comprehensive The Studio Albums 2009-2018 180g 9LP Box Set Arrives October 7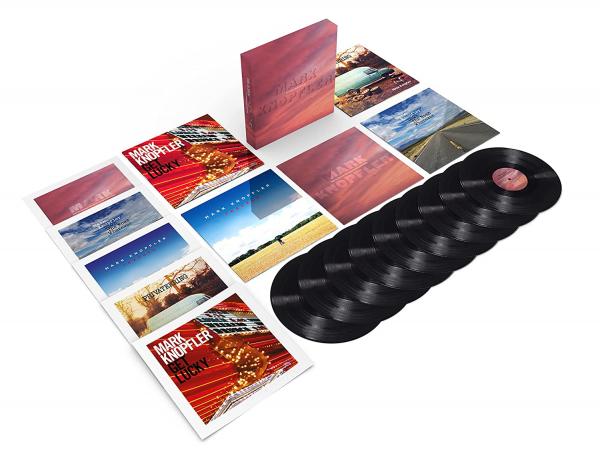 In this case, going down the road wherever leads directly to your turntable. To wit: Mark Knopfler's The Studio Albums 2009-2018, a 180g 9LP box set, will be released on October 7, 2022 by UMe/EMI. 2009-2018 gathers together the second half of Knopfler's solo songbook, following up 2021's quite comprehensive 180g 11LP 1996–2007 collection.
The 2009-2018 box will include September 2009's Get Lucky, September 2012's Privateering, March 2015's Tracker, and Knopfler's most recent studio release, November 2018's Down the Road Wherever, plus Back in the Day: The Bonus Tracks 2009-2018, a collection of studio B-sides and bonus tracks from this collective timespan along with two previously unreleased songs, "Back in the Day" and "Precious Voice From Heaven." Each of the four core albums in the 2009-2018 collection appears in individual 2LP configurations. All side-break delineations are detailed at the end of this story.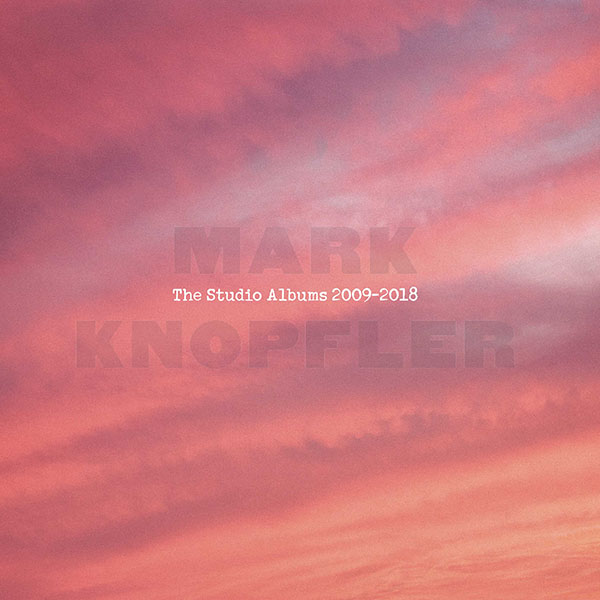 The "audio quality" (that's the phraseology used in the press release) of 2009-2018 has been overseen by original mastering engineer Bob Ludwig at Gateway Mastering, and the vinyl has been cut by Bernie Grundman. The 9LP 2009-2018 collection is pressed on 180g black vinyl and is housed in a rigid outer slipcase. The box set also includes five embossed art prints of each of the original album covers, including the cover for Back in the Day.
The 2009-2018 box lists for $229.99, which is $20 cheaper than the 1996-2007 box, the latter of which is still available for $249.99. That said, the 1996-2007 box housed 11LPs all told, and was remastered by Miles Showell at Abbey Road Studios in London.
You can pre-order 2009-2018 directly from the official Mark Knopfler Shop, but be aware of the banner that delineates which version of it is labeled as a "UK Product" as opposed to ordering it for/from the U.S. and other regions.
As a longtime Mark Knopfler fan who's bought just about every format configuration of his solo work and that with Dire Straits (not to mention albums featuring Mark as a guest performer and/or as producer), I'm personally looking forward to getting the two unreleased tracks on wax.
Down the Road Wherever also happened to be one of the first LPs I played after moving to a new house a few years back, and I look forward to revisiting the second half of the man's grand solo catalog. How about you? Chime in with your Comments below, following the full side-break details.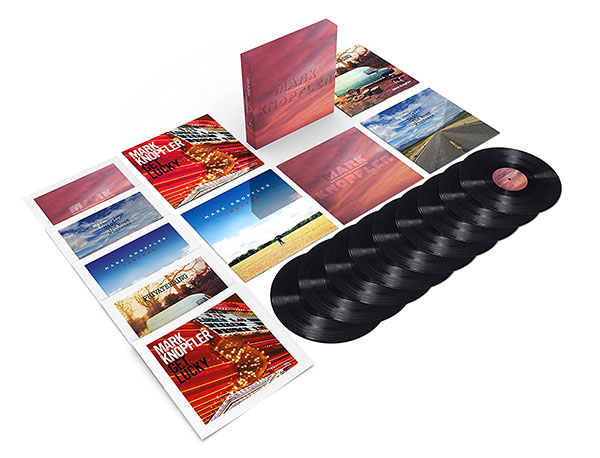 MARK KNOPFLER
THE STUDIO ALBUMS 2009-2018
180g 9LP (UMe/EMI)
GET LUCKY
LP1 - SIDE 1
1. Border Reiver
2. Hard Shoulder
3. You Can't Beat The House
4. Before Gas And TV
LP1 - SIDE 2
1. Monteleone
2. Cleaning My Gun
3. The Car Was The One
4. Remembrance Day
LP2 - SIDE 1
1. Get Lucky
2. So Far From The Clyde
3. Piper To The End
LP2 - SIDE 2
Even Luckier – Extra Tracks
1. Early Bird
2. Time In The Sun
3. Pulling Down The Ride
4. Home Boy
5. Good As Gold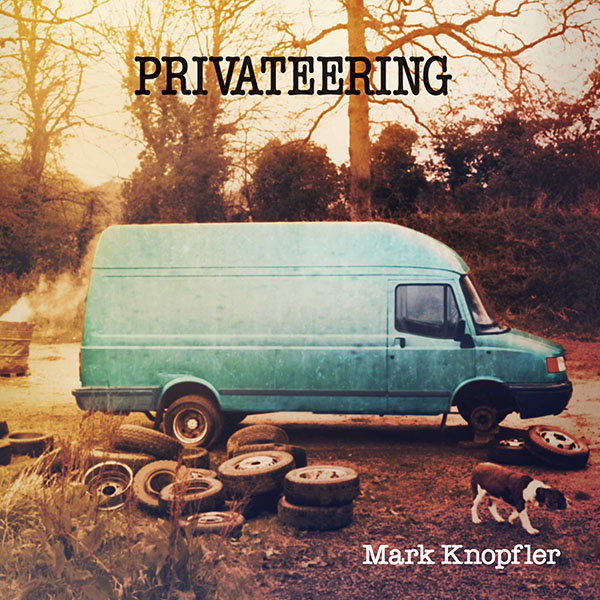 PRIVATEERING
LP3 - SIDE 1
1. Redbud Tree
2. Haul Away
3. Don't Forget Your Hat
4. Privateering
5. Miss You Blues
LP3 - SIDE 2
1. Corned Beef City
2. Go, Love
3. Hot Or What
4. Yon Two Crows
5. Seattle
LP4 - SIDE 1
1. Kingdom Of Gold
2. Got To Have Something
3. Radio City Serenade
4. I Used To Could
5. Gator Blood
LP4 - SIDE 2
1. Bluebird
2. Dream Of The Drowned Submariner
3. Blood And Water
4. Today Is Okay
5. After The Beanstalk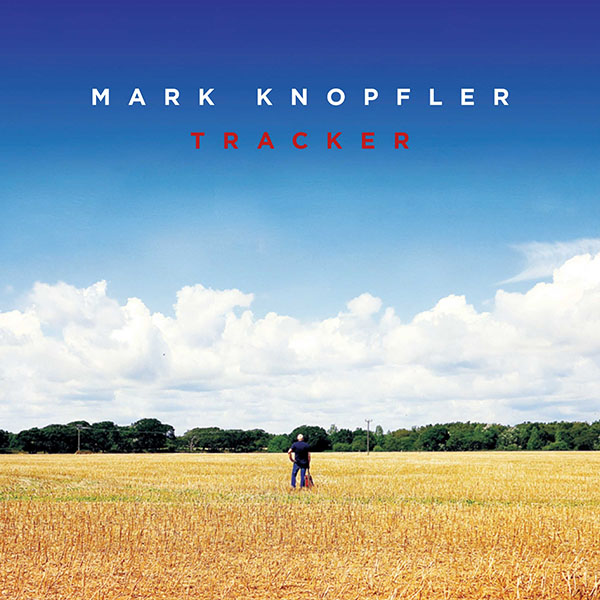 TRACKER
LP5 - SIDE 1
1. Laughs And Jokes And Drinks And Smokes
2. Basil
3. River Towns
4. Skydiver
LP5 - SIDE 2
1. Mighty Man
2. Broken Bones
3. Long Cool Girl
LP6 - SIDE 1
1. Lights Of Taormina
2. Silver Eagle
3. Beryl
4. Wherever I Go
LP6 - SIDE 2
1. .38 Special
2. My Heart Has Never Changed
3. Terminal Of Tribute To
4. Heart Of Oak
5. Time Will End All Sorrow
6. Oklahoma Ponies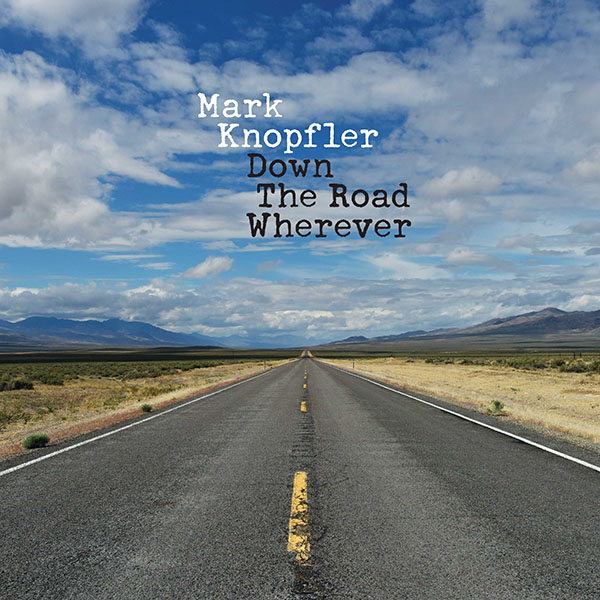 DOWN THE ROAD WHEREVER
LP7 - SIDE 1
1. Trapper Man
2. Back On The Dance Floor
3. Nobody's Child
4. Nobody Does That
LP7 - SIDE 2
1. Good On You Son
2. Floating Away
3. One Song At A Time
4. Heavy Up
LP8 - SIDE 1
1. Slow Learner
2. Just A Boy Away From Home
3. My Bacon Roll
4. When You Leave
LP8 - SIDE 2
1. Matchstick Man
2. Drovers' Road
3. Every Heart In The Room
4. Don't Suck Me In
5. Sky And Water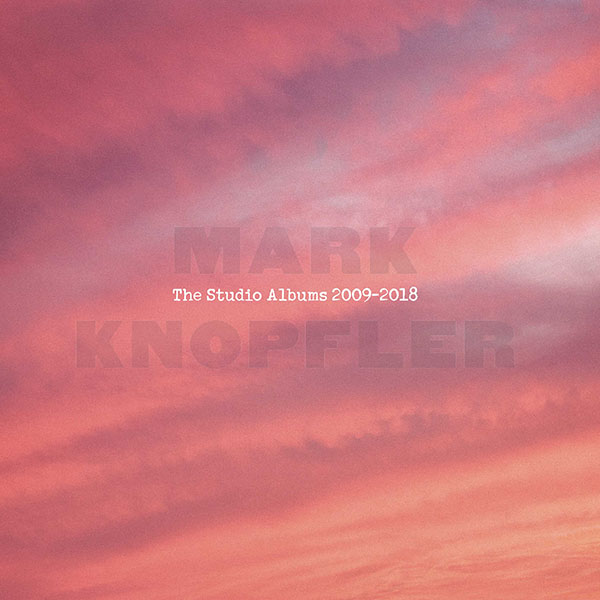 BACK IN THE DAY:
THE BONUS TRACKS 2009-2018
LP9 - SIDE 1
1. Occupation Blues
2. River Of Grog
3. Follow The Ribbon
4. Your Perfect Song
LP9 - SIDE 2
1. Precious Voice From Heaven *
2. Back In The Day *
3. Rear View Mirror
4. Pale Imitation
* - denotes previously unreleased track
<!- ------------------------------------>