A Mono Set-Up That Won't Break the Bank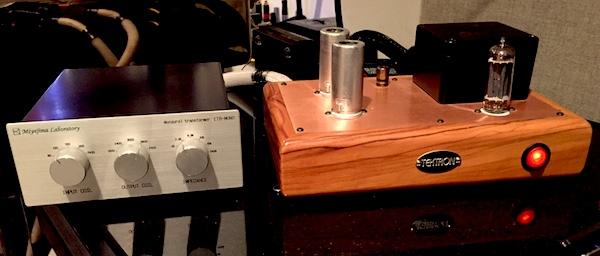 The Italian-built Tektron Italia Mono Phono preamplifier manufactured exclusively for
Robyatt Audio
is an all-tube design housed in a wooden box topped by a solid copper plate that serves as the unit's ground plane.
The circuit features an inboard power transformer and tube rectification via an EZ80 rectifier tube for the rail voltage. A voltage regulated silicone rectifier bridge provides juice for the heater circuit. In other words, newer and older tech where appropriate. MM gain is via a pair of 12AX7 dual triode tubes (you can also use 12AT7s). RIAA is applied passively.
On the back are a single input and a pair of outputs. With a mono cartridge you can plug in one of the two tone arm leads, though if you encounter hum you'll have to "Y" the pair of leads—easy enough. If you're running a mono MM cartridge with a typical 4-5mV output you are done for a very reasonable $1295.
For MC you'll need a step-up transformer. I combined the Tektron with the Miyajima Labs ETR-MONO Monaural transformer. Priced at $1995, for some it can break the bank, so of course you can use your choice of SUT (step-up transformer). Since I was testing using the Miyajima Labs Zero ($1995) and Premium Mono BE ($1260) cartridges I thought it appropriate to use the Miyajima Labs ETR-MONO.
However, I also ran a more "modern" sounding Titan i mono cartridge. Here it gets down to your sonic philosophy and tastes. These Miyajima Labs monos produce a full, "meaty" sound that well-complements the sonic esthetic of the '50s and '60s. Some people find that appropriate. Others want a more "updated" sound.
When I play some of the great old monos like Capitols from Frank Sinatra, Laurindo Almeida and Tennessee Ernie Ford (on March 25th 2015 his 1955 #1 hit version of Merle Travis's "16 Tons" was added to the Library of Congress's National Recording Registry), either of those Miyajimas produce the ideal sonic compliment.
On some later monos like Pet Sounds and early Stones albums, I prefer the more modern sound.
. The Miyajima Labs ETR-MONO Transformer
The ETR-MONO features a permalloy 80 transformer core. It offers an usually wide range of front panel user adjustable settings. The knob labeled "Input Coil" provides four input coil windings: 80,120, 160, 200 and "pass". "80" is appropriate for cartridges with internal impedances of from 2-5 ohms, "120" for cartridges between 6-12 ohms, "160" for 12-20 ohm cartridges and 200 for 20-40 ohm cartridges.
The "Output Coil" knob adjusts the output coil windings. The resulting gain is the ratio of input to output windings. The "Impedance" knob has settings of 2K, 3.9K, 6.8K, 10K, 15K and "pass". Those are output impedance choices, which determines the output impedance "seen" by the MM phono preamp's input. The choices rang from 2K-47kOhms.
So how do you use this flexibility? For instance if you select "120" for input coil and 3000 for the output and you are using a cartridge with an internal impedance of 6 ohm, that's a 25x ratio (120x25=3000) or 27.5dB. To calculate the output impedance you use the formula: gain squared times cartridge impedance. So in this case it's 25 squared (625) x (6 ohms), which equals 3.75kOhms. The obvious output impedance setting would be 3.9K, though as the instructions suggest, you can set it to however you like it to sound.
The transformer features a pair each of both input RCA jacks and output RCA jacks, but since they are wired together, a single output cable between the transformer and MM phono preamplifier may be sufficient.
First Listen
I first heard this combo in a friend's system that's similar to mine. He's got the Ypsilon VPS-100 phono preamp and MC-L transformer, which costs around $35,000. yet for mono listening he bought the Miyajima ETR-MONO and Tektron Italia. He's also got a Zero mono cartridge on a second tone arm.
One of the first records we played was a very first pressing of The Beatles' Please, Please Me LP. I verified that fact: it was the original gold/black Parlophone label but more importantly it was the first lacquer, first mother and first ("G") stamper.
How did it sound? Ghostly-real, vibrant, "ether-like", bursting with energy, air, space and three-dimensionality, though of course in an area confined to between the speakers. Bass was less than fully fleshed out, but as we later found out when the mono box set was released, bass on the original monos was shelved to make the records playable on "kiddie phonographs."
Based on what I heard, I (much later) asked the importer for the combo so I could listen at home. Some hum issues were easily solvable, but that's the analog world in which we live, especially when using mono gear in a stereo system.
The Miyajima ETR-MONO/Tektron Italia combo was quiet and somewhat surprisingly tended towards airy, open, very "fast" and a bit bright on top but that well-complimented the "meaty" midrange sound of both Miyajima Labs cartridges.
When I compared my original mono Please, Please Me (not the very first pressing though) with the box set reissue, it was clear that the original had shelved bass (I know the reissue producers didn't add bass) but when I played the record through my reference phono preamp it was also clear that the ETR-MONO/Tektron combo does not have the depth or weight of the $33K phono combo. No great surprise there!
However, the combo so effectively "got" the "mono esthetic" it was easy to hear beyond the minor LF shortcoming. I revisited the Sam Records Chet Baker album> reviewed here a while back and that kind of production, more so than mono rock mixes, is what this combo is all about: '50's jazz, blues, pop and classical all sounded "right", tonally, texturally and spatially. Analogue Productions' Ellington Masterpieces sounds good on anything but through this combo it was especially three-dimensional, spacious and texturally sophisticated. When a piece of gear starts forcing you to pull out and revisit "old favorites", you know it's doing its job.
Speaking of "doing its job", earlier in this review I mentioned mono Capitol Laurindo Almeida albums. They are readily available for not much money. I particularly like Impressoes Do Brasil (Capitol P8381 green/gold label), Modern French Music (P8244 green/gold label), and Guitar Music of Spain (P8295). Try one and you might get hooked! Of course if you don't like solo guitar records (or in the case of Impressoes Do Brasil guitar and piano), you might not like any of these. They are superbly recorded. Through this front end the mono Electric Recording company releases also produced magic.
Conclusion
If you're running a mono MM cartridge and use it mostly to listen to older mono jazz, blues and classical releases, the $1295 Tektron Italia makes a great choice. If you're running MC, it means you're spending another $1995 for the Miyajima Labs ETR-MONO, but if you already own one of the company's mono cartridges, it's an almost inevitable purchase.
<!- ------------------------------------>