Neil Young Cultivates Harvest 50th Anniversary Box Set for December 2 Release That Houses Two 180g LPs and 1 EP, Including a Full Disc of Previously Unreleased Of-Era Live Tracks and Three Studio Outtakes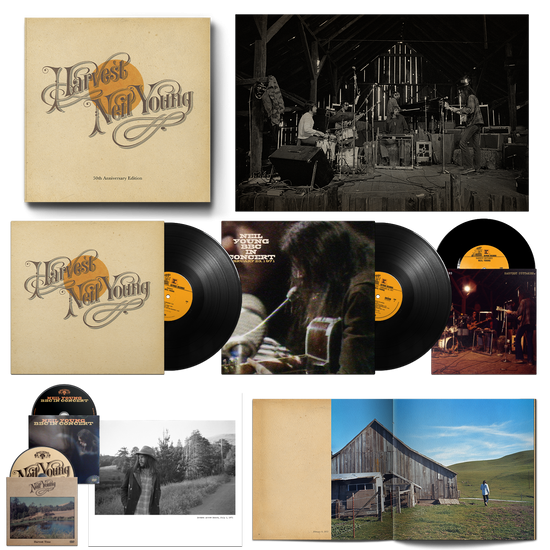 A man needs to harvest a heart of gold, and Neil Young's groundbreaking February 1972 album Harvest provides all the aural goods on wax to do just that. (Yes, I mashed up a few album titles there, but you get the point.) To wit: A new box set celebrating the 50th anniversary of Harvest is coming via Reprise on December 2 that will include the original album on one 180g LP, plus another LP comprised of an unreleased of-era live BBC solo performance, and a 7-inch EP with a trio of unreleased outtakes culled from the original Harvest sessions: "Bad Fog Of Loneliness," "Journey Through The Past," and "Dance Dance Dance." Also included in the collection is a hardbound book with never-before-seen photos along with extensive liner notes by photographer Joel Bernstein, a fold-out poster, a lithograph print, and two DVDs.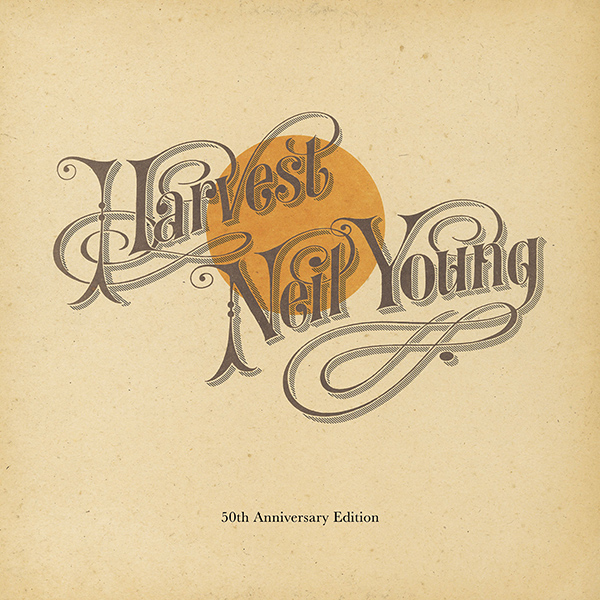 Young's fourth solo album Harvest was originally mixed by Elliot Mazer "mostly" (their words) at Quadrafonic in Nashville, while Lee Hulko mastered the album at Sterling Sound in New York. Just as was done for the March 2021 After the Gold Rush box set, this new Harvest collection was mastered by Chris Bellman at Bernie Grundman Mastering in Los Angeles, and is being made/pressed in Germany.
The not-so-analog portion of this box set is still significant, as the pair of included DVDs lend further insight into the making of such a landmark album. The first DVD, Harvest Time, is an unreleased two-hour film shot during the making of Harvest, with footage from Young's Harvest Barn Sessions in Northern California, as well as that of recording sessions that took place in Nashville and London. The second DVD is a companion film of the unreleased solo BBC Concert recorded on February 23, 1971.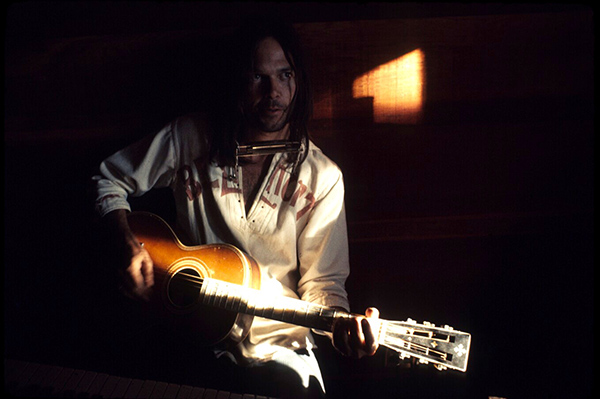 The Harvest 2LP/1EP/2DVD box set retails for $149.98, and you can preorder it directly from The Greedy Hand Store at Neil Young Archives (NYA) right here, or via the link that appears further below, just before the tracklisting section.
For now, you can preview one of the box set's heretofore unreleased elements by way of this clip of Neil performing "Heart Of Gold" from that aforementioned 1971 BBC solo performance. . .
As a longtime Harvest-on-vinyl fan, I'm all-in on this box, and, yes, I did indeed pre-order it. While I await its arrival, I can tell you I was granted early access to Joel Bernstein's liner notes in full, and they're exactly what I want from liners — finely detailed, extensive, quite insider, and few punches pulled. Here's but a snippet of how they commence, for your perusal: "As you listen to the album you're now holding, think about this: Inside the grooves of this long-celebrated music is also the extraordinary personal story of Neil Young, fueled by determination and happenstance. Years later, the Harvest album still shines as one of the brightest lights in his body of work. Looking back from this vantage point, the central story in the making of Harvest may be how Neil's life was almost entirely transformed within a single year."
I should also note Neil has, yet again, been quite prolific with other new and archival vinyl releases all throughout this calendar year of 2022, a campaign initiative that continues to mark him as a vinyl champion of the highest order. For the quite literal record, his 2022 LP releases besides Harvest comprise of the following: a trio of archival, acoustic-oriented live releases, Dorothy Chandler Pavilion 1971, Royce Hall 1971, and Citizen Kane Jr. Blues (all released simultaneously on May 6); Neil Young With Crazy Horse's 2LP set initially recorded in 2000-01, Toast (released July 8); Neil Young + Promise of The Real's 2LP live set Noise & Flowers (released August 5); and, most recently, a brand new Neil Young With Crazy Horse 2LP set, World Record, which was cut live and mixed to analog tape at Shangri-La Studios (released November 18, on both clear and black vinyl).
Any and all of these fine NY LP releases can be ordered directly from Neil's aforementioned custom shop, The Greedy Hand Store.
And there you have it. What say you about whether you're going to spring for the Harvest box now, or wait for a potential price reduction? And how about Neil's other archival and live releases from this calendar year? Share your thoughts in the Comments section below, following the Harvest box tracklisting.


NEIL YOUNG
HARVEST – 50TH ANNIVERSARY EDITION
180g 2LP+1EP (Reprise)
Note: This box set also includes 2DVDs
LP 1 – HARVEST
Side 1
1. Out On The Weekend
2. Harvest
3. A Man Needs A Maid
4. Heart Of Gold
5. Are You Ready For The Country?
Side 2
1. Old Man
2. There's A World
3. Alabama
4. The Needle And The Damage Done
5. Words (Between The Lines Of Age)
LP 2 – NEIL YOUNG LIVE IN CONCERT AT THE BBC, FEBRUARY 1971
Side 1
1. Out On The Weekend
2. Old Man
3. Journey Through The Past
4. Heart Of Gold
Side 2
1. Don't Let It Bring You Down
2. A Man Needs A Maid
3. Love in Mind
4. Dance Dance Dance
7-INCH EP – HARVEST OUTTAKES
1. Bad Fog Of Loneliness
2. Journey Through The Past
3. Dance Dance Dance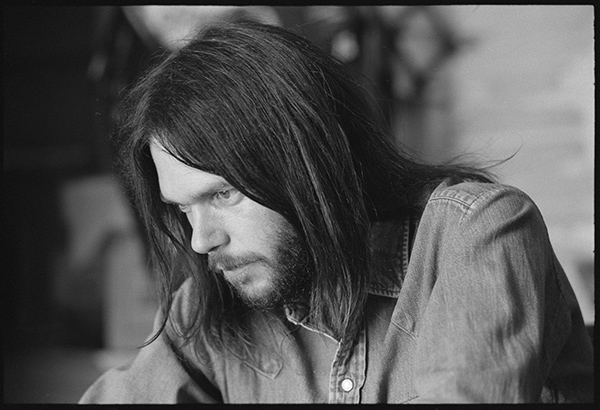 <!- ------------------------------------>