Neil Young's New Official Bootleg Series Debuts With Fabled 1970 Carnegie Hall Debut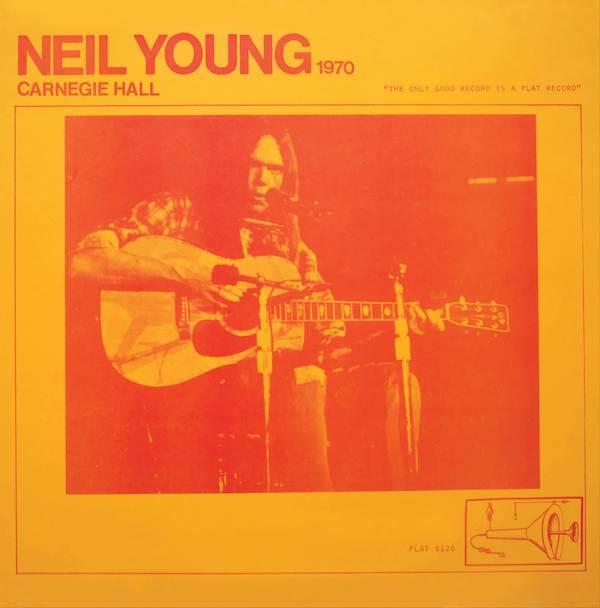 Shakey Pictures Records and Reprise Records announced today The Neil Young Official Bootleg Series, which will commence with an official release of Neil's legendary December 4th, 1970 Carnegie Hall debut show available now for pre-order at
The Greedy Hand Store at Neil Young Archives
. A bootlegged version of the later midnight show helped make the evening among Neil's most fabled appearances, but according to the press release the earlier show, not captured by bootleggers, was the better one.
Young was ready for the show with a multi-track analog tape recorder running throughout. The tapes were recently mixed by "The Volume Dealers" (Neil and Niko Bolas) we hope to 2 track analog tape. The set included 23 Young faves featuring greats from his Buffalo Springfield days and first few solo records plus others that had not yet been studio recorded and released :
1) Down by the River
2) Cinnamon Girl
3)I Am a Child
4) Expecting To Fly
5) The Loner
6) Wonderin'
7) Helpless
8) Southern Man
9) Nowadays Clancy Can't Even Sing
10) Sugar Mountain
11) On The Way Home
12) Tell Me Why
13) Only Love Can Break Your Heart 14) Old Man
15) After the Gold Rush
16) Flying on the Ground Is Wrong
17) Cowgirl in the Sand
18) Don't Let it Bring You Down
19)Birds
20) Bad Fog of Loneliness
21) Ohio
22) See the Sky About to Rain
23) Dance Dance Dance
The album will be release 10/1/2021 on double LP ($34.98). The pre-order "bundle" includes the double LP, a hi-res redemption code delivered via email on 10/1, "Cowgirl in the Sand" hi-res download available today (8/20) and "See the Sky About to Rain" hi res digital download delivered 9/24 via email.
Niko Bolas called me a while back asking if I thought releasing this bootleg series (more titles to be announced soon) on under 180g vinyl would be okay and I answered "yes", so if that pisses you off, I'll take some of the blame. In fact, I'll take all of it!
<!- ------------------------------------>