New Label Inner Groove Records Announces Their Inaugural 180g 1LP Reissue Is Lim Taylor's Lost 1974 Funk/Soul Gem, You Hear Me Knocking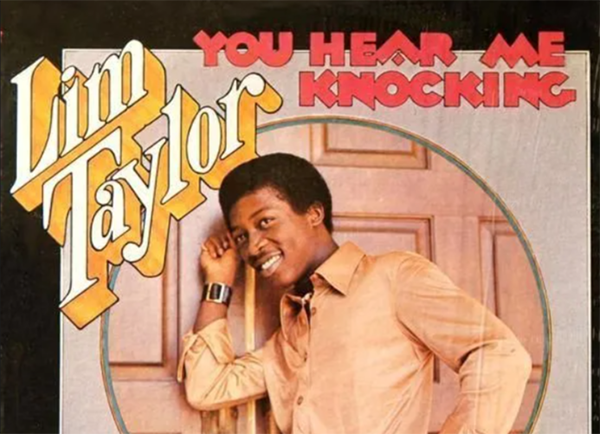 We're always happy to see when new vinyl-centric record labels crop up with a clear mission, and that leads us directly to the M.O. that's fueling Inner Groove Records. The fledgling label's inaugural release is a 180g 1LP reissue of Lim Taylor's long lost 1974 funk/soul gem You Hear Me Knocking, an album that initially surfaced on Ray Charles' custom Crossover Records imprint and sported the catalog number CR 9001.
After being contacted directly by Inner Groove label owner/founder Dave Frankel, I was definitely intrigued about a record I wasn't familiar with at all, so I asked him to tell me more. "The OG came out in 1974," he told me. "As a store owner, I've had this record in my personal want list on Discogs for years. We had one copy of You Hear Me Knocking finally come into the shop in a large collection, and I took that baby home! It's a funk/soul slammer, and every darn track is fire."
He's right about that. I went online to sample a few tracks from Knocking, and if you dig that sweet-spot pocket of mid-1970s funk/soul music, then songs like "You Hear Me Knocking," "This Time I'm Here to Stay," "Let Me Make Love to You," and "The World's in a Bad Situation" will be right up your listening alley.
Further intrigued, I had to learn more about how Inner Groove Records came to be. Continues Frankel, "Fast-forward three months. I had been looking to start a small label that carried our store's name, and I wanted to try to put back into circulation some rare and expensive LPs — sort of like a bare-bones version of Light in the Attic, Rockadelic, and all the other great people doing this kind of operation."

This is where the true detective work started to coalesce for the release officially designated as IGR-001. "No info for Lim seems to exist anywhere," Frankel admits, "and You Hear Me Knocking is the only record he ever made. When I did a deeper dive, I found the label it came out on, Crossover Records, was owned by Ray Charles, and I started to investigate what the story was with his estate. Crossover Records was a small label Ray started when he left ABC and it had fewer than 200 releases in total, most of them being Ray Charles 45s. I then found that there is a Ray Charles Foundation responsible for licensing. They are a charitable foundation, and I contacted the president, Valerie Ervin. Yes, they owned the rights, and yes, they understood I wanted to do a small collectors-type of repress, and I would license it. Working with them was a pleasure, and I secured the rights. I was then sent over to Village Studios in L.A., who had the master tape."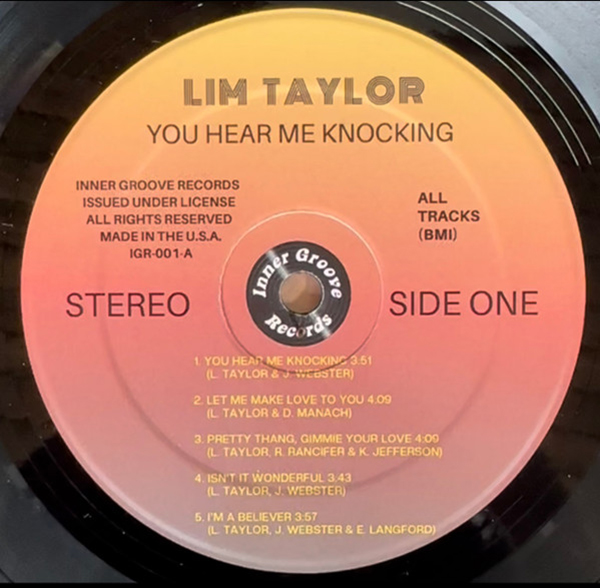 Masters duly found, the next step was to figure out where to have the Knocking LPs pressed. "I live in Florida, despite my store being in south New Jersey [in Collingswood], right outside of Philadelphia," Frankel clarifies, "so I wanted to try and get it pressed in Florida. I run the label from here, so I assumed it would be easier. I contacted SunPress [Vinyl] in Opa-Locka [which is in Miami Dade County], and as you probably know, they let me know that had been acquired by Project M [Group] and were only doing pressing work for them." (Project M also owns Goldmine, Brooklyn Vegan, and Revolver, among other media-related properties.)
Continues Frankel, "I asked [their rep] if he could direct me elsewhere in Florida, as I had a very rare funk/soul LP I had licensed for a first-time reissue. He sent back an email saying I had piqued his interest, and asked what it was. After hearing the details about this great LP, he took it to Project M brass, and they wanted to be a part of it."
The pressing stats are these. You Hear Me Knocking was indeed pressed by SunPress. It's a limited edition of 500 copies, all of them hand-numbered. Frankel was sent 300 black-vinyl 180g copies of the LP to sell himself, and Project M bought/retained 200 copies for themselves — copies that will be earmarked for sale from their end of things, most likely on Goldmine's official site and as a color variant to boot. As of this posting, Frankel has no further details in hand about when any of that will be finalized.
You'll recall Frankel mentioned having located the original master tape at Village Studios in Los Angeles, but there was, alas, a slight snag in the interim. "They did not want to work off an analog transfer from the master and wanted to supply WAV files instead," Frankel confirms. "Disappointing to me a bit [and to us too!], but this seems to be the way it is now. So, I had Village Studios send me WAVs in both mono and stereo files, and the interlaced stereo files were used by SunPress for mastering."
I asked Frankel how he felt about that decision. "The WAV files sent to me from Village Studios were made directly from the reels," he clarifies, "so while I would have liked AAA, the reality is, they were not going to loan the master out. A second-gen analog tape from the master would have been the best we could do here — but, vs. the digital files from the master, it might have been a crapshoot as to which one was really going to work best. But, yes, of course, I'd love to be using the master tape! As you know, the problem is also the age of some of these tapes can prevent the studios from allowing another pass with them. It's a double-edged sword, for sure. I would shriek if I knew playback of a 40-plus-year-old master for a reissue led to the untimely demise of the tape! Analog is king, but you can't beat Father Time!"
So, how does the new Knocking Inner Groove LP sound in comparison to the original Crossover LP? "I received five test presses about a month ago, and A/Bed them with my very clean OG," Frankel reports. "I am pretty satisfied with their results, despite what I told you about the WAVs. Listening, I found the original has a bit more warmth — but, surprisingly, the soundstage on our reissue is wider than the original. Instrument placement is also very good, and the engineer did a good job on not boosting the bass ridiculously to sound like today's overly bassy sound!"
Anything else to add? "The vinyl is flat and quiet," Frankel continues. "It's a bit static-y out of the sleeve, but I wet clean/Zerostat them all. Overall, I think they nailed it, and I am pleased." In case you're wondering, Frankel's listening system includes the following gear: a VPI Scoutmaster II turntable with Periphery Ring, Goldring Ethos low-output MC cartridge, Manley Chinook phono stage, Audio Excellence preamp, Manley Snappers power amps, Wilson Audio WATT/Puppy System 5 loudspeakers, and SVS subs, split dual mono.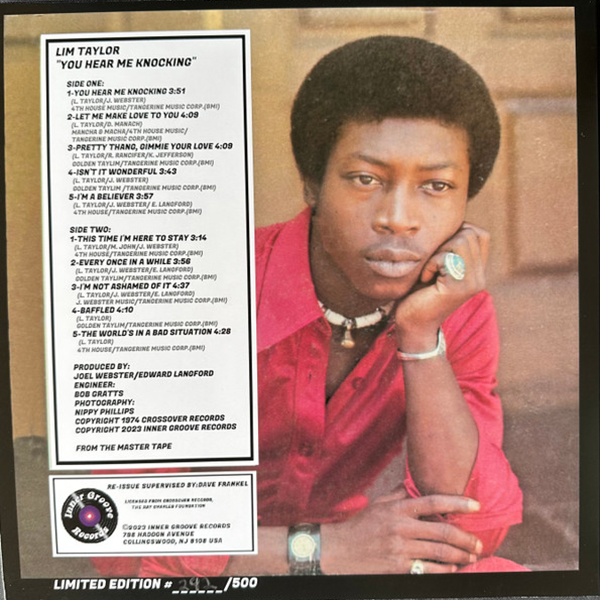 As for the album artwork, Frankel says, "the original cover is another story. The RC Foundation did not have any images on hand, so my OG was hi-res scanned, and then digitally cleaned up by my patient artist wife. The credits were recreated by me, as the originals are not very good quality to begin with."
If you want to get your hands and ears on a copy of the Inner Groove You Hear Me Knocking LP, then I say get right to it, STAT. Frankel — who has already graciously sent me a copy so I too can enjoy the spin myself firsthand — confirms he will have copies of the LP available in his physical Inner Groove store in NJ this week, while additional/remaining copies are being sold on Discogs and the Inner Groove site directly. You can order your own copy of Knocking right here for an SRP of $34.98, quite reasonable for such a limited edition.
(Addendum, 10.17.2023: Frankel adds the following notes: "Okay, my homework was not deep enough at the onset, as so much more info has since come to light. Lim is Limuel. He was the fourth son of Mabel John, the very famous leader of The Raelettes. Her brother was Little Willie John! Joel Webster, who was credited as producer/writer, was Limuel's half-brother. Mabel had four sons, and Lim is (was) the youngest." Frankel put the word "was" in parentheses there because he believes he also discovered an obituary confirming Taylor passed away at age 67 in the Los Angeles area in 2022.)
Incidentally, Frankel already has his sights set on what his next Inner Groove Records LP reissue will be, which is currently slated to come out in early 2024. He generously gave me a sneak peek of it, and, well, color me intrigued. "It's a Motown-y, moody, bluesy killer!" Frankel teases. "It's another one-LP-recorded kind of artist, and then she vanished!"
If you want to learn more about who that artist is and what that upcoming LP reissue itself entails, we'll gladly do a follow-up report when the time comes, so stay tuned. In the meantime, let's get to Knocking!
LIM TAYLOR
YOU HEAR ME KNOCKING
180g 1LP (Inner Groove Records/Crossover)
Side One
1. You Hear Me Knocking
2. Let Me Make Love To You
3. Pretty Thang, Gimme Your Love
4. Isn't It Wonderful
5. I'm A Believer
Side Two
1. This Time I'm Here To Stay
2. Every Once In A While
3. I'm Not Ashamed Of It
4. Baffled
5. The World's In A Bad Situation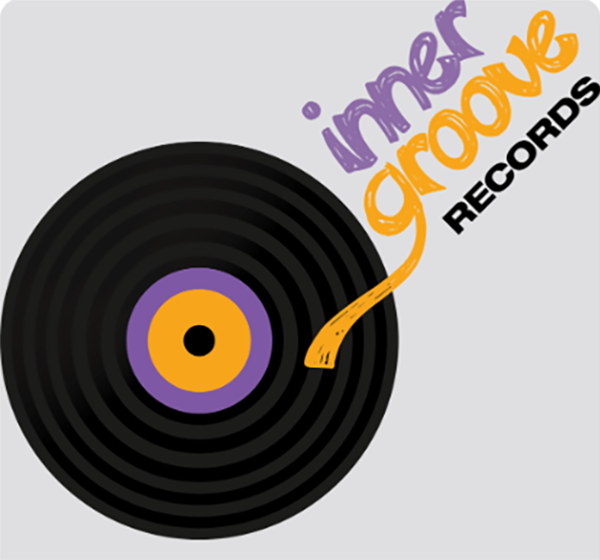 <!- ------------------------------------>