Newvelle Breaks Open the Season Four Box For RSD Black Friday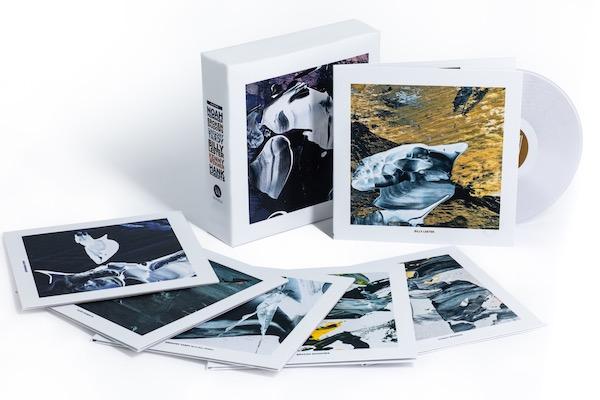 Newvelle's Season Five Box is ready, but sorry, we're behind so here's coverage of Season Four's box just in time for the subscription-based label's Black Friday Record Store Day "open box" specials.
First the specials: eleven individual albums from the label's first four years, including two from Season Four's box, will be available exclusively from Wednesday, November 27th to Monday December 2nd, on the Newvelle website. There are albums from familiar names like the late Don Friedman and Ben Allison and others as well including from season four, Billy Lester's From Scratch and Kenny Werner's Church on Mars.
In addition, the label is offering during this Wednesday-Monday Black Friday RSD promotion, free shipping when you purchase the full Season Four box set.
About the Season Four box: as with any subscription, odds are you're not going to love equally all five offerings but this year's offerings are all interesting and feature an impressive mix of artists including the aforementioned Werner, who performs on Church on Mars with saxophonist/flautist Dave Liebman, drummer Terri Lyne Carrington and jazz vocalist Vivienne Aerts, Noah Preminger (with Jason Moran), Tim Berne (who I first encountered on his 1986 album Fulton Street Maul [CBS 450548], which features Bill Frisell and Hank Roberts, both of whom are featured Season Four artists—cellist Roberts as leader on Congeries of Ethereal Phenomena and Frisell on saxophonist Greg Tardy's intimate, meditative album More Than Enough) and "newcomer" pianist Billy Lester in a trio setting with bassist Rufus Reid and drummer Matt Wilson.
Quotes around "newcomer" because Lester is an older guy who's been out of the spotlight, mostly teaching. You can learn more about him by watching this fascinating video or of course by ordering either the full box or the "break out" single LP.
Newvelle co-founder Elan Mehler is himself a pianist so it's not surprising that Newvelle offers as Black Friday RSD specials two piano-based records from Season Four.
My favorites from Season Four are the Tardy/Frisell set and the Tim Berne record, which features saxophonist Chris Speed. The two chase each other in a program of mostly Ornette Coleman tunes along with Charlie Haden's "Song For Ché", and one each by Julius Hemphill and Dewey Redman.
If you don't like Cuban painter/saxophonist Hery Paz's artwork you're out of luck because he did all of the gatefold cover art, which is, like the music, fluid and abstract. One of Season Four's most entertaining non-musical aspects is Tim Sultan's six chapter (one in each record jacket) "Zelig"-like fictional story "Churchill Down" about a non-existent musician who's met and worked with "everyone". It's footnoted for added authenticity and the stories contained within are true jazz history. It's just an added bonus to a really well-done Season Four pressed at QRP on transparent, super quiet vinyl.
All of the albums throughout Newvelle's history are recorded at East Side Sound, New York and engineered by Marc Urselli to high resolution digital and mastered by Alex DeTurk, for this series at The Bunker, NYC.
If you're going to choose one from Season Four to buy individually, both are worthwhile but I think you'll get a better idea about the set's excellent sound quality from the Kenny Werner LP. On the other hand it won't take you but a few bars into the Billy Lester record (which also sounds good) to realize he's an original.
If you buy one from Season Four (@$65) and like it, can you get the rest of the series minus the one you've already purchased? I don't know.
<!- ------------------------------------>