Onkyo's CP-1050 Direct Drive Turntable Offers Extraordinary Speed Stability, Attractive "Retro" Looks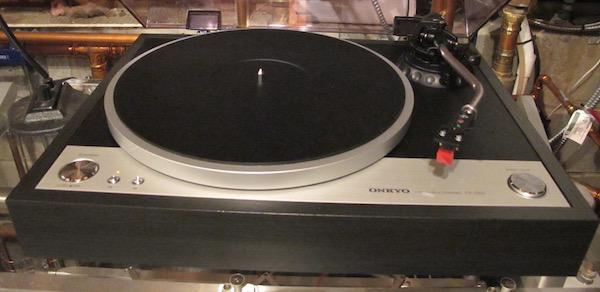 Even had the purchase by Onkyo of Pioneer Home Electronics not been made public, some kind of connection would have been obvious to anyone opening the boxes of this Onkyo CP-1050 turntable and the recently reviewed
Pioneer PL-30-K turntable
.
While they are very different products—the latter is a $349 MSRP auto-play, belt drive with a built-in phono preamp, while the former is a $599 MSRP ("street" price $499) direct-drive manual play with no built-in phono preamp—if the packing material and dust covers are any indication, they appear to have been built in the same factory.
Interestingly, it also appears to be a very seriously downgraded version of Denon's $2499 DP-A100 100th anniversary turntable issued in 2010, though looks can be deceiving: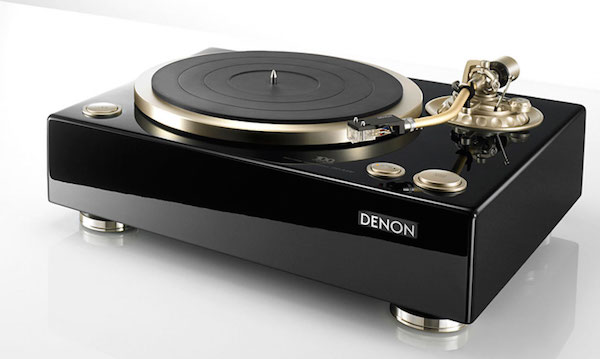 The Onkyo is a handsome looking retro-'70s era styled 'table framed in black MDF with a brushed aluminum control panel. It sits on four elastomer damped feet that do an excellent isolation job.
The direct drive operation features a customized brushless DC motor, a Quartz-Lock control system and a die-cast 12" platter topped with a thick rubber mat. Onkyo claims .15% or lower wow and flutter and a signal to noise ratio of greater than 60dBs.
Unlike the Pioneer 'table, which comes with a straight pipe arm and offset head shell, the Onkyo's arm is a classic "S" shape, which provides the offset angle, fitted with a non-offset head shell similar, if not identical to what Technics used to offer on its SL-1200 series. The arm's effective length is 230mm.
The arm features dual gimbaled bearings that superficially resemble those on the SL-1200, though the arm is not of that caliber nor is the 'table so priced.
A gentle tug on the arm tube reveals a small amount of "play". In the microscopic world of vinyl playback, to be able to actually feel the "play" means it probably will be audible to some degree. That kind of "chatter" is usually heard as a bright signature on top and a less than tight and punchy bottom.
Also keep in mind that the arm does not allow for adjustment of either VTA/SRA or azimuth.
If a turntable's job #1 is to turn at the correct speed, look at these impressive numbers and graphs: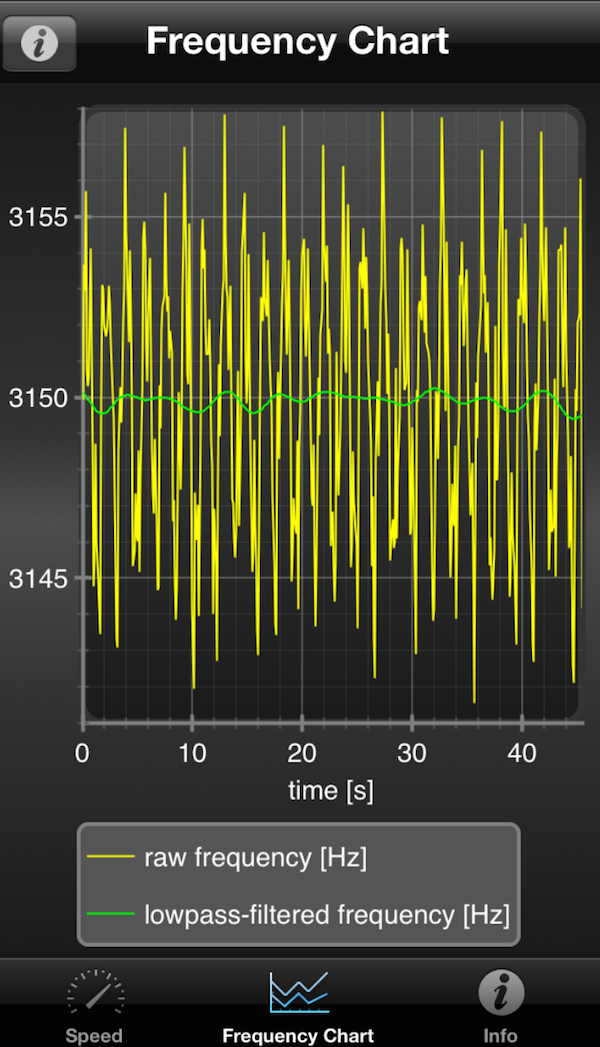 The target frequency is 3150Hz. The Onkyo is "spot-on". Both the relative and absolute maximum deviation from the mean frequency are minor. The low pass filtering removes the effects of record eccentricity and the results are superb—about as good as it gets regardless of price.
Now don't read more into that than you should, which is what the "SL-1200 cultists" do with similar numbers. Far more factors are involved in a turntable's actual sound. If you look at the graph you can see the somewhat jagged traces, which can be caused by a variety of factors related to motor cogging and/or motor bearing issues—not surprising given the reasonable cost of this turntable. Compare these charts with the far more expensive George Warren Turntable .
Interestingly, while the traces are far smoother, the speed variations are far greater than those of the Onkyo. You can be sure that the far more expensive George Warren Turntable is in a different sonic league, regardless of speed measurements.
CP-1050 Set-up and Sound
As with the previously reviewed Pioneer, Onkyo makes easy setting up and using the CP-1050 with the included Audio Technica 600 series cartridge, though you'll be tracking at 3.5 grams. You are better off replacing the cartridge, or at the very least replacing the stylus with the $29.98 LP Gear CFN-3600LE , which improves the sound and lets you track a gram lighter at 2.5 grams.
I didn't compare this solution to replacing the cartridge altogether with the Audio Technica 95E, which at around $40 is one of my favorite budget cartridges. The advantage here is that if you a novice, you can still easily make the swap.
You did get to hear the 'table with the CFN-3600LE in the recent budget phono preamp shoot out but I ended up doing most of the listening using a Shure M97xE cartridge driving a Graham Slee Era Gold MK V MM phono preamplifier. Actually, I've got 2 M97xEs, one of which has been cryogenically frozen. Once both are broken in, musical samples will be posted using both and we'll see where the votes go!
In the end you will be listening, not measuring (though there are some foolish people who are led around by the measurements instead of by their ears) so how does the Onkyo CP-1050 sound?
The M97xE is considered to be a generally mellow sounding cartridge but for better or worse it came to life here with clean, somewhat "brisk" high frequencies. The top wasn't harsh but it was lively in a way I thought complimented the cartridge's generally smooth top end.
I also tried an Adcom Crosscoil XC E II that was rebuilt for me some years ago by The Garrott Brothers (the company not the late brothers). This upped the sound by a considerable margin in terms of detail, high frequency extension and especially dynamics. However, even with this high quality cartridge the bottom end was not particularly well-extended, but it was solid and "tuneful" as opposed to being soft and sloppy (remember, I played this through Wilson XLFs!). Through two way bookshelf speakers, I'm sure the bottom end will be more than adequate.
In terms of image stability and soundstaging in general, the Onkyo was far superior to the Pioneer, producing a solid, three dimensional stage and a reasonable amount of depth.
Conclusion
The Onkyo CP-1050 is an attractive, well-made for the price direct drive turntable that provides good value for the money and reasonably good sonic performance. However, at this price point there is some very strong competition, especially from the $399 Pro-Ject Carbon Debut DC, which comes fitted with an Ortofon 2M Red. The Pro-Ject's carbon fiber-based arm does allow a full range of adjustability and the 'table now includes a built in "Speed box" motor controller.
More competition comes from Rega's $445 RP-1 fitted with an Audio-Technica-manufactured Carbon cartridge (It's an AT3600L, so the aforementioned LP Gear CFN3600LE stylus would be an excellent upgrade stylus for it). It's another strong "plug and play" option. Both of these, I feel, offer superior sonic performance. However for a basic "plug and play" that's both easy to use and visually attractive and is aimed at the casual vinyl listener, the Onkyo CP-1050 would be a good choice.
<!- ------------------------------------>