An Orbitrac™ Replacement?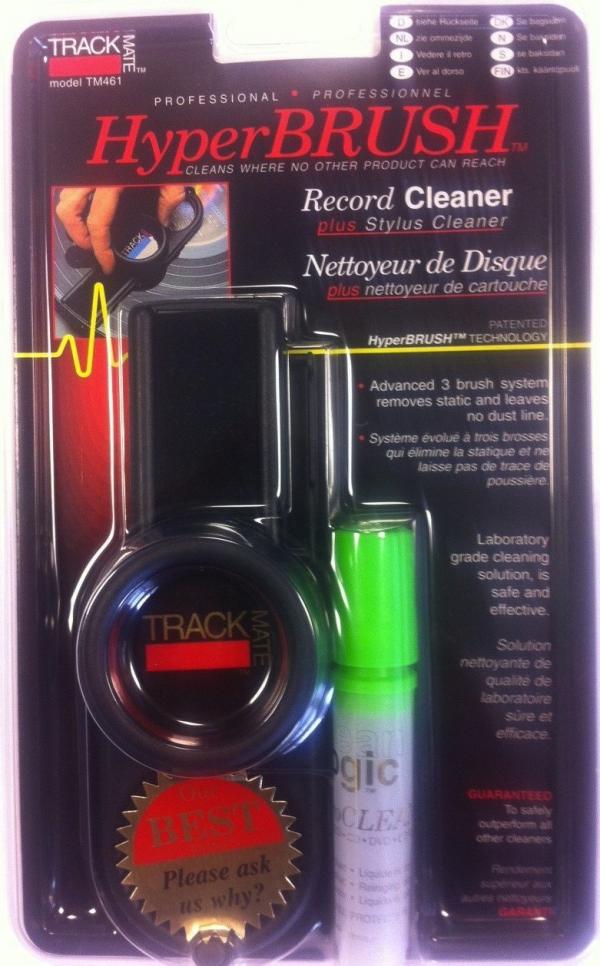 "Record Cleaning Made Difficult"
, Michael Wayne's definitive and fanatical record cleaning article originally published in The Tracking Angle back in the mid '90s includes use of Allsop's no long in production Orbitrac™, which was a pad based cleaning system that fit over the turntable spindle, allowing you to easily rotate it around the record.
Allsop took the original model out of production when vinyl "died," but re-introduced it some years later in a new version that used replaceable cloth cartridges. They were more convenient to swap out than the older system but far more expensive.
At some point despite growing LP sales, Allsop once again stopped producing and selling the Orbitrac. I had been discussing the re-introduction of the Orbitrac with Brent Allsop, even to the point of offering to buy the rights and manufacture it myself, when Mr. Allsop was tragically killed in an automobile accident.
Recently a U.K. based reader sent me the closest thing to an Orbitrac I've yet seen. It's called a "HyperBRUSH™" and it's manufactured in Ireland and marketed by TRACKMate™. Though the company lists a U.S. distributor in Vancouver, WA. I could find no contact information and the product doesn't seem to be distributed in America.
The utterly clueless company markets a VHS cleaner and other such products on amazon.com but not the HyperBRUSH record cleaner. However, I did find it on Amazon.UK. for £9 (about $18).
It works similar to the Orbitrac and comes with a record cleaning solution that I didn't try. It also has a stylus cleaning pad that works well and another felt pad atop the cleaner that's not identified for any purpose. In fact the instructions don't identify the stylus cleaning brush and I bet some inexperienced users might use the felt pad instead of the one that's supposed to be used. Of course you won't make that mistake.
The HyperBRUSH doesn't replace a good wet cleaning system whether the inexpensive Spin Clean or a vacuum machine or the Audio Desk ultrasonic machine. However, the HyperBRUSH is very useful as a pre-clean for really dirty records when used with any of the wet machines so you don't gum up and foul the machine brushes.
The HyperBRUSH also includes a static reducing strip. Unfortunately the brushes aren't replaceable. The company says washing them with warm soapy water (followed by a very good rinse) will restore them but I've not yet reached that point with the one I've got here. Plus I have the original Orbitrac and enough replacement pads to last a lifetime (thanks to a barter deal with a reader).
Overall, I found the HyperBRUSH convenient to use on the turntable thanks to the over-the-spindle rotating feature and considering the low price, it's a worthwhile tool in one's record cleaning arsenal.
<!- ------------------------------------>