"Passion For Vinyl"—The Utrecht Mega Platen & CD Beurs Day One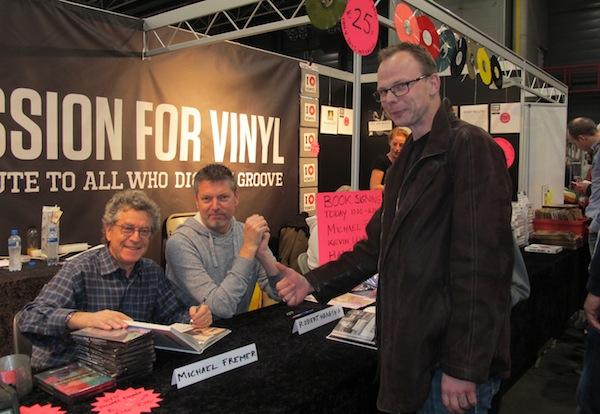 If set-up day was cold, dark and less than pleasant, day one of the Utrecht Mega Platen Record Fair was warm, crowded and festive. With both the lights and heating system on and the enormous exhibition hall packed with record fanatics, it was a full day of fun for vinyl lovers from around the world.
How to navigate the place was the first bit of business. It quickly became clear that the rows were roughly organized by musical genre and format, with funk, jazz, reggae and blues vendors in one area and rockers in another—but that's a rough approximation. Each vendor's country of origin was identified in front of the booths, which helped.
My main interest was looking for U.K. pressings of U.K. artists. I'm mainly a "country of origin" buyer so I didn't see the purpose of hitting the French, Italian, German Dutch or Japanese booths first, though I planned to go back later. It made little sense to buy American records in The Netherlands since here they are "imports" and overall fetch a premium price, though a few vendors had obviously gone to the U.S. and brought back boxes of "bulk" American records.
Whatever you were looking for on vinyl was here. If you had big bucks you could buy most Pink Label Island or "swirl" Vertigo pressings, but at a premium. A big premium. If you wanted Beatles and Stones originals they were here but not in the numbers I was expecting. I was hoping to score an back-up Abbey Road but it had to be an original UK pressing in the black inner sleeve. I was willing to pay a lot for one but didn't find one—at least on day one.
I had the most fun at the booth of a UK based vendor who had brought thousands of U.K. pressings and was selling them for 3 Euro each. There was no order to them and you just had to crate-dig through all kinds of stuff. I found a clean original Island Catch Bull At Four a Deram Days of Future Past, a Roxy Music Siren and Talk Talk's It's My Life. Not bad for 3 Euro each. Okay not the most adventurous stuff and I already had copies but….
The records hanging on the walls behind the booths indicated that I was lucky to have bought most of my records when they were first released because I couldn't afford to buy them now! That goes for Stones, Beatles, Who, Small Faces, Fairport Convention, Traffic, etc. A clean Pink Label Island What We Did On Our Holidays was going for 200 Euro! Yikes!
However, while record shopping was fun, I flew over mainly to help launch Dutch journalist Robert Haagsma's book "Passion For Vinyl", which was "instigated" by Record Industry pressing plant owner Ton Vermeulen. Haagsma had interviewed me when I visited last spring later gave me the opportunity to write the book's forward but I didn't get to see or read any of it until I arrived here Friday morning.
The book's subtitle "A Tribute to ALL Who Dig the Groove" tells the story. The book profiles a diverse group of vinyl lovers from around the world, including many you know like Henry Rollins, Bernie Grundman, Atlantic Records CEO Craig Kallman, Discogs.com founder and CEO Kevin Lewandowski and cutting lathe master Sean Davies (a real "analog guru") to some you don't, but all have interesting stories to tell and fascinating backgrounds. I haven't had time yet to read all of it, but what's most striking is the diversity of musical tastes. Also profiled, most appropriately, are the people who started the Utrecht Record Fair, now the world's largest. I was told between 20 and 30 THOUSAND people are expected to attend this year's fair.
So at 1PM on Saturday I sat down at the Record Industry booth along with the author, Mr. Davies and a few others profiled in the book to autograph copies should anyone want that. More did than I had expected! I also met many analogplanet.com fans. If day 2 is anything like day 1, it's going to be a blast!
<!- ------------------------------------>