Pat Metheny's 11 LP ECM Album Catalog Available For Streaming and Downloading July 31st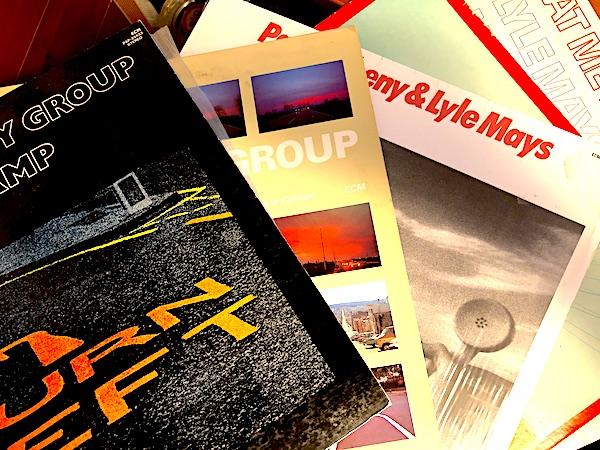 This just in: Pat Metheny's complete ECM catalog of 11 albums, which includes
Bright Size Life
,
Offramp
, and
80/81
, will be available for the first time on July 31st as high-resolution masters for download and streaming.
According to ECM's mastering engineer Christoph Stickel:
"The main premise in digitizing the Pat Metheny tapes was not to change the sound of the recordings, but to realize them in the original form, in the best possible quality. The work was based on the original, analogue stereo master tapes. The masters are in very good condition and can be played without problems. All tapes were played by a Studer A820, which was meticulously calibrated to the respective tape. The analog signal was digitized in 96kHz / 24bit, which covers the complete spectrum of the original bands. In each case, a decision was made between a PrismSound ADA-8XR, an Antelope Eclipse Mastering AD, and a Mytek Brooklyn ADC, depending on which one suited best the respective recording. No de-noising and no other restoration affecting the sound was carried out."
This is good news on several fronts: firstly that you'll be able to get these records properly digitized and secondly that the tapes are in excellent condition so that perhaps a few can be reissued on vinyl from the original tapes.
Among my faves and visible in the photo I took using my LPs is the unusual, percussion-rich and mesmerizing As Falls Wichita, So Falls Wichita Falls (ECM 1190) recorded September 1980 by the late Norwegian recording engineer Jan Erik Kongshaug who created the ECM "sound" and who passed away last November at age 75. Joining Metheny on this production were Metheny's long-time keyboardist-musical partners Lyle Mays who went last February at age 66 and the late versatile Brazilian percussionist Naná Vasconcelos who is also gone. He died March of 2016 at age 71. At least Pat and the music live on!
Qobuz (HD download and streaming)
HDtracks (HD download)
Acoustic Sounds (HD download)
Prostudiomaster (HD download)
Tidal (MQA Master streaming)
Apple (Apple Digital Master download and streaming)
Amazon (Amazon HD streaming)
<!- ------------------------------------>