"A Perfect Haze" The Illustrated HIstory of the Monterey International Pop Festival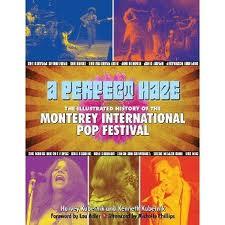 The '60s played host to three significant, culture shifting music festivals. The first was the Newport Folk Festival where, in the decade's early years, folk, blues and country blended to produce a beautiful noise that the boomer generation eventually embraced.
Once the little known outside of folkie circles Bob Dylan plugged in backed by The Butterfield Blues Band, the stage was set for the coming cultural assault that would define the decade.
You really should find a DVD copy of Murray Lerner's documentary "Festival," (Eagle Rock EE 39101-9) originally a theatrical release in 1967, which highlights the onstage and offstage events that helped define the decade. Lerner's film influenced later festival documentaries.
The film features musical performances by the very young Joan Baez, Bob Dylan, Peter Paul & Mary and Donovan as well as Judy Collins, Odetta, Howlin' Wolf, Mississippi John Hurt and others. It documents Bob Dylan's controversial "plug in" with Butterfield, which almost everyone has read about but far fewer have seen.
The backstage footage also fascinates, as you watch early counter-culture allies coalescence. But audience-watching is equally intriguing. Here are the first long hairs, the kids in jeans and T-shirts pitching tents or sleeping in or on their Volvo B544s.
This, at a time when mainstream culture was all Frankie and Bobby and the rest of the exploitative musical dreck pushed by mainstreamers like Dick Clark.
When you watch "Festival" you'll be struck by how small the festival was and how few actually attended.
The Newport Folk Festival began the decade and Woodstock ended it. For America's mainstream, Woodstock was the beginning of the counterculture, but for long time observers, it represented the end as corporate culture recognized there was money to be made and began commercializing and exploiting it.
Newport and Woodstock bracketed 1967's mellow and magical Monterrey Pop Festival. Even if you've seen the movie and own Rhino's complete festival CD box set, you've only experienced the festival's shell.
To get inside you really need to read and luxuriate in the photos that fill the pages of Harvey and Kenneth Kubernik's "A Perfect Haze," The Illustrated History of The Monterey International Pop Festival, featuring a forward by Lou Adler and an afterword by Michelle Phillips.
Who are they? If you have to ask, this book is probably not for you. It will be moldy, ancient history, not the vividly drawn, astonishing look at the decade's truly pivotal music and cultural event.
The book's appeal, or lack thereof, is not generational. Sure, boomers invested in the music and culture (Rick Santorum need not apply) will eat this up, but so will members of a younger generation who appreciate and even revel in the musical era—and have even adopted some of the visual accouterments.
The book is filled with stunning, heretofore not published interviews, photographs, memorabilia, press clippings and other documents that bring the event to life in ways the music does not, though of course the music is the main event.
The first paragraph of Lou Adler's forward alone will have fans stopping to soak it all in. It begins, "The impetus to stage the Monterey International Pop Festival evolved one night in 1967, at Cass Elliot's house. Paul McCartney, John and Michelle Phillips, Cass and I were discussing…the general perception of rock'n'roll, and that, while jazz was considered an art form, rock'n'roll was continually viewed as fad, a trend—and yet both were American-born musical genres."
For some of us, just imagining sitting around that table is enough to induce a serendipitous stupor. As you continue reading the book, you realize that this was not really a counter-culture event, or a "let's put on a festival" spontaneous event. It was backed by money, and lots of it, beginning with $10,000 antes from Adler, John and Michelle Phillips, Paul Simon, Johnny Rivers and Terry Melcher (Byrds producer and Doris Day's son). That was a good deal of money back then.
Another festival backer profiled in the book is Sweetheart Paper Cup heir Alan Pariser, known for his tasty combustibles and for having the best sound system (not specified, but some of us would have liked the details! Can I guess? McIntosh, Klipsch, Rek-O-Cut?).
Promoter Ben Shapiro, who originally planned the staging of a for-profit festival for the venue on that weekend, comes off as festival heavy in a book filled with heroes and assorted good vibes.
The interviews with behind and scenes players and the onstage stars fill in the details. They include Andrew Loog Oldham, Lou Beatles publicist Derek Taylor who was on board as a festival publicist, Al Kooper (there, incredibly as an assistant stage manager), filmmaker D.A. Pennebaker, photographer Henry Diltz, Jann Wenner and professional hanger-oner "Rodney Bingenheimer. The thorough coverage even includes engineers Bones Howe and Bill Halverson.
Once you get to the music (Chapter 2, beginning on page 63), the anticipatory excitement created by the book's lead-up, explodes, aided by the exuberant fan-like artist descriptions written by the Kuberniks.
There was plenty of behind the scenes drama on stage including the Byrds break-up, David Crosby's disastrous conspiracy rap during the set and his equally disastrous Neil Young fill-in during Buffalo Springfield's set.
There's a surprising revision of the "Laura Nyro got booed off the stage" story that D.A. Pennebaker claims never happened. Michelle Phillips recounts how Nyro left the stage in tears so she "grabbed her by the hand, put her in one of the limousines in the back, and said to the driver 'let's go for a ride.' That magnanimous gesture cost Phillip's dream of seeing Otis Redding's set.
The coverage of Otis Redding's set is magical and adds so much depth and texture to the performance even if you've seen or heard it dozens of times or more. For Booker T. Jones, whose band, including Steve Cropper, Duck Dunn and Al Jackson, replaced Otis' regular back up, thanks to an astute call by Atlantic Records' Jerry Wexler, it was "…a different time on planet earth."
And so it was. And if some in the audience didn't feel it then, they did during and in the aftermath of Ravi Shankar's cosmic afternoon performance. Later there was the Pete Townsend, Jimi Hendrix coin toss and all the rest of the drama and show biz baloney, but that afternoon it was Ravi's turn to shift the culture. Jerry Wexler recalls encountering Hendrix backstage before his literally incendiary performance. "I'm in the wings when Jimi walks up to me just before he's going onstage—he's in full psychedelic regalia, all feathers and boas. And, he looks at me, and almost apologetically, runs his hands all over himself and says, "Hey, man, this is just show business." Better to read this now than back when the stage craft mesmerized a generation!
With its wealth of astonishing photos, forensic memorabilia and first hand accounts from the artists, producers and attendees all masterfully woven into a seamless psychedelic tapestry by the brothers Kubernik and skillfully presented  "A Perfect Haze" is both a visual and written-word treat for fans of all ages of the music, of the culture and of the era.
You'll read and hear these days the denigration of the boomer generation, particularly by conservatives, as narcissistic and deluded, but after reading this book, clearly the detractors are skating on very thin ice.
Look what these folks managed—and that goes for the Kuberniks, who have skillfully tied together and packaged the Monterey Pop Festival's visual and written narrative to produce a book that is as essential to understanding and appreciating the event as the music itself. An impressive achievement and highly recommended!
<!- ------------------------------------>