Pink Floyd's Animals 2018 Remix by James Guthrie Finally Arriving on 180g LP September 16; Deluxe Gatefold Multidisc Version Set for October 7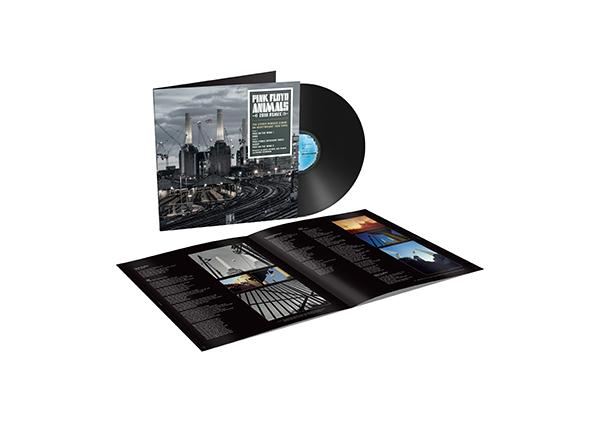 Have you heard the news? Just like the headline says, Pink Floyd's Animals 2018 Remix by James Guthrie is finally arriving on September 16 on 180g LP via Pink Floyd Records/Sony Music. A Deluxe Gatefold Multidisc Version containing 1LP/1CD/1DVD/1BD will then follow on October 7.
The facts are these: Pink Floyd's 10th studio album, January 1977's Animals, has been remixed for the first time by the band's longtime producer/engineer James Guthrie for the edition that's been officially titled Animals 2018 Remix. The album was remastered for vinyl by Guthrie, Joel Plante, and Bernie Grundman.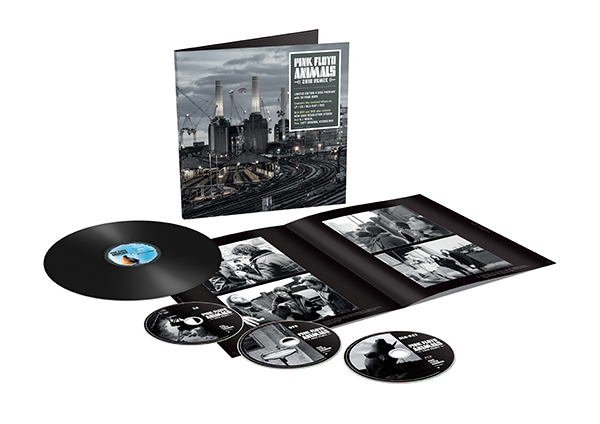 In addition to the 180g black vinyl gatefold version, Animals 2018 Remix will also be made available as a standalone CD, Blu-ray, and SACD. The multidisc Deluxe Gatefold version includes an LP, CD, DVD, and Blu-ray, as well as a 32-page booklet. The Blu-ray and DVD both include the 2018 remix in stereo and in 5.1 (both by James Guthrie), as well as the original 1977 stereo mix. The 32-page booklet features rarely seen, behind the scenes photos of the album sleeve shoot along with live images and other Floydian memorabilia. The album artwork has been reimagined for this release, as you can see all throughout this story.
Speaking of said Animals artwork, you'll recall the original cover shot shows an inflatable pig (now known as Algie) floating between two chimneys of the Battersea Power Station in London as conceived by bassist/vocalist Roger Waters, and designed by longtime Floyd collaborator, the late, great Storm Thorgerson of Hipgnosis Studios.
For this new release, the artwork has been redesigned for the modern era by Storm's Hipgnosis partner Aubrey "Po" Powell. Taking new shots of the building as it appeared during its recent conversion work, Po experimented with new angles to produce some striking new takes on the classic original. As Po put it in the official press release from the Pink Floyd PR team, "With the original 1977 album cover being such an iconic piece of standalone art, I had the chance to update it, which was a rather daunting task, but Hipgnosis took the opportunity to re-photograph the image to reflect a changing world, and by using modern digital colouring [British spelling very much intended –MM] techniques I kept Pink Floyd's rather bleak message of moral decay using the Orwellian themes of animals, [and] the pig 'Algie,' faithful to the message of the album."
Acoustic Sounds major domo Chad Kassem told me directly yesterday (i.e., on July 7) that, quote, "Animals is big news, as it shot up to our top seller the moment it was released on our web site.)." Considering how much I love the way Pink Floyd's catalog releases, not to mention Roger Waters September 1992 solo album Amused to Death, have sounded on their vinyl reissue editions in recent years (and not just because I got to watch Floyd's The Endless River firsthand as it was being pressed back in 2014), I expect, well truly outstanding things from this Animals 2018 Remix edition, and I will personally be reviewing it here on Analog Planet upon release.
Share your thoughts about the original Animals 1977 edition and the forthcoming Animals 2018 Remix version in the Comments section below, won't you? You know that I care what happens to you. . .

PINK FLOYD: ANIMALS 2018 REMIX
180g LP (Pink Floyd Records/Sony Music)
Side A
1. Pigs on the Wing (Part One)
2. Dogs
Side B
1. Pigs (Three Different Ones)
2. Sheep
3. Pigs on the Wing (Part Two)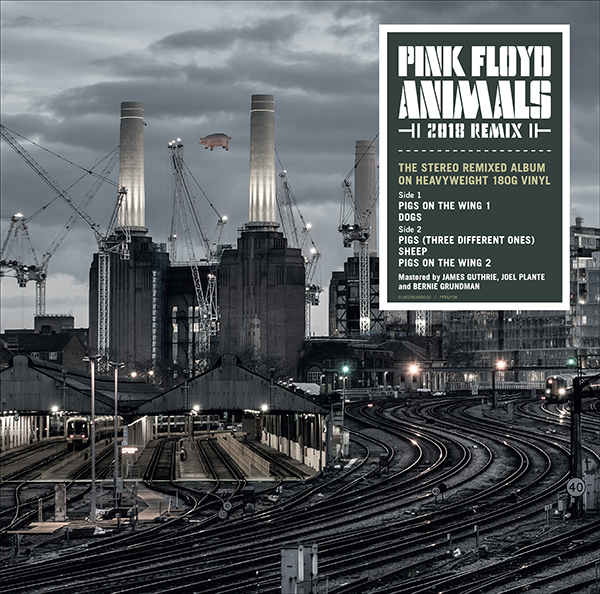 <!- ------------------------------------>