Precision Transducer Engineering MMMC Phono Preamplifier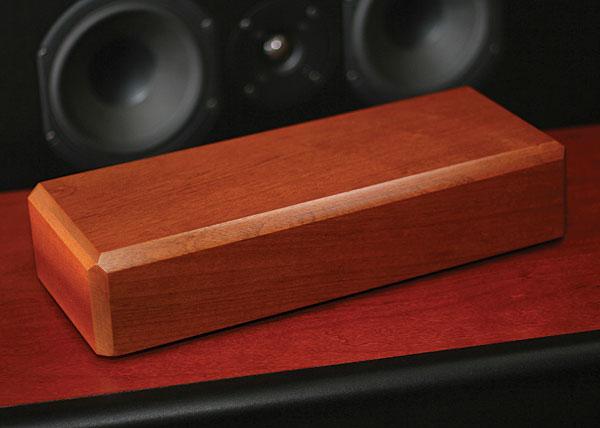 The phono preamplifiers reviewed this month are both affordable ($400–$1960) and highly accomplished, and the most expensive of them offers versatility that's unprecedented in my experience. Three of them are designed to be used only with moving-magnet, moving-iron, and high-output moving-coil cartridges, so I installed Shure's V15VxMR cartridge in
VPI's Classic 3
turntable and listened in MM mode to all of them, beginning with the least expensive.
A word about the Shure V15VxMR: After spending a week listening to it in the VPI Classic 3, I've come to respect it far more than before, though I've always thought it was pretty good. It tracked incredibly well at 1.25gm, resolved detail and spaciousness (contrary to the reputation of MMs), and its response sounded remarkably flat, with deep, taut bass and extended highs. It was slightly recessed in the upper mids/lower highs, but hardly dark, as some online commentators have described it.
Shure stopped making replacement styli for the Shure V15VxMR more than a few years ago (footnote 1), but Jico, a Japanese company that specializes in replacement styli, began making a replacement, complete with brush-damper, for $159.99. Another company, Super Analogue Stylus, makes a $144.95 replacement stylus for the V15VxMR that's apparently better (don't ask me why it costs less).
I got one of the Jicos from LP Gear. Perhaps it needed to break in and I didn't have time to do that for this column, but out of the box it sounded a bit brighter, more forward, and less supple than the standard stylus, but still very good. If you own a V15VxMR, don't let it lie around gathering dust because you can't replace its stylus. You can!
Among the LPs used for this review were: a double 45rpm reissue of Ella Fitzgerald's Ella Swings Lightly (Verve/ORG MG-VS 6019); AC/DC's Back in Black, remastered by George Marino and issued in a boxed set (Epic); and a stupendous 45rpm set of Falla's The Three-Cornered Hat, with Ernest Ansermet and L'Orchestre de la Suisse Romande (Decca/London/ORG 102). The Falla has everything: depth on a huge soundstage, three-dimensionality, and timbral richness. It opens with a stage full of castanets, shouting male voices, then a solo mezzo-soprano (Teresa Berganza) way in the distance, and strings, winds and brass.
PTE MMMC (in MM mode)
Jim Rush's MMMC ($1595) is an MM/MC phono preamp made in America by Precision Transducer Engineering (PTE). Its metal chassis is housed in an attractive wooden case, and contains a full complement of gain and loading options selected via DIP switches accessed by removing the bottom plate.
Even the MM input offers, instead of only 47k ohms, a plethora of loading choices—21 of them, from 4.9 to 75k ohms—and the excellent instruction manual shows why some high-output cartridges that have unusually low inductances, such as those from Soundsmith and Grado, would benefit from another choice even when the manufacturer recommends 47k. Rush surmises that that recommendation is made because 47k ohms has become the "standard," even if it might not be the best choice for every MM or moving-iron cartridge.
But while the PTE MMMC is very well made (even if a metal shield epoxied to the tops of some board components had broken loose and was rattling around inside when I opened the shipping box), and features a board packed with quality parts, its sound in MM mode was not particularly inviting, especially after hearing either of the . . . Lejonklous (I had to look again). The PTE sounded flat, cardboardy, and glary.
But I'll spare you the rest of my listening notes-as soon as I'd completed my listening, there in my inbox was a message from Rush. Without knowing what I'd written, he told me that he's made changes to the MMMC's MM section that have much improved its sound. He's improved the overload margins by 6dB, changed from passive to active RIAA equalization, and increased the power-supply voltage so that the 1kHz overload is now 26dB. Output coupling capacitors have been changed to poly film, and the entire signal path is now low-tolerance film caps. An upgraded sample is on its way to me.
Switching to MC Mode
With a Lyra Helikon SL cartridge mounted on the tonearm of VPI's Classic 3 turntable, my first job was to listen through a known, reasonably priced phono preamp. I used Einstein Audio's Turntable's Choice ($5400). This combo produced finer detail and image resolution, and a noticeably wider and deeper soundstage, than did the Shure through any of the MM phono stages surveyed. The Lyra-VPI-Einstein's transparency, too, was far superior, but most noticeably better were the combo's textural and timbral delineation. For the most part, you pay more, you get more.
The PTE MMMC, loaded at 100 ohms, commendably pushed back the front of the soundstage and increased the overall depth; in the Falla recording, Teresa Berganza's more compact, better-focused voice could be heard emanating from well back on the stage. Strings were still a bit hard relative to the far more expensive Einstein, but drum textures were believable-as were, generally, the percussive attacks. The bottom end was well developed, helping to produce rich lower strings, warm French horns, and an enveloping hall sound. Macrodynamics, while no match for the Einstein's, were very good, particularly for $1595.
The PTE reproduced satisfyingly tight, but not the deepest, kick-drum sound from AC/DC's "You Shook Me All Night Long," and the electric guitars cut through nicely, while cymbals had a bit of electronic overlay that somewhat diminished their desirable brassy ring. That same overlay affected Ella Fitzgerald's voice, which was also a bit too big. Overall, though, a pretty good performance.
---
Footnote 1: Shure says that the cartridge itself has been discontinued.-
Ed.
<!- ------------------------------------>