Previously Unreleased John Renbourn "Attic Tapes" To Get Double Gatefold Vinyl Release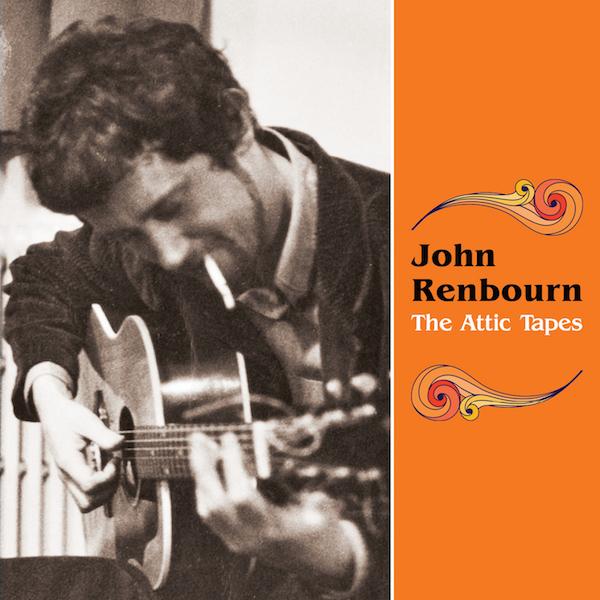 On October 16th, 2015 Riverboat Record will release on CD
The Attic Tapes
a "vintage" collection of John Reborn recordings made two or three years before his Transatlantic Records debut. The double gatefold edition with exclusive tracks will be released early in 2016.
The tapes were discovered by Renbourn's friend Mac MacLeod who is also heard on the recordings as is Davy Graham and Beverley Martyn. Renbourn, who passed away in March of 2015 was alive when the tapes were discovered and he provided the liner notes, which makes this even more significant. Sadly, the artwork was scheduled to be delivered to Reborn two days after he passed away so he never got to see the finished product, nor did he have time to reconstruct the actual recording dates.
The opener is Graham's classic "Anji". The tape box in which that track was found was marked "1962", which means it was a very early performance of the now classic song. The tracks with Martyn were recorded at a gig shared with American Spider John Koerner.
The label provided this bio for those unacquainted with Renbourn:
John Renbourn was born John McCombe in Marylebone, London in 1944 : his father, Robert, was killed in the second world war, and his mother, Dorothy (nee Jopling), married Edward Renbourn, a physician, in 1952, when John's surname was changed by adoption. The family moved to Surrey, where John had piano lessons and was introduced to early music. He took grade examinations in classical guitar, which influenced his later folk and blues guitar arrangements. He attended Kingston Art School in the early 1960s while living on a boat before acquiring a Scarth guitar and performing at clubs around London, most famously Les Cousins in Soho. Through the American singer, Doris Henderson, who he later recorded two albums with, Renbourn met T-Bone Walker, John Lee Hooker and Memphis Slim. In 1964, Renbourn was introduced to his lifelong friend and musical collaborator, Bert Jansch. In 1967, Pentangle came together through gigs at a club begun by John the year before at The Horseshoe, off Tottenham Court Road. Releasing their debut album in 1968, Pentangle would achieve considerable world-wide acclaim before disbanding in 1973. John continued to record solo and with the John Renbourn Group and Ship of Fools, and continued touring around the world. Having lived in America for some years John returned to the UK and in the mid-1980s studied for a degree and took up a teaching post at Dartington College in Devon. In later years he toured regularly, often in company with Stefan Grossman, Robin Williamson and Wizz Jones who he was touring and recording with at the time of his death. John's last official album was 2011's Palermo Show, itself his first album in 13 years, which makes this new collection of vintage, unheard and unreleased recordings all the more desirable.
John Renbourn was a brilliant exponent of the guitar, and despite considerable successes, never fully received the recognition he deserved. He was a very modest man and never seemed to mind. He was much admired and is greatly missed.
<!- ------------------------------------>