Pro-Ject's MM/MC Phono Box RS Is A Chronic Overachiever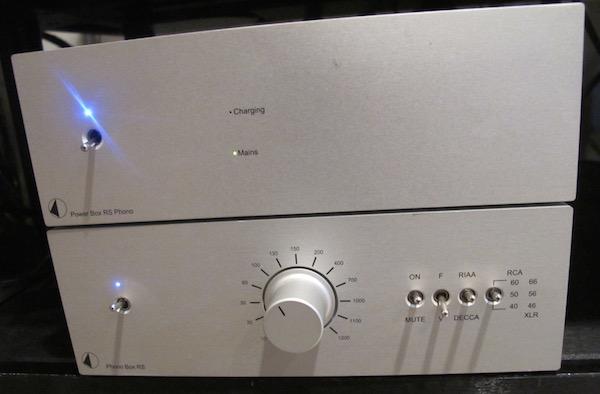 You might be skeptical about electronics products from a company best known for its mechanical ones but Pro-Ject's extensive Box-Design electronics series has gotten rave reviews over the past few years. The company has assembled a skilled electronics team to design and build a full electronics line in both the analog and digital domains.
After spending a great deal of time with the $999 Phono Box RS and optional Power Box RS Phono battery pack, I'm happy to add my endorsement of this impressively well made, unusually feature-packed, great sounding product.
The Phono Box RS is a fully balanced, dual-differential, dual mono MM/MC phono preamp housed in a substantial chassis milled of aluminum that offers a full feature set unusual at this price point and its "on-the-fly" front panel mounted resistive loading knob is unusual at any price point.
In addition to the large knob that produces loading from 10 ohms to 1200 ohms, front panel controls include a mute switch, gain choices of 40dB, 50dB and 60dB (single ended) and 46dB, 56dB and 66dB (XLR/balanced out), a choice of RIAA or DECCA equalization (the later only for pre stereo era FFRR DECCA/London mono LPs) and a switch that lets you choice between the variable loading front panel knob and a fixed load set via a back panel dipswitch panel.
In fixed mode the dipswitch panel lets you choose between 47Kohms for MM use and 10 ohms for low internal impedance MC cartridges. Capacitive loading for MM cartridges is also set via the dipswitch panel, with choices of 100pF, 200pF, 220pF, 300pF, 420pF and 520pF (pF equals picofarads).
The rear panel also includes both single-ended RCA and balanced XLR inputs and outputs, a switch to choose between RCA/XLR inputs and outputs (if you run balanced outputs, Pro-Ject includes RCA to XLR adapters for single-ended RCA phono leads) and a subsonic filter (12dB@20Hz).
Unusual at this price point are the solid chassis mounted RCA jacks. And yes, if you have two turntables one with RCA and one with XLR terminated tone arm wiring, you can connecte both simultaneously and switch between them via the back panel mounted switch.
A "Walwart" powers the unit unless you opt for the $799 Power Box RS Phono, a battery pack-based power supply that runs the unit off of rechargeable batteries and automatically switches to "mains" power when the battery is depleted.
At the heart of the Phono Box RS is an Analog Devices SSM2019 chip uses as the input stage and Linear Technology's LT1010 chip used as a high current buffer stage. These are low noise devices that help the Phono Box RS achieve impressively black backgrounds even at 60dBs of gain with a very low output MC cartridge.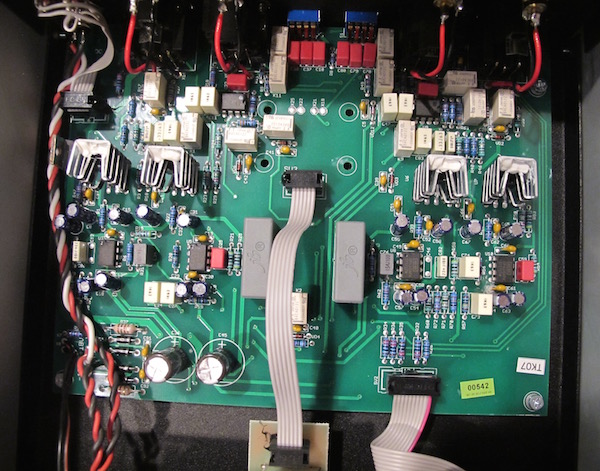 Smooth, Rich Sonics
The sound produced by the "wall-wart" powered Phono Box RS is unmistakably smooth, warm and rich without at all sounding closed in or restricted on top, though there are airier and more expansive top ends to be had elsewhere. At this price point, however, the usual price to be paid is some grain, brightness or sizzle, all of which the Phono Box RS does not produce.
Deep, extended and powerful bass is among the unit's strongest suits though it is not a fully articulated or expressed as you can get from far more expensive phono preamps.
I drove the Phono Box RS with a variety of cartridges more expensive than are likely to be used with it, including the Lyra Etna, Atlas, Atlas SL and Titan i MC cartridges as well as with the Ortofon A-95, and Miyajima Labs Zero and Premium BE mono cartridges.
Among the records played were Blake Mills' highly recommended Heigh Ho (Verve B0021196-01) a double 180g LP with deluxe "Tip-on" gatefold packaging pressed at RTI and recorded at Ocean Way Studio B.
I admit to being a knucklehead who for some reason thought the guy was a country artist because of his name. Instead, this is a record that almost defies categorization, though Mills is a guitarist. Let's for the sake of categorization in a phono preamp review to say he's a cross between Ry Cooder and Jeff Tweedy? That hardly suffices, but it's better than nothing.
The record is superbly recorded, whether to analog tape or to a computer and it features ultra-deep bass (Don Was on stand-up double bass on some tracks) that the Phono Box RS reproduces with impressive authority regardless of price.
The record also features a very deep, well developed soundstage with good instrumental focus and events occurring deeply within the stage that this phono preamp does a really fine job of expressing.
Jim Keltner is on drums throughout and while the drums have more sizzle and definition on more expensive phono preamps, they are surprisingly well expressed through the Phono Box RS.
Switching to classical music, while in Bulgaria I was treated to a performance by the Sofia Symphony Orchestra that included Lalo's "Symphony Espagnole", a version of which had recently arrived from Analogue Productions performed by Henryk Szeryng and the Chicago Symphony Orchestra conducted by Walter Hendl (RCA LSC-2456) so of course I opened and played it with no reference with which to compare it both as a reissue and as reproduced through my system.
The violin's presence between the speakers was three-dimensional, with a pleasing and honest sheen, though not as airy and light as I later heard it through the fifty times more expensive Ypsilon VPS-100 silver edition phono preamp that I'm still paying off. Not surprising, but the Phono Box RS's rendering of the violin and the orchestra was plenty involving tonally, spatially and dynamically.
Before swapping out the "wall wart" for the battery power Power Box RS ($799) I played one of my old standbys for transients, overall presence, staging and space, The Modern Jazz Quartet European Concert (Atlantic 2-603) a double LP set I've been playing since the early '60s (yikes!).
This one I know really well! Yes, the Phono Box RS lost some of the hall air and space, John Lewis's piano was somewhat softened on the transients and Connie Kay's drums were not quite as sharply drawn as I'm accustomed to, but honestly, had I not known, I'd have thought I was listening to a far more expensive phono preamp and that's before installing the batter supply. The biggest clue that this was a moderately priced phono preamp was that when Milt Jackson was not playing vibes on the right channel, the lack of air and space produced the sensation that the right channel was dead.
The Power Box RS Phono
This box, sized and built to the same high standard as the Phono Box RS itself, fully isolates the Phono Box from the A.C. line using Lithium Polymer batteries, one for each channel, to provide about four hours of use. Once the battery drains to certain level the Power Box automatically connects to the A.C. to charge the battery. While the benefit of being off the grid is temporarily lost, the preamp still runs off of the battery, which acts like a filter bank to produce better sound than were the unit running off of the standard "Wal Wart"—or at least that's the claim.
It didn't take long to hear the benefits of the Power Box RS Phono. It produced greater transparency, blacker backgrounds that greatly improved low level detail resolution, deeper bass and even more sense of the hall on that MJQ record. The improvement was across the board and not at all subtle. If you buy the Phono Box RS and later add the battery supply, make sure it's returnable if you don't hear the improvement. I doubt you'll be returning it.
Conclusion
The Pro-Ject Phono Box RS is a remarkably well-constructed, uniquely featured MM/MC phono preamplifier that offers for $999 fully balanced, dual-differential performance, low subjective noise and rich, fully bodied sonics. It's easy to recommend except under one circumstance: if you're looking for something to add brightness and/or "crispness" (and there's nothing wrong with either depending upon from where you're starting), the Phono Box RS might not be the best choice, though your choice of cartridge might also give you those qualities, even with the Phono Box RS.
Adding the $799 Power Box RS takes the performance to a higher level and brings the total to $1798. At that price point I'd take a serious listen to the Liberty Audio b2b, which as I recall its sound, produces faster, cleaner transients and perhaps snappier rhythm'n'pacing and greater transparency. That said, for $999 I can't think of anything that beats or approaches the Pro-Ject Phono Box RS in terms of features and build quality and it competes sonically with everything I've heard at or near its price point.
Input impedance: 10Ω or 47kΩ (Rear Panel Selectable)
Loading Options: 10-1200Ω (Front Panel adjustable) )
Capacitance options: 100, 200, 300, 420 or 520pF
Gain Settings: )
RCA: 40, 50 or 60dB)
XLR: 46, 56 or 66dB)
S/N Ratio: 80dB (91dB@IEC-A) )
THD: <0.019%)
RIAA accuracy: ±0.3dB (20-20kHz) )
Subsonic Filter: -12dB @ 20Hz)
Inputs: RCA(pr) & XLR(Pr) )
Output: RCA(pr) & XLR(Pr) )
Output impedance: 50Ω)
Power supply: )
Input: 120VAC@60Hz)
Output: 2x18VDC@300mA)
Dimensions: 8.1x2.9x8.3" (WHD) )
weight: 4.5Lbs, without PSU
<!- ------------------------------------>