ProJect's New Classic Turntable Celebrates Twenty Five Year Anniversary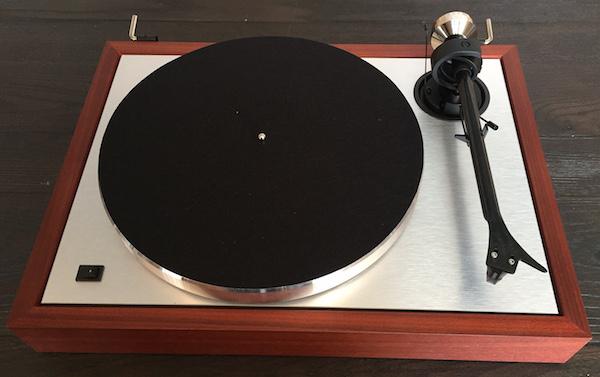 Pro-Ject's Heinz Lichtenegger couldn't wait for next week's Munich show where he will hold a twenty fifth anniversary press conference and debut this handsome new turntable. Instead he flew to New York and debuted it first at the World of McIntosh (WOMA) townhouse.
Believe me, given how much needs to be done before going to Munich, I wouldn't have shlepped into Manhattan just for the sneak peak, but I had a dentist's appointment the same day as the event so I went.
This new turntable bears a not coincidental resemblance to a Linn-Sondek, though it eschews a spring-based suspension. Instead, it uses specially designed Sorbothane discs carefully placed between the chassis and the handsome wooden frame.
However, while it otherwise resembles previous Pro-Ject turntables, there's much that's special here. The arm tube is a new carbon fiber over aluminum sandwich construction. The horizontal bearing is a new design, using an expensive Japanese part that's got a center hole to allow the wiring to pass through unimpeded.
The vertical gimbal bearing is also a new design using a metal that Mr. Lichtenegger referred to as "Sercon" (or something like that--sorry this got lost in translation or rather in dialect).
The counterweight is decoupled using a new Ortofon-developed elastomer. The new platter machined of aluminum, is well-damped using a special material around its underside periphery, that also adds mass and produces greater stability. Give it a knuckle wrap and there's not a hint of ringing or "pinging".
The cost of the new 'table will be somewhere around $1000 but could be as high as $1400 depending upon whether or not it will include a cartridge.
In any case, it's a handsome 'table and the arm upgrades are sure to eventually find their way into less expensive Pro-Ject tone arms.
<!- ------------------------------------>