Record Store Day April 20th 2013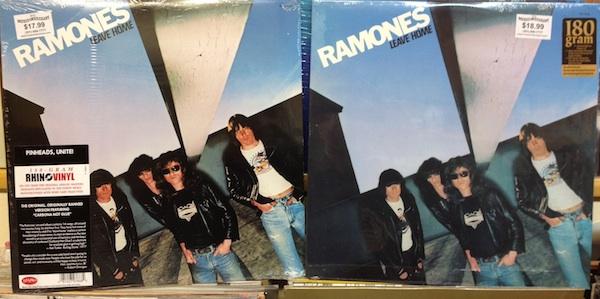 The line snaked down the block outside of Music Merchant in Westwood, N.J. the morning of Record Store Day April 20th 2013. It was 7:30 AM well before I got there, you can be sure. Others told me about the scene, including the store's owner.
All of the most prized collectible limited edition records were quickly gone. Is this good? I'm not sure. Why were the buyers there so early in the morning? Why did they buy? Were they fans of the music? Fanatical record collectors? Or were they mercenaries buying up what they knew would soon possibly fetch big bucks on Ebay to the actual fanatical record collectors? I surely hope the former, but who knows?
Record Store Day has become a worldwide phenomenon and that's good. The "last shops standing" need the revenue boost but the disturbing undertone of commercial exploitation lingers.
The major labels, hardly "major" as they once were, are anxious to generate revenue however possible. This is good in that the vaults are now open for the responsible reissue labels to cut lacquers from master or tape copies (either one works for me). Unfortunately it also opens the vaults to the charlatans and phonies for whom printing on the jacket or label sticker "cut from the original master tapes" is easy, whether or not it's true.
Yesterday I received an email from an overseas reader who wrote: "Earlier today I popped down the one of my local record stores in Brighton (UK) and picked up today's RSD 2013 Grateful Dead double lp "Rare Cuts & Odities 1966". The cover said printed in the USA and is of nice heavy card; the notes on the back say "Lacquers cut by CHRIS BELLMAN at…" BUT what did I find but two European pressed slabs with no CB scribed. Should I be worried? will they really sound inferior? - I probably won't find out - but it just annoys me that someone went to the trouble of choosing and stating the cutting location and then not following through."
What is that all about? I asked Chris Bellman and Rhino. Bellman got right back to me and said he'd check into it. I hope to hear back from Rhino. I will let you know.
There's a glut of new vinyl on the market today. In some ways, the more the merrier! But in others it's ominous and disturbing. I took the photo above at my local store. I do not mean to criticize the store or to single it out. I've seen this same thing at Amoeba and at many other stores around America: multiple editions of the same record. How is a record buyer to know which is the one? Or what are the differences or why?
At Amoeba once I found multiple versions of Bob Dylan albums in the Bob bin. I knew what was going on but the average consumer? No way. Analogue Productions has licensed from EMI the Beach Boys catalog. But apparently that has not stopped EMI from also reissuing Beach Boy albums on 180g vinyl surely cut from CDs if the sound of the recent Capitol reissues of Roxy Music, Merle Haggard and other artists are any indication.
In the case of The Ramones, above, I found two versions of Leave Home. One for $18.99 has a gold and black sticker on it that was copied from one created by Sundazed a few years ago. Though Bob Irwin is an industry veteran, he forgot about the lurking vipers and produced a sticker that did not say "Sundazed" on it.
So this other company was free to borrow, leaving Sundazed customers confused and thinking they were getting Sundazed when they were getting Scorpio Music's edition. This Ramones' reissue is from Scorpio though it doesn't say anything on the label about who reissued it.
Scorpio has also issued some of Dylan's catalog and other Columbia Records titles. When you ask label execs about this they have no comment. Enough said?
The other Leave Home costs $1.00 less and if from Rhino. It says right on the sticker, "mastered from the original analog tapes" and I bet if I cracked it open I'd find Chris Bellman's "CB" scribe on it. Which do you think will sound better? But not everyone knows what you know and the price is close. Maybe the more expensive one is that much better? Again not your thinking but probably someone's. And that someone will get an inferior product in every way.
So RSD 2013 left me somewhat disheartened and later Saturday night I watched two DVDs "Last Shop Standing" and "Brick and Mortar Love" that didn't pep me up much. I'll review those ASAP but you should see both.
So what did I buy at RSD? I bought Calexico's Spiritoso (Anti 87260-2) a limited to 3500 copies release (I got 2882) featuring the band backed by two symphony orchestra in live performances. Nicely packaged and recorded but cut by John Golden, I suspect from a CD. It sounds like a good recording flattened and lacking in transparency. Again, I hope to find out how this was produced from the mastering engineer credited on the jacket. In 2013 there is NO excuse for cutting lacquers from a CD resolution file. I doubt the recording was produced 16 bit/44.1K. I played it once so far and liked the South of the Border bullfighty "rich Corinthian Leather" music very much. At times like this I wish we had a mandatory SPARS code (that's the code used in the early days of CD that told you how the disc was sourced: AAD, ADD, DDD)
. I picked up Leonard Cohen's double live LP Songs From the Road (Legacy 8869777112-1) Fitz and The Tantrums 2010 release Pickin' Up the Pieces that was priced at $24.99 (!) and turns out to have been mastered by Wes Garland at Nashville Record Productions and pressed at United. He'll tell me the source but I'm not optimistic. I bought the new double LP from The Mavericks that being in UMG I was sure was pressed at United and mastered by Wes and I was correct. But that double 180g set was $17.99 not a single at $24.99. Why was the Fitz $24.99? Maybe it's already out of print and collectible? Who knows? I was in a "support my local record store on RSD" mode and so didn't care.
I bought Father, Son, Holy Ghost from Girls on a double LP set for $21.99 just because there was a song on it called "Vomit" and because the label was Fantasy Trashcan. I know nothing about this group but I remember buying the first Love album the same way. I knew nothing and boy was I glad I bought that. Of course that was on Elektra and everything I'd previously bought on Elektra was not just good but great! Don't yet know about Fantasy Trashcan but if Girls is good I'll let you know.
I also bought the re-creation of the Nick Drake sampler LP issued by Island in 1971. The backstory is that his first two LPs were not issued in America by Capitol.
His first American release was this compilation containing tracks from the first two but the album was DOA because the Island/Capitol deal fell through subsequent to pressing and the records were immediately cut out (cut corners or holes drilled through) catalog # SMAS-9307. The compilation was mastered at Abbey Road, overseen by John Wood the original engineer (like the Pink Moon reissue) so I bought this to fill out my Nick Drake catalog.
When I cracked the shrink wrap I found it had been plated and pressed at United, not at Optimal as I'd been expecting. Oh well, it still fills out the catalog for me.
So that was my RSD April 2013. How was yours?
<!- ------------------------------------>