Record Store Day Ruined By Grumpy Old Man!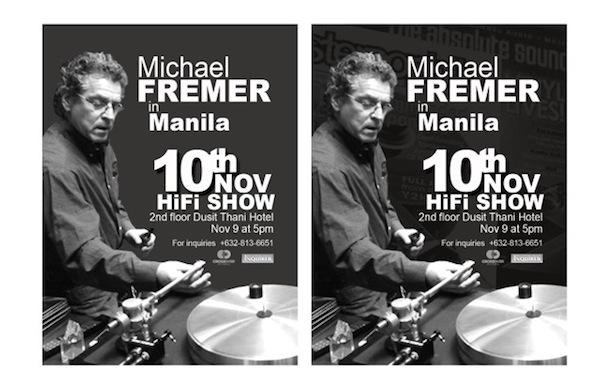 Note: though I have been assured it was perfectly legal to post a photo of this store, I have removed it to avoid a possible nuisance lawsuit. According to a friend of mine, the store's owner is upset with what I've posted below about my experience on RSD. Too bad. I couldn't have been more complimentary about the store and any more truthful about the behavior of his brother towards me and as I've since heard, towards other customers. As this substitute photo shows, I travel the world on behalf of vinyl. I am treated well—as you should expect to be treated when you enter a record store—wherever in the world I go. It is sad that when I visit my local record store I am treated like a teenaged vandal.
How was your RSD? Mine was ruined by a grumpy old man at my local record store, Music Merchants in Westwood, New Jersey.
It's a relatively small but very well-stocked store. They endeavor to carry all of the new non-audiophile vinyl releases and their used selection is pretty good. That they have survived as a record store in a busy, high rent commercial center of an affluent town is a tribute to their good business sense....except for one thing: one of the two brothers who owns the place is among the most unpleasant individuals I have ever encountered in a record store or for that matter anywhere else.
I have thumbed through vinyl at record stores around the world—not that I have to tell you that—and not until I first visited Music Merchants a few years ago did someone run over and complain about my "thumbing": it was one of the brothers. It wasn't so much the message as the medium that grated like chalk on a blackboard: his tone was like how someone putrid might admonish a misbehaving child.
After telling him I'd been in many more used record stores than had he and that no one had ever complained about my "thumbing", I let him know that I'd try to be more careful.
So today in a store crowded with RSD customers I began "thumbing" just as I'd done it at Twist and Shout in Denver last Thursday and how I'd "thumbed" at PRX last week and at I don't know how many record stores and up came Groucho and in that putrid tone he said "Uh don't thumb through those records like that, some of them are older than you and they are fragile", which of course is B.S., but this time I said "okay" and moved on.
A few minutes later I spotted a copy of Buffalo Springfield Again and I wanted to see if it was a first pressing, so I very carefully removed the record from the plastic sleeve and gently removed the inner sleeve only part way from the jacket and when I saw it was a yellow label second or third pressing I slipped it back into the jacket and as I started dealing with the plastic outer sleeve the chalk hit the blackboard and the shit hit the fan: "Let me show you how to put a record back in the jacket" (or something similar) he said and that was it for me.
"Look I don't need a lesson from you on how to handle records okay?" "Yes you do." "I know more about records than you'll ever know". "No, I know more than you." " Look, fuck you". "Just put down those records and leave." "Gladly!"
And out I walked, leaving behind a large pile of records I was going to buy. My friend Mike followed me out a few seconds later but in time to hear the other brother come over to Mr. chalk on the blackboard and say to him "Why did you do that? That guy can cause us more trouble than you can possibly imagine".
Do I want to cause them more trouble than they can possibly imagine? Of course not. They are conscientious record store owners. Yes, a few of the Sundazeds were definitely overpriced but overall they stocked the store fully and it was worth paying a few bucks more if just to support the store. But I'm not going to put up with that kind of treatment from anyone.
I've heard stories from other people about being abused by the angry brother and it's time for the other brother to tell his brother to put a cork in it!
I hope your RSD was more pleasant than was mine!

LATEST VIDEO
<!- ------------------------------------>