Reverb LP A New Online Record Selling and Buying Site Opens Its Digital "Doors"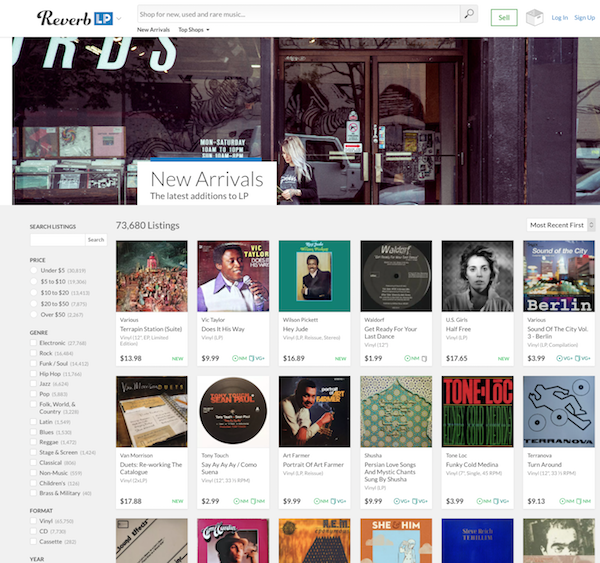 The website
Reverb.com
recently announced an open beta launch for Reverb LP. Backed by what it claims is "the world's most popular music gear site",
Reverb LP
aims to be "the best place online to buy and sell records".
The website will offer record stores, collectors, and music fans an easier and more cost-efficient option for buying and selling records and other physical music formats online. "The current options for buying and selling records online — whether you run a store or just have a personal obsession, like me — is cumbersome," said Reverb LP President Dan Melnick, who has more than 400 records from his personal collection on the site.
"Based on the success and support we've experienced with Reverb.com and the knowledge we've gained growing the platform to what it is today, we're uniquely positioned to provide the record industry with the best online marketplace for buying and selling records."
According to the press release: "Since launching in 2013, Reverb.com has grown into the most popular music gear website in the world, with sales expected to reach nearly $400 million this year and more than 10 million musicians and music lovers around the world visiting the website each month. Many of the same characteristics that differentiate Reverb.com from the competition will set Reverb LP apart from existing platforms, including:
Lower seller fees. It's free to list records on Reverb LP and when an item sells, the company takes just 6 percent, making Reverb LP one of the most cost-efficient options available for selling physical music online. A live customer service team full of record collectors, musicians, and music lovers. Hyper-tailored technology and tools, like sales dashboards and Reverb Sites, which will allow stores and collectors to create their own branded website with their Reverb LP inventory synced and integrated.
"According to Bob Lambert, owner of Tower District Records in Fresno, California, Reverb LP will put his inventory in front of the large, engaged audience of musicians and music lovers that Reverb.com has already cultivated. He's confident in the company's ability to grow its user base — and as a result, his sales — based on Reverb's track record. Lambert, who joined Reverb LP as a beta tester, says the marketplace's ease-of-use and customer service team will also be huge assets to his business.
"We get all types of people in our store, from seasoned collectors down to first-timers who are discovering what vinyl is all about. The Reverb LP platform is clean and intuitive, so wherever you sit on that spectrum, it's easy to navigate," Lambert said. "In addition, I'm excited to sell on a platform that provides a customer service team that not only answers when you call, but is extremely knowledgeable and sympathetic to my needs and the needs of my customers. As buying and selling records online continues to become the norm, customer service is crucial.
To browse and purchase from the growing list of records available or list items of your own, join the beta by visiting Reverb LP.
<!- ------------------------------------>