Review Explosion: Coldplay, Tame Impala, Dos Monos, Gil Scott-Heron, & More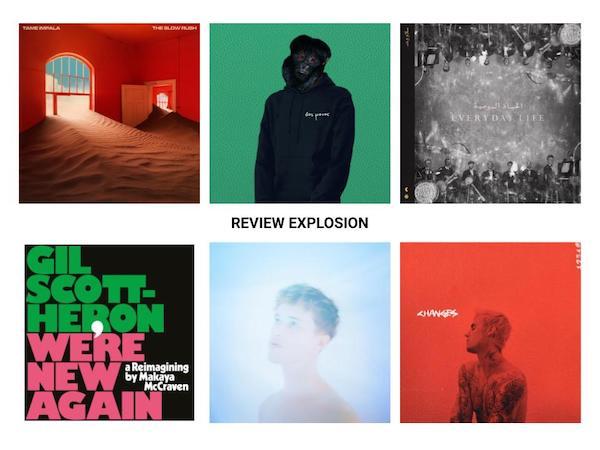 (Review Explosion is a recurring AnalogPlanet feature covering recent releases for which we either don't have sufficient time to fully explore, or that are not worthy of it. Curated by AnalogPlanet contributing editor Malachi Lui, Review Explosion will focus on the previous few months' new releases as well as archival titles and reissues.)
Tame Impala - The Slow Rush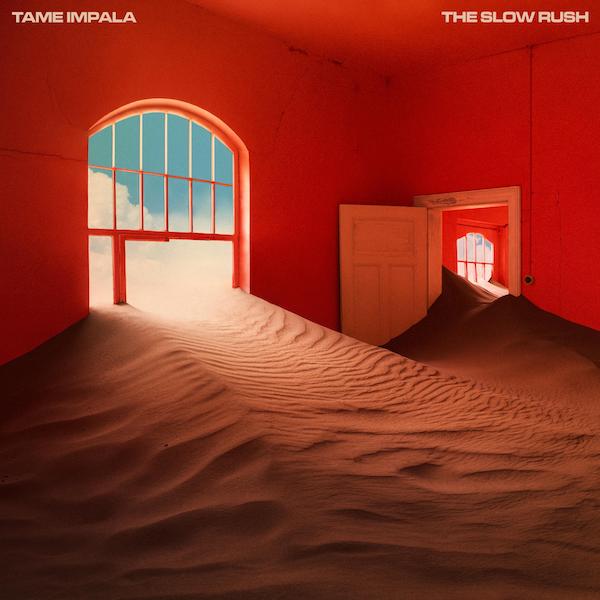 Fiction/Interscope 44.1/24 MQA stream (also on vinyl)
Produced by: Kevin Parker
Engineered by: Kevin Parker
Mixed by: Kevin Parker
Mastered by: Greg Calbi and Steve Fallone
Music: 7
Sound: 8
Five long years after 2015's breakup-themed psych-pop masterpiece Currents, Tame Impala mastermind Kevin Parker finally returned in February with The Slow Rush. Both albums feature a similar musical feel (although the latter is a bit compositionally brighter), but at 33 years old, Parker's lyrics now center around marriage and settling down with age. The LP's singles are its most notable highlights: "Borderline" and "Lost In Yesterday" both have excellent guitar riffs; "Posthumous Forgiveness," recounting Kevin Parker's relationship with his late father, features lush soundscapes; and "It Might Be Time," about the realization of "we ain't as young as we used to be," has bouncy, enveloping synths. Album cuts "One More Year," "Instant Destiny," and "Is It True" are also well-crafted songs that make The Slow Rush worth a full listen. However, some of the remaining tracks are quite generic, not unlike Coachella livestream background music played between sets and camera/stage switches. Overall, The Slow Rush reaches brilliant heights but with its inconsistencies, can as a whole appear too vibe-reliant.
Dos Monos - Dos City
Deathbomb Arc DBA193 limited edition LP and cassette
Produced by: Zo Zhit
Engineered by: Dos Monos
Mixed by: The Anticipation Illicit Tsuboi
Mastered by: Rick Essig (digital), unknown Precision Pressing engineer (vinyl)
Music: 8
Sound: 8
Comprised of Zo Zhit, Taitan Man, and Botsu/NGS, Japanese hip-hop trio Dos Monos is the sound of the future. Rapping in both Japanese in English, their lyrics cover a versatile subject range with production simultaneously familiar and fresh; they almost sound like early A Tribe Called Quest, if Tribe existed in a post-apocalyptic world. Main producer Zo Zhit's sample selection is one of knowledge and taste: well-sampled here are Thelonious Monk ("Brilliant Corners" is sampled on "In 20XX"), Miles Davis (Agharta is sampled on the song sharing its title), Gil Evans (erroneously credited as "Gill" Evans), Michel Legrand, Madlib, Count Basie, Frank Zappa, Sonic Youth, Yellow Magic Orchestra, Ornette Coleman, Rashied Ali, The Jazz Composer's Orchestra, Captain Beefheart, and many others.
The vinyl, which is now sold out from label Deathbomb Arc (but still available from distributor Fat Beats), is well mastered and pressed at Precision, with a simple but tastefully designed foldover jacket. The first pressing of 500 (of which my copy is one) is bare-bones, while the second run (another 500) includes a Japanese lyrics sheet. As expected with Precision and GZ cuts, the vinyl sounds as good as the already solid digital master, with added top end air. Further, the download code (operated via Bandcamp) gives listeners 44.1/16 downloads, rounding up a nice pressing of a very good album.
Ryan Beatty - Dreaming Of David
Boy In Jeans/Mad Love/Interscope 44.1/24 MQA stream (vinyl coming soon)
Produced by: Daniel Fox, Austin Anderson, and Ryan Beatty
Engineered by: Dave Schwerkolt
Mixed by: NealHPogue, Mark "Spike" Stent ("Dark Circles" only)
Mastered by: Mike Bozzi at Bernie Grundman Mastering
Music: 4
Sound: 7
Would a pale imitation of Frank Ocean's blond, replacing atmospheric brilliance with heaps of bland acoustic ballads, please you? Listen to Ryan Beatty's new album, Dreaming Of David, a work well below Beatty's calibre. Or does a far superior, more original predecessor to Dreaming Of David sound more intriguing? Then stream blond.
Justin Bieber - Changes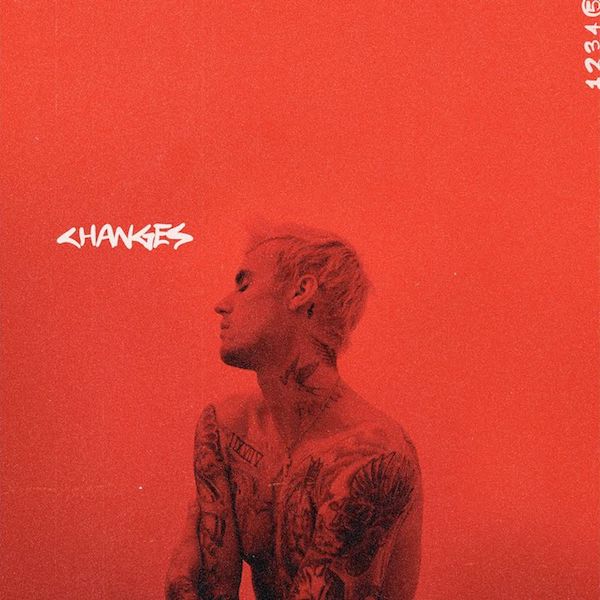 Def Jam 44.1/24 MQA stream (double LP also available)
Produced by: Jason "Poo Bear" Boyd, et al
Engineered by: Chris "TEK" O'Ryan, Josh Gudwin, etc
Mixed by: Josh Gudwin, among others
Mastered by: Colin Leonard
Music: 2
Sound: 7
Always be skeptical of an album whose lead single and main promotional focus has the hook "yeah you got that yummy-yum, that yummy-yum, that yummy yummy." Otherwise, Changes, Justin Bieber's first album in five years, is simply an attempt at faux-"sexy" R&B singing over generic trap beats. It's the 51-minute musical equivalent of wallpaper, with only especially bad moments standing out: Lil Dicky's "Running Around" verse (is there a good Lil Dicky anything?), Bieber's "Come Around Me" line "Let's not miss out on each other/Let's get it in expeditiously," his "Intentions" lyric "Heart full of equity, you're an asset," and all the other times he compares his marriage to products, consumable and otherwise. It's even worse than the low quality you'd expect from a Bieber record. The most grating part, however, is at the end, when following the inconclusive "At Least For Now" Bieber tacks on Summer Walker's "Yummy" remix (the regular song with Walker's verse replacing one of Bieber's). It's like a ghost coming back to haunt you, made worse by Justin's creepy and invasive "yeah you got that yummy-yum, that yummy-yum, that yummy yummy." I'm definitely not looping that song as I sleep…
Gil Scott-Heron and Makaya McCraven - We're New Again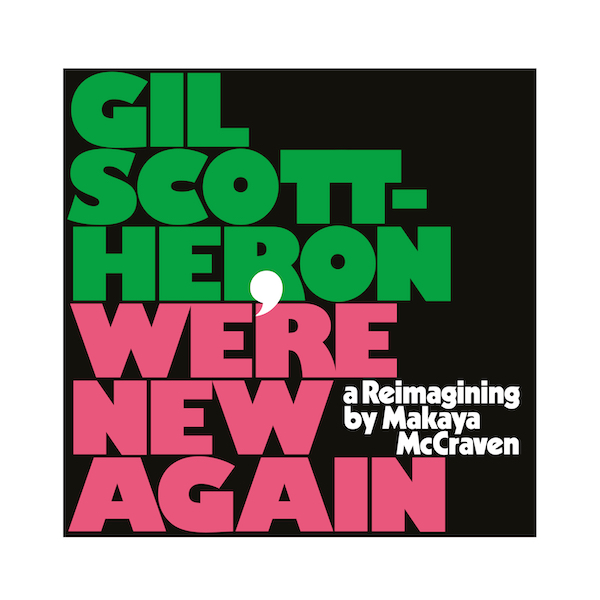 XL Recordings XL1006 44.1/16 stream (also on vinyl)
Produced by: Makaya McCraven (reimagining), Richard Russell (original recordings)
Engineered by: Dave Vettraino (reimagining), Lawson White (original recordings)
Mixed by: Makaya McCraven and Dave Vettraino
Mastered by: Guy Davie at Electric Mastering
Music: 6
Sound: 7
A decade after Gil Scott-Heron's final LP I'm New Here, for a reimagining the original album's co-producer (and XL Recordings head) Richard Russell tapped jazz drummer and producer Makaya McCraven. We're New Again shows McCraven applying his signature sampled drum style (in which he records his live drums and sample-chops them) to Scott-Heron's vocal recordings (mostly covers, spoken stories, and poems) in an innovative yet disconnected manner. Separately, both artists' work is brilliant, but McCraven's recordings don't very well match Scott-Heron's; the reimagining, while respectful, doesn't have the same feeling of Gil speaking directly to the listener. And though McCraven's drumming and production brings a pleasant new perspective to I'm New Here, the loss of the "Flashing Lights" sample on the "On Coming From A Broken Home" tracks, the less aggressive "Me And The Devil" instrumental, the more cluttered musical backdrop of "New York Is Killing Me," and the new track list arrangement all stunt the reworked LP. Overall, We're New Again is a good idea, executed by a talented musician who unfortunately missed the target.
Coldplay - Everyday Life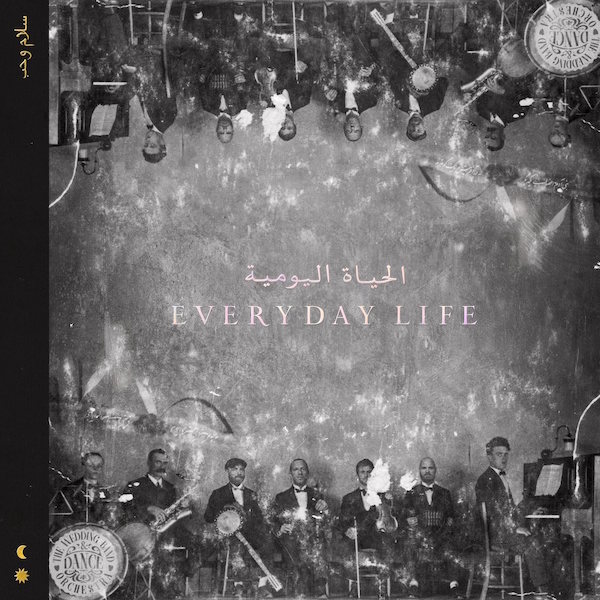 Parlophone/Third Man TMR-653 limited gold vinyl double LP (standard black vinyl also available)
Produced by: "The Dream Team" (Coldplay and many others)
Engineered by: "The Dream Team"
Mixed by: Mark "Spike" Stent, et al
Mastered by: Emily Lazar and Chris Allgood at The Lodge (digital), Geoff Pesche at Abbey Road (lacquers)
Music: 9
Sound: 7
How does a world-famous arena band react to these tumultuous times? By making a hopefully world-uniting genre- and culture-spanning double album, and doing it well. Following a string of formulaically mediocre albums, Coldplay took a break and last fall came back with Everyday Life, by far their best album yet. For a band known to play things frustratingly safe, here with assistance from a global network of collaborators they take risks; none that experimental, but big enough to engage listeners. Across its 53 minutes, Everyday Life brings something for everyone to appreciate, but doesn't creatively sacrifice. Juggling their usual arena anthems ("Orphans," "Champion Of The World," "Everyday Life") as well as traditional Southern gospel ("Broken"), doo-wop ("Cry Cry Cry"), afrobeat ("Arabesque"), gentle acoustic balladry ("Old Friends"), and more, Coldplay seamlessly weaves together a brilliantly cohesive work.
Lyrically, Chris Martin is more politically charged than ever. Not only does the band include in "Trouble In Town" a sample of an unjust police confrontation, but Martin tackles school shootings, racism, deforestation, and Middle East war. On "Guns," the angriest song, he sings, "All the kids make pistols with their fingers and their thumbs/Advertise a revolution, arm it when it comes"/"Only save your lookalikes and fuck the other ones"/"The judgement of this court is that we need more guns." The album's lyrics are at times a bit cliché'd and awkward, but the pure feelings cut through. "Arabesque" samples Fela Kuti saying "music is the weapon of the future," while Martin exclaims that we all share the "same fucking blood." Still, he remains optimistic: the title track and closer, much like the LP's other peaceful tracks, says "Everyone hurts, everyone cries/Everyone tells each other all kinds of lies/Everyone falls, everybody dreams and doubts/Gotta keep dancing when the lights go out"/"Hold tight for everyday life." Aside from the obvious exceptions, the lyrical themes of universal peace are quite refreshing.
I actually bought the limited gold vinyl edition, released in the US by Third Man Records. While it sounds only marginally better than the unimpressive 96/24 master, the packaging is exquisite. Gold and holographic foils adorn the capacity jacket and printed inner sleeves, accompanied by a 7" 28-page lyrics and photos booklet. The two Third Man-pressed gold discs (to be exact, it's clear with gold vinyl swirled in, giving a 3D impression) aren't silent, but the noise is far from intrusive (these minor surface artifacts are from the colored vinyl formulation). Overall, the $32.99 double LP edition is a physically beautiful art piece worth every penny; if you like Everyday Life, the vinyl is essential.
<!- ------------------------------------>