Review Explosion: The Heshoo Beshoo Group, Little Richard, Eric Hutchinson and Jesus People Music: Vol. 1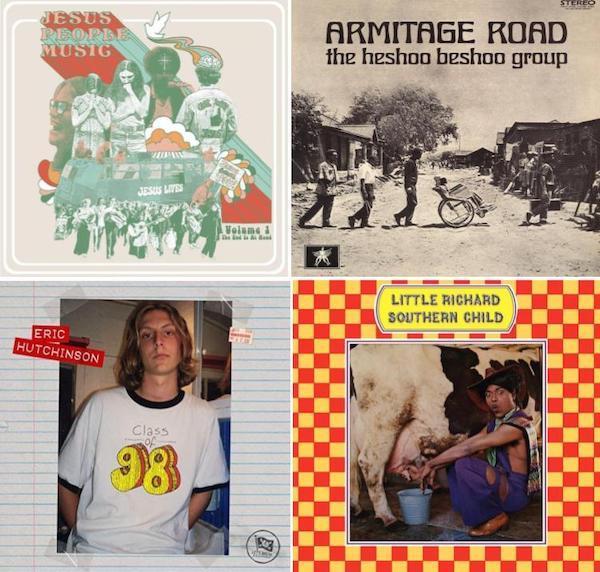 (Review Explosion is a recurring AnalogPlanet feature covering recent releases for which we either don't have sufficient time to fully explore, or that are not worthy of it. Curated by AnalogPlanet contributing editor Malachi Lui, Review Explosion focuses on the previous few months' new releases.) This explosion curated by M.F.
The Heshoo Beshoo Group - Armitage Road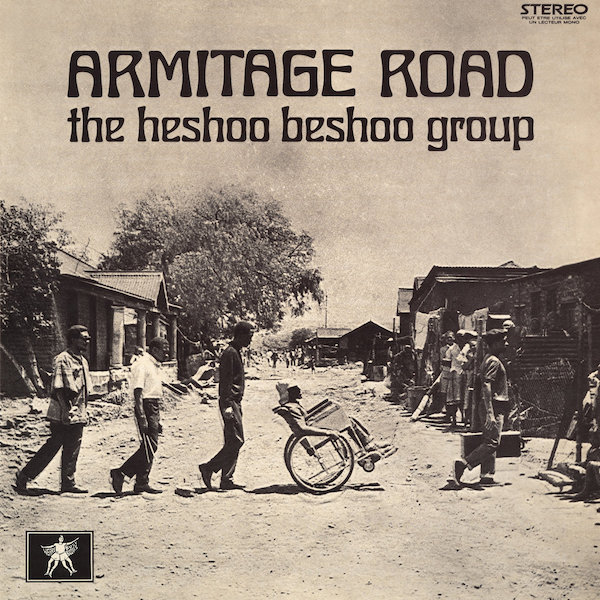 We Are Busy Bodies WABB-063LP
Originally Produced by: John S. Norwell
Mastered by: Noah Mintz, The Lacquer Channel
Music: 10
Sound: 8
A highly coveted and rare album, original copies of this South African jazz/funk group often sell for hundreds of dollars. While currently also available on hi-res streaming formats, the album hasn't had a vinyl issue since 1974. Canadian label, We Are Busy Bodies, continues their campaign of reissuing many hard-to-find, otherwise expensive vinyl variants of South African jazz and funk. The Heshoo Beshoo Group's Armitage Road was apparently titled with a nod to the Beatles' Abbey Road, a product description for the album explains that this, "acted as a critique of the social conditions in South Africa at that time without overtly mentioning Apartheid and running the risk of being banned." The cover of the album features the group crossing a South African street; note guitarist Cyril Magubane in his wheelchair, having survived a childhood bout with polio. The album's cover art succeeds in denoting the considerable contrast between these two musical worlds.
There is much musical uniqueness in play on Armitage Road, the title track begins with a nearly alt-rock vibe before locking into a jazz groove dominated by the sibling sax players Henry and Stanley Sithole. Magubane's guitar shines on "Emakhaya" and "Amabutho" recalling Wes Montgomey; the interplay of his rapt guitar playing and the Sithole brothers' somewhat wild sax blowing makes for an intriguing listen. Standout, "Lazy Bones" finds Magubane shifting his playing style to more of a Gabor Szabo western mode which - when accompanied by drummer Nelson Magwaza - recalls the steady, eastern guitar- infused jazz groove of Robbie Krieger and The Doors.
Compositionally, all of the pieces demonstrate a strong influence of the best of mid-century American jazz with melodies so strong and well-crafted that you'd imagine that they are all covers of Top 40 American hits, but this is not the case: all of the tracks are original compositions which - while featuring a delightful melodic slant - also offer moments of exciting free jazz and some freeform blowing that threatens to go off the rails, but stays in the pocket.
The record was mastered at Lacquer Channel Mastering in Toronto by Noah Mintz. Label head, Eric Warner describes the new reissue's sources as, "a pristine copy of the French pressing", not ideal, but in the case of such a rare recording, we'll get what we get and not get upset. Having not heard an original copy, I can't assume how the reissue compares. Fortunately, the finished product sounds very good with a soundstage that is detailed and unobstructed yet appropriately loose; there is an informal feel, but it is not careless. Upright bass is a little undefined, but that's perhaps what was captured on the original recording. The record was clean, flat and quiet. The vinyl offers a slight nudge of extra energy, while the hi-res streaming counterpart on Quobuz provides a touch of extra detail.
Little Richard - Southern Child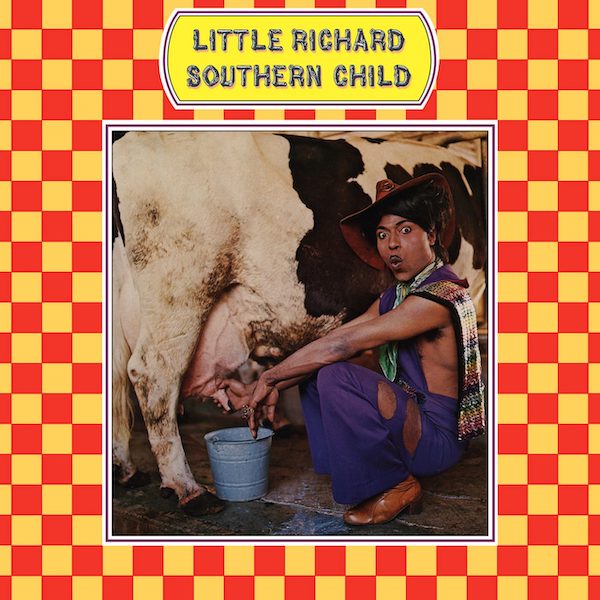 Omnivore OVLP-400
Originally Produced by: R.A. "Bumps" Blackwell
Mastered by: Michael Graves
Lacquers cut by: Jeff Powell
Music 9
Sound 9
In 2020, Omnivore was very kind of Little Richard's post-1960s catalog. His albums The Rill Thing (1970), King of Rock and Roll (1971), The Second Coming (1972) and Lifetime Friend (1986) were all remastered and expanded on compact disc, but they did not see a vinyl release. However, Omnivore returns Richard to vinyl as a Black Friday Record Store Day release with his excellent country album, Southern Child.
Richard recorded the album in 1972, yet Reprise Records mysteriously decided to shelve the project. The informative liner notes by Bill Dahl hypothesizes, "One supposed the suits in corporate decided the world wasn't quite ready for the rebirth of rock 'n' roll pioneer Little Richard as a country singer, no matter how well he pulled it off within the record's grooves."
So, how did Omnivore come to release this hidden gem? Co-founder of Omnivore and executive producer of this project, Cheryl Pawelski explains the project's genesis, "In 2005, prior to my joining Rhino, I helped run Rhino Handmade which produced limited edition, often high-end releases that were only sold online. There, we issued a three CD set that Andy Zax compiled called, King Of Rock And Roll - The Complete Reprise Recordings on which the tracks from Southern Child appeared for the first time. My Omnivore partner, Greg Allen, did the art direction and design on the Handmade project as well, so we knew that a cover had been worked up for the album back in the day, before the album was ultimately shelved by Reprise Records. So it was just a natural progression for us to issue this album on its own and give it a life beyond the now long-sold out and out of print, limited edition CD set that if found, is often pricey."
As expected, there are plenty of Little Richard barnburners, the opener "California (I'm Comin') being one of them and "Burning Up With Love" which - while retaining the funky-country groove of the rest of the album also offers an impressive dance-floor friendly vibe.
But the real treat on this unique Richard album is when he goes full country. Nobody loves a howling Little Richard like I do, but when he tackles acoustic numbers like "If You Pick Her Too Hard (She Comes Out of Tune)" his seldom heard soft and sweet approach can be startling; the song recalls a dramatic Mick Jagger with Stones-ish backing. Same with "Ain't No Telling" and "In the Name" which find Richard enjoyably gentle and emotive.
Of course, Richard can't help being Richard and he is his true self during the nearly 9 minute romp of "Puppy Dog Song" which is part rap, part hypnotic funk groove: imagine Jim Morrison's outro rap at the end of "The Soft Parade" except that it's all about different kinds of dogs. CD buyers will enjoy a few bonus tracks, three stripped-down outtakes of "In the Name" and the fun, instrumental, piano-pumping, boogie-woogie rocker, "Sneak the Freak."
Yellow vinyl is pressed very nicely and sounds great. There is no hi-res option for this album, but the CD and digital versions also sound very good: both recordings are earthy and fat, but detailed. The CD is in fact very good; almost eerily so when compared side-by-side with the vinyl: bass is strong but of appropriate weight. Extra volume on the CD is fun, yet the vinyl remains wonderfully crankable.
Eric Hutchinson - Class of '98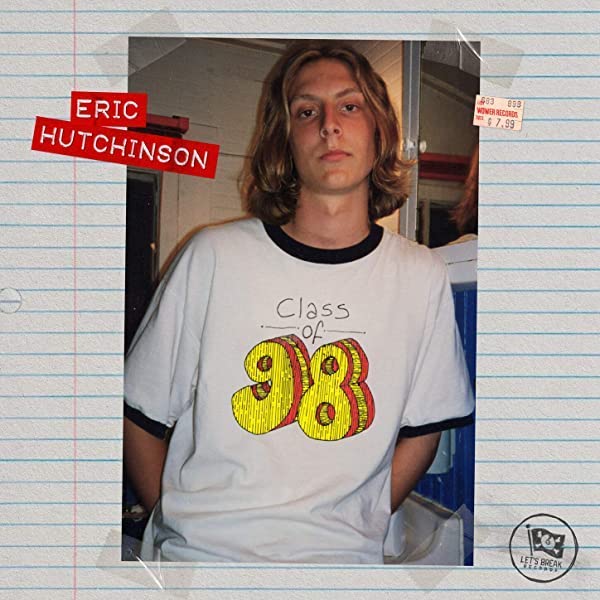 Let's Break Records
Produced by: Eric Hutchinson
Engineered by: Miles Hanson at Creation Audio in Minneapolis, MN
Mixed by: Paul Q. Kolderie
Mastered by: Vlado Meller
Music 8
Sound 8
As time marches on, the nostalgia circuit morphs. We still cling to 60s and 70s touchstones, but fond memories and pining for the 90s is quickly coming around the bend. To that end, singer-songwriter Eric Hutchinson decided that the time was ripe to imagine revisiting his high school days in Maryland during the late 90s and make the record he might have made then if he were who he is now. It's an opportunity for reprisal against those knuckleheads who might have bumped him into his locker once, or twice (remember that?); a chance to settle some ancient teenage grudges. This is summed up clearly in "Cooler Than You": "You got that good at basketball life / And you act like the other jocks / And you're not really all you wanna be / Deep down you're a little scared / Maybe that's why you gotta pick on me / But you know I don't really care."
This approach is a bit of a gamble and risks slipping into preciousness (and maybe a bit of precociousness), but Hutchinson pulls it off. He's got the right kind of 90s vibe: laid-back, but focused. His vocals are especially attractive: he's intimate, but professional with an endearing vulnerability, particularly on the beautiful "Ann Marie" in which the singer spends a long, late-nite telephone call (remember those?) talking about everything with his buddy's gal while his buddy is out galavanting around. Oh, those conflicting midnite teenage emotions!
The production is squarely moored in late-90's territory: plenty of big, fuzzy guitars with palm-muted power chords layered with strummy acoustics, occasional vintage-retro keyboard stabs, and big fat drums; think Weezer and Blur, with a sprinkle of MTV unplugged on a grainy VHS cassette in need of some tracking adjustment (remember that?).
The record sounds great: flat, clean, quiet. 16-bit streaming, digital sources are very good as well, better separation and depth, a touch more highs, but slightly more sterile. Vinyl offers some cohesion to the overall sound and an appropriate darkness which further engages Hutchinson's sonic thesis. Cool album artwork portrays Hutchinson circa '98 and features a fake Tower Records sticker (Wower Records) and nifty make-believe Scotch tape marks that look so real you'll question the illusion and run your finger over them.
I'd tell you about the mystery track - mystery tracks (remember those?) - but then it wouldn't be a mystery. Oh, man. I blew it. Oh, well, whatever. Nevermind.
Jesus People Music: Volume 1: The End is at Hand
Produced by: Justin Gage and Andrew Rossiter
Compiled by: Josh Swartwood, Doug Cooper, and Justin Gage
Mastered by: Dave Gardner, Infrasonic Mastering
Music: 8
Sound: 8
This old Catholic boy can't recall hearing any of these face-melters at mass, but this album isn't comprised of the usual hymns; this music was born of the Jesus movement from the late 60s and 70s when parts of the hippie sect saw Jesus as an obvious counterculture touchstone and began worshiping and evangelizing in haste. The Aquarium Drunkard online audio journal and ORG Records have teamed up to release volume 1 of a compilation of hard-to-find and collectible songs from this era.
Musically, what you'll find here is a derivation of what was coming out of the radio speakers of the young people who birthed this particular brand of worship: there are hints of Hendrix, CSN&Y, Jefferson Airplane, and maybe even a little Bob Seger System, but many of the tracks transcend those archetypes and firmly stand as unique artifacts of funk, folk and psychedelia; sometimes all three at once!
However, rather than songs about a "Rambin' Gamblin' Man", the man of the hour on this disc is Jesus. Thematically - and as the title suggests - there is a pervasive and collective concern that the end days have begun which - during the late 60s and early 70s - was a real concern as, sadly, it just might be in our modern times.
Justin Gage, founder and editor-in-chief of the Aquarium Drunkard audio journal describes putting the compilation together, "The seeds of this project began in 2010 after I connected with the Blackforestry crew (Josh Swartwood and Doug Cooper). The pair had been collecting out-there and obscure psych-folk and guitar music as related to the Jesus People's Movement for a long time and AD seemed like a simpatico fit in terms of an audience."
Gage continues, "Over the next decade we ended up doing four volumes via the Aquarium Drunkard page, and in 2019 Swartwood, Cooper and I began sifting through the music with the idea of curating a (physical) multi-volume compilation. The depth and breadth of the material is as impressive as it is dense, so with these vinyl editions we were really concentrating on the aesthetics and continuity of flow."
One might catch a whiff of DIY on the album's productions and performances, but - considering that all of these tracks are essentially private press, independent releases - the recordings and performances are quite good. But, how did ORG and Aquarium Drunkard put these elusive pieces together and create a cohesive sonic picture? Andrew Rossiter from ORG explains, "Given the nature of this compilation, we used the best source that we were able to find for each track. In the most ideal cases, we used high resolution transfers from analog tape. In other cases, we used transfers from vinyl or digital files provided by the artists themselves. Dave Gardner at Infrasonic Mastering worked his restoration magic and tried to make the compilation sound as consistent as possible before mastering the album for vinyl."
And Mr. Gardner succeeds, the "electric blue" vinyl variant (only 1,000 available worldwide) I have is flat, clean, and very quiet. Dynamics are punchy and seem to showcase the music in the best way possible. Josh Swartwood's artwork is excellent and serves to authenticate the overall aesthetic of the project. This reviewer might have enjoyed lyrics, or more textual context regarding the myriad musicians included in this project; I'm sure each song has an interesting story attached to it.
<!- ------------------------------------>