Review Explosion, Short Cuts Edition Vol. 3: A Pair of Excellent New AAA Bill Evans Trio and Miles Davis Quintet OJC Studio 180g 1LP Reissues, Plus a Legendary Lost Archival Live John Coltrane With Eric Dolphy 2LP Set (Albeit With One Caveat)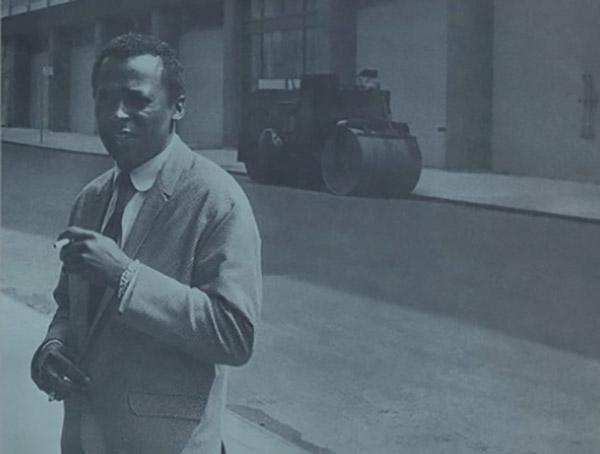 Welcome back to the third installment of our ongoing Review Explosion series, Short Cuts edition! This time, we have three new jazz releases sharing some common threads that connect the artists in question, yet are about as different as night and day.
Here are the clues. Three of the titular artists emerged from the mid-20th-century golden age of jazz. Each of these three albums was released and/or recorded between 1956 and 1962. And each performer worked together on the landmark August 1959 jazz album, Kind of Blue.
Okay, so if you read the headline, then you already know the three core artists we're talking about here are Bill Evans, Miles Davis, and John Coltrane. And while one of these new releases does indeed have some sonic issues that clearly need to be addressed, the other two are pretty terrific listens. Without further ado, let's find out what's what in our latest Review Explosion/Short Cuts triple-review special.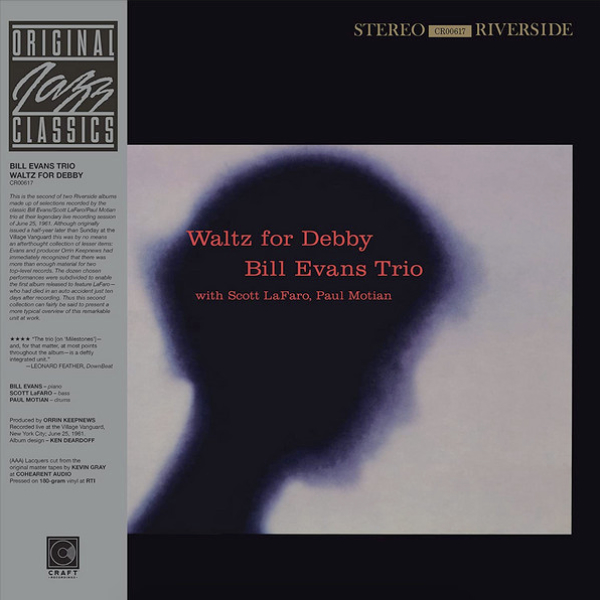 BILL EVANS TRIO
WALTZ FOR DEBBY
180g 1LP (Riverside Records/Craft Recordings)
MUSIC: 11
SOUND: 10
Much has already been written about this essential jazz LP from 1962, one of the seminal releases by pianist Bill Evans and his classic Trio featuring bassist Scott LaFaro and drummer Paul Motian. Newly remastered for Craft Recordings 'reboot of their Original Jazz Classics (OJC) series, the 180g 1LP reissue of Bill Evans Trio's Waltz for Debby should be easy for you to consider getting — and here's why.
The OJC brand is historically renowned for delivering great sound quality at a reasonable price. Its new 21st-century incarnation ups the series' game significantly by adding in superior recreations of the original artwork and labels where possible, plus top-flight pressing quality. As has been typical for this series, this particular new OJC edition was mastered from the original tapes in an all-analog process by Kevin Gray of Cohearant Audio. The Waltz for Debby album itself was pressed at the respected RTI facility on thick, dark, well-centered, and quiet 180g vinyl that comes housed in an audiophile-grade plastic-lined inner sleeve.
Original pressings of Waltz for Debby remain in high demand, driving collector's prices upward. At the time of this posting, there were just five original 1962 stereo pressings on Discogs being sold in the United States, ranging in condition from VG+ (about $460) to NM (circa $1,200). The 2008 Analogue Productions version is represented by only two listings at more than $300 each. The market has also been flooded with less expensive but questionable reissues on labels like Waxtime and Doxy.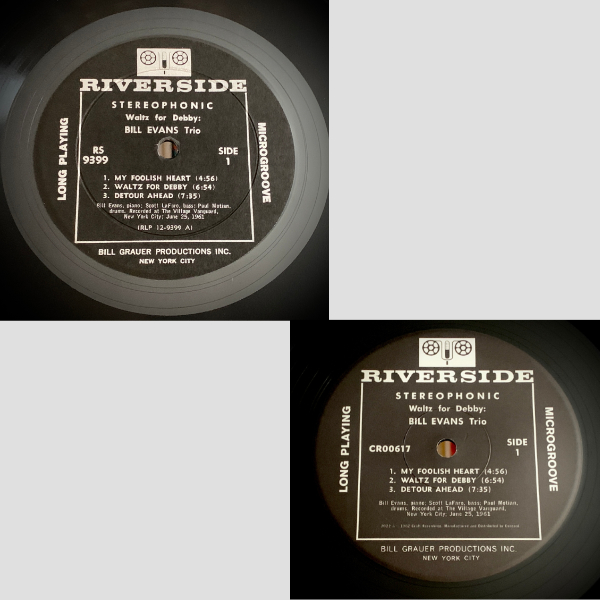 Clearly, a good quality and more reasonably priced reissue of Waltz for Debby was overdue — so, with all that in mind, the $38.99 SRP for this 180g 1LP reissue from Craft Recordings feels quite palatable. The cover art graphics and label designs are very close to the originals, the sound is exemplary, and, as noted above, the pressings are quiet and well-centered.
Years back, I scored a beautiful original stereo pressing of Waltz for Debby before its value skyrocketed. Accordingly, I have listened to both versions closely, and I can attest the new edition sounds very good indeed. I could split hairs on subtle differences, but that would be a bit petty, given the short-cut scope of this review. The fact is, the new Craft Recordings edition is a close reproduction, and in some ways better than my original, because the vinyl quality is higher and quieter on the new RTI-made pressings. The new LP is also cut a little quieter than my original, but the dynamics are quite wonderful and perhaps even clearer. For example, Paul Motian's delicate brushwork and cymbal play at the start of "My Foolish Heart" (Track 1, Side 1) positively shimmers.
In short, if you don't have an original Waltz for Debby LP or one of the other prior audiophile-grade remasters, then this new OJC edition from Craft Recordings seems like a very sensible choice indeed.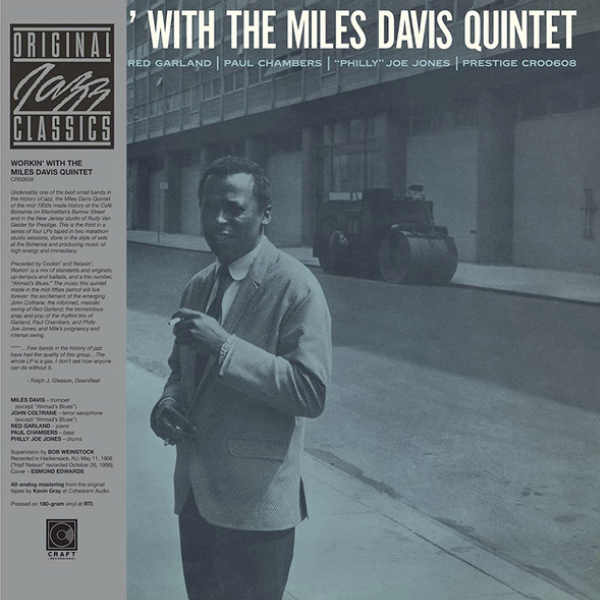 THE MILES DAVIS QUINTET
WORKIN' WITH THE MILES DAVIS QUINTET
180g 1LP (Prestige Records/Craft Recordings)
MUSIC: 10
SOUND: 9
While this recording came from a pair of 1956 recording sessions and is thus only in mono, the performances on Workin' With The Miles Davis Quintet — an album that was not released until January 1960 — is another one of those elusive classics so many people want, and few can obtain. Again, going back to Discogs as a handy temperature gauge for what the market prices are at the moment, seven original 1960 copies are available in no greater than VG+ condition, with prices ranging from a water-damaged $50 copy on up to $350. (There is also one copy without a cover that's going for $20!) So, again, if you don't happen to have a few hundred dollars lying around to spend on a top-shelf original copy of one 42-minute record, the $38.99 SRP for a respectable high-quality reissue like this one from Craft Recordings feels like a relative bargain.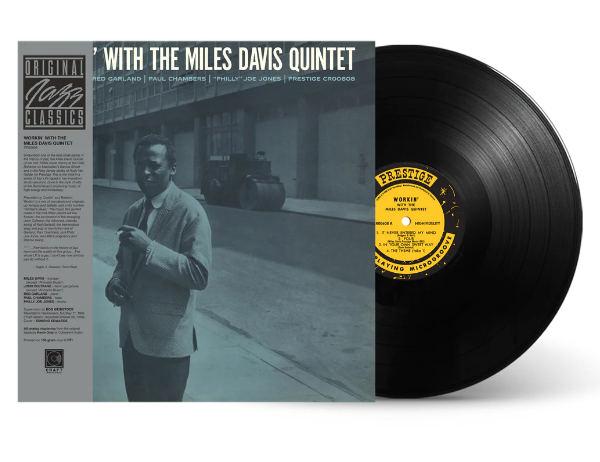 As far as the sound goes, and as best as I can ascertain, this new edition of Workin' With The Miles Davis Quintet sounds pretty close to the original. I only have a very well-loved copy myself to compare it with, albeit one with a cover that is fairly pristine. Hence, I am quite thrilled to have this new Craft Recordings reissue on hand to enjoy as part of my collection. Again, as with the above-reviewed Bill Evans Trio release, this AAA Kevin Gray-mastered edition of Workin' With The Miles Davis Quintet as pressed at RTI is top-notch, and it too should be added to your own must-get list.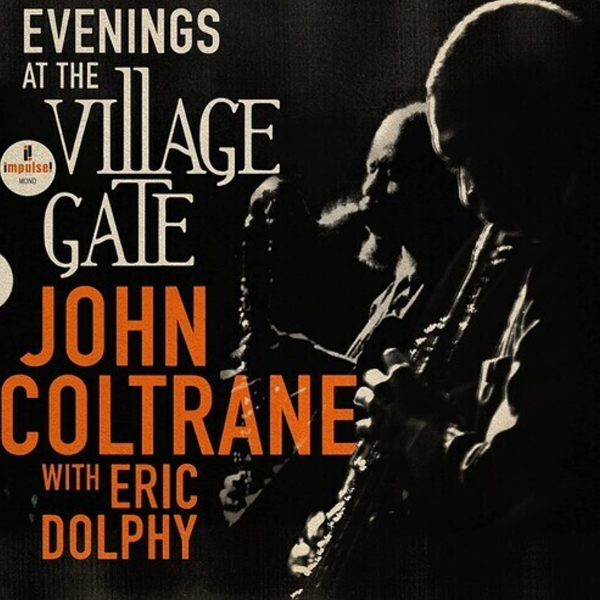 JOHN COLTRANE WITH ERIC DOLPHY
EVENINGS AT THE VILLAGE GATE
2LP (Impulse! Records/UMe)
MUSIC: 9
SOUND: 5
There is no question as to the importance of these 1961 recordings of an ascendant John Coltrane with Eric Dolphy on the new 2LP release titled Evenings at The Village Gate. There is plenty of reporting elsewhere on the interwebs about the state of these once lost/now found rare recordings and why they are now being released, so I won't go down that rabbithole here.
The only question remaining is this: Do you really need to have Evenings at The Village Gate on vinyl? I say yes — but with the caveat being, yes if you are a deep fan who can enjoy an imperfect recording. I have seen some grumblings online about the sound quality of this release — and to that, I can only shrug and offer an empathic response of, "Well, what did you expect?"
As detailed in the LP's liner notes, these lost recordings — made by the engineer as a test/experiment of single modified vintage RCA ribbon microphone that had been mounted into the ceiling above and in front of the Village Gate bandstand, and then cabled into a professional Nagra reel-to-reel recorder — were never intended for commercial release. In theory, these Evenings at The Village Gate recordings should sound great — and, yes, they do sound pretty darn good at times. But it helps to go back to the liners again and read between the lines to fully appreciate what may be going on here.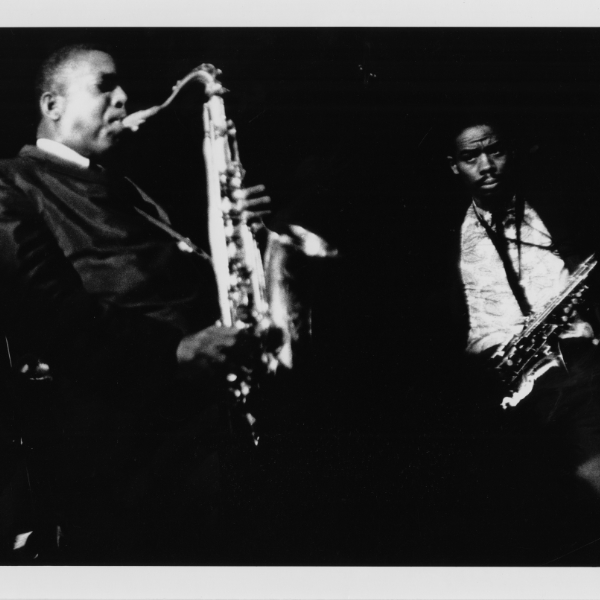 Yes, you can, quote, "hear Coltrane and the drums very well and also piano, bass and Dolphy." But it is the latter part of that direct liners quote to consider, as therein lies the rub for Evenings at The Village Gate. The music is indeed quite dominated by Elvin Jones' magnificent drumming. You can hear the piano and bass, but they often appear distant, only really becoming more distinct and present when soloing as other bandmembers rein in their stage volume. The balance does seem to improve toward the latter part of the album, so perhaps the house/stage mix blend the monaural RCA ribbon mike was capturing improved over time during the set — perhaps.
As a longstanding fan of the Grateful Dead, I do appreciate the nuanced purity of a well-made audience tape as opposed to a formally produced line recording that captures the close-miked feed off each instrument and then brings them together into an appealing professional blend through a mixing board. Audience recordings typically capture a venue's natural ambiance, and the group within it. If the stars align and the recorder is in the acoustic sweet spot and the mix coming from the stage is balanced, a good audience recording can actually sound quite amazing. But I've heard many a tape — and even made numerous impromptu recordings of my own band's gigs — where the instrumental balance just doesn't quite come through. Drums can easily overpower other instruments, especially in a club environment.
Getting back to this release, personally, I really do like Evenings at The Village Gate. But then, I also enjoy the only recording I've ever located of my first Jerry Garcia concert (9/17/76 at Seton Hall University in South Orange, New Jersey, with an epic "Don't Let Go") that was taped in the back of the gymnasium on a cheap portable cassette recorder. Now, I'm not trying to dissuade you from buying Evenings at The Village Gate, especially if you're a deep Coltrane and/or Dolphy fan. Just go into it knowing this release is an archival document that sports an SRP of $39.99 for a standard-weight 2LP mono set.
Your enjoyment of this recording will ultimately come down to your ability to connect with the performances and whether or not you'll be bothered by the sonic imperfections. The performances often soar, and there are also unique tracks here such as "When Lights Are Low" (Track 1, Side B), a showcase for Dolphy's bass clarinet. The album also contains the only known non-studio recording of Coltrane's "Africa" (Track 1, Side D).
At any rate, Evenings at The Village Gate is a cool and important release. But, sonics-wise, as they say, "it is what it is." Consider yourselves duly caveated accordingly.

(Mark Smotroff is an avid vinyl collector who has also worked in marketing communications for decades. He has reviewed music for AudiophileReview.com, among others, and you can see more of his impressive C.V. at LinkedIn.)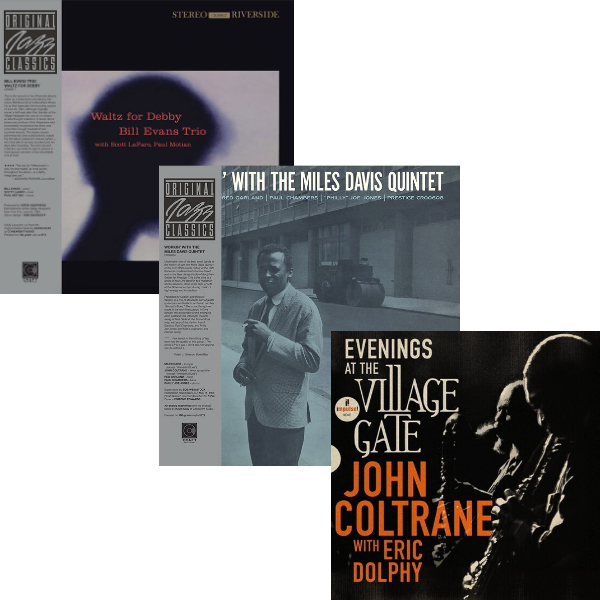 <!- ------------------------------------>