Review Explosion, Short Cuts Edition Vol. 4: A Trio of Eclectic 180g 1LP Reissue Jazz Offerings From Alice Coltrane, Dorothy Ashby, and Gabor Szabo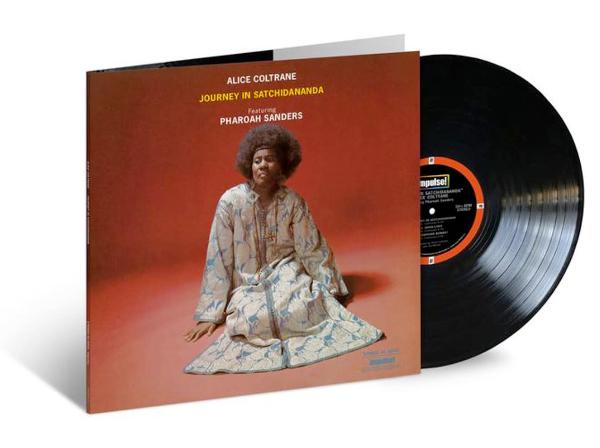 Collecting original pressings of rare albums can be exciting, frustrating, and even debilitating at times — at least financially! There are times when many of us have to face up to the hard reality and just settle for a backup copy of some sort until that elusive, unicorn, Holy Grail original copy crosses our paths.
The good news is, there are a lot of really excellent reissues coming out these days that seem to only be getting better and better to rival, if not even surpass, the original LP option, even if the prices are bumping up a little bit. With all that in mind, for this, our fourth Short Cuts installment under the Review Explosion banner, here are a trio of new reissue 180g 1LP sets I got my hands on recently that we here at AP feel are quite worthy of your attention.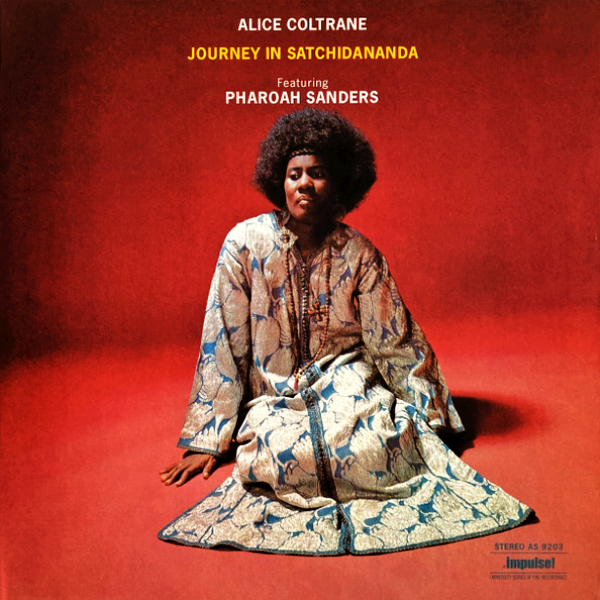 ALICE COLTRANE FEATURING PHAROAH SANDERS
JOURNEY IN SATCHIDANANDA
180g 1LP (Impulse!/Verve – Acoustic Sounds Series)
MUSIC: 10
SOUND: 9
My journey into Alice Coltrane's music began relatively late in the game, I must admit. So, I don't own many original pressings of her records that were issued in the late 1960s and early 1970s. They are elusive to find these days — at least in terms of being reasonably priced, that is. Oftentimes, if you find one, it is in what I call "well-loved" condition — as in, it's a record that has seen a lot of play over the years, yet isn't totally wrecked. And in the case of Alice Coltrane, more typically, vintage copies of her albums actually show up quite abused, as they were probably a choice soundtrack for the heppest of jazz-cat parties as well as the hipper hippies back in the day.
Accordingly, while I'm always keeping an eye out for those OG unicorns in my journeys to record stores, thrift shops, flea markets, and garage sales, I greatly appreciate many of the fine new reissues becoming available that are generally of very high quality and relatively reasonably priced. Hence, the new Impulse!/Verve series of Acoustic Sounds-pressed reissues are a great stepping stone for collectors. But, frankly, they in fact may be more than just simply adequate for most listeners out there diving into Coltrane's catalog of inspiring, haunting, and often meditative spiritually driven jazz music. These are generally very fine and great-sounding reissues.
And there really is a need for such a high-quality reissue series, mind you. A quick look at Discogs revealed that, at the time of this posting, there are only four original 1971 editions available of Alice Coltrane Featuring Pharaoh Sanders' Journey in Satchidananda in no better than VG-plus condition with prices ranging from about $125 to nearly $300! So, the $38.99 SRP for this new Acoustic Sounds reissue seems like a relative bargain. It is also worth noting that, by the early 1970s, Impulse! was starting to cut corners in production quality, doing away with their trademark fancy laminated covers, among other things. To that, even though I don't own an original version of this album, I have a pretty good sense this new edition of Journey in Satchidananda is in many ways of overall higher quality than the original.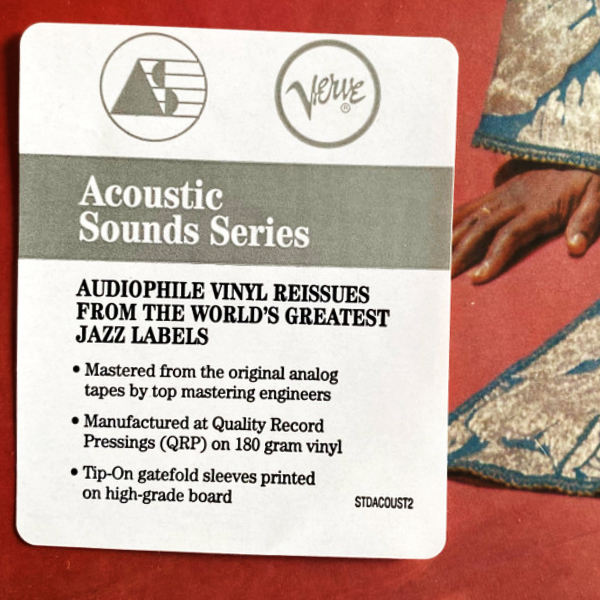 From the official press release for the series, we confirm: "As with all Acoustic Sounds series titles, the LPs will be mastered in stereo from the original analog tapes by Ryan K. Smith at Sterling Sound, pressed on 180-gram vinyl, and packaged in high-quality tip-on gatefold jackets, replicating the original packaging. As always, all releases are supervised by Chad Kassem, CEO of Acoustic Sounds, the world's largest source for audiophile recordings, and will utilize the unsurpassed production craft of Quality Record Pressings."
Alice Coltrane's fourth LP, February 1971's Journey in Satchidananda (with the added titular "Featuring Pharoah Sanders" artist credit), is considered by many to be one of her seminal recordings, featuring extended improvisational works that lift off from the trajectory of her late husband John Coltrane's music on into the stratosphere. Very much her own musician, Alice and her music follow her own cosmic path, with unique instrumentation (including her celestial harp) and visions.
Some years back, I bought the 2019 Journey in Satchidananda reissue from Impulse!/UMe. For the basic price point at the time I got it, that LP edition sounded pretty good, and it certainly got me into the music. The actual pressing wasn't terrible — and while I don't know the sources used to make it, the sound was enjoyable. That said, some of the visual aesthetics surrounding the packaging left something to be desired — notably, a poor reinterpretation of the classic 1960s orange Impulse! Records label that this album hadn't been released on, but one that nonetheless ultimately looked kind of amateurish.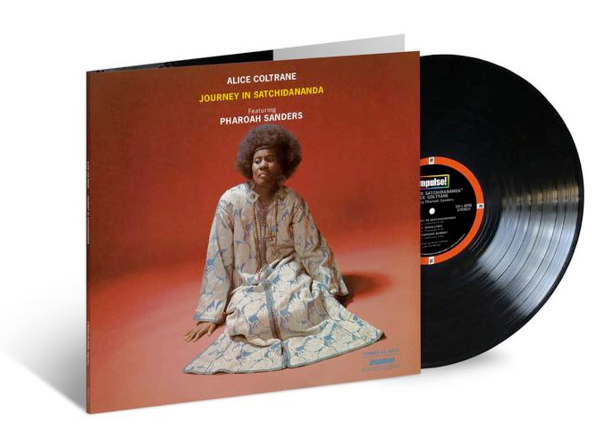 Instead, this new reissue of Journey in Satchidananda is an entirely different affair, with a proper reproduction of the classic early 1970s red bordered Impulse! label design. Not surprisingly, all the production values on the cover are also much better, featuring a glossy laminated thick-stock cardboard cover with higher-quality graphics, and more. I suspect this presentation is probably even better than what the originals were like in 1971.
Visual aesthetics aside, the big story here is the sound, of course — and after a refresher spin of that earlier 2019 edition, putting on this newer LP was almost a night-and-day experience. The low end was much more resonant, while the mids and highs were overall fuller, clearer, and ultimately warmer.
er If you're just driving into Alice Coltrane's music to begin with, or looking for a replacement for your well-loved and/or worn-out original, this new Acoustic Sounds-helmed edition of Journey in Satchidananda might just be exactly what you need.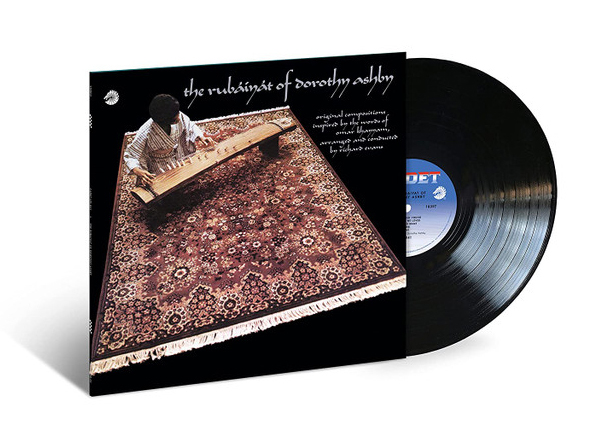 DOROTHY ASHBY
THE RUBÁIYÁT OF DOROTHY ASHBY
180g 1LP (Cadet/Verve/UMe)
MUSIC: 8
SOUND: 8
First, let's start with the elephant in the room as to why this particular reissue is timely. At the time of this posting, there are just five copies of the original 1970 release of Dorothy Ashby's The Rubáiyát of Dorothy Ashby on Cadet Records, ranging in price from about $185 for a G-condition copy to $1,000 for a NM version (albeit with just a VG-plus cover!). Even the 2021 Vinyl Me Please (VMP) edition is selling for inflated collector's prices, ranging from $55 to $115.
Clearly, there was need for a more widely distributed, affordable, and top-quality reissue of this rare and highly desired album from an artist who's been described on the interwebs as being "one of the most unjustly under loved jazz greats of the 1950s and the most accomplished modern jazz harpist."
Poking around some notable audiophile forums out there, I noticed that some people were speculating this new edition was actually made from a digital source, given it was apparently not using the same stampers as that recent, aforementioned VMP version. Well, I checked in directly with my label contacts at UMe, and I can confirm firsthand that this new pressing was indeed made from analog sources. More specifically, the new lacquers for this edition of The Rubáiyát of Dorothy Ashby were cut from analog by Ryan K. Smith at Sterling Sound — similar to the VMP edition, yes, but, again, it is a different cut that did not use the same stampers, and it was manufactured at the Third Man Pressing facility in Detroit.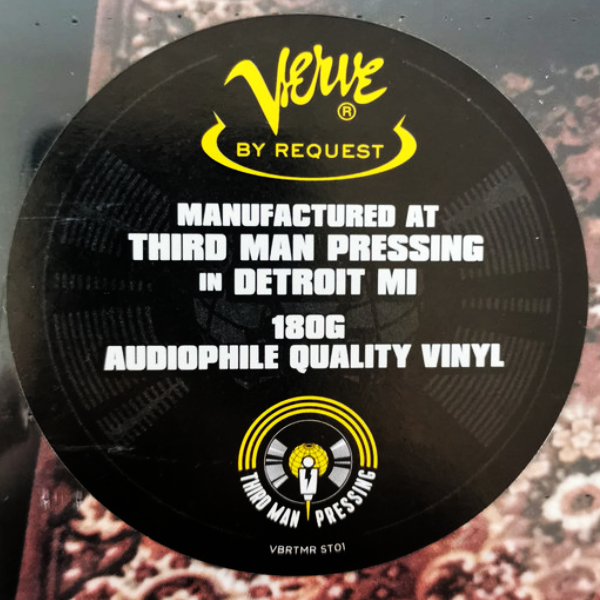 Not having an original LP to compare it to, all I can say is the new edition sounds really quite lovely, all things considered. It sounds typical of the sonic footprint, if you will, of a 1970s album on Chess Records, and its Cadet and Checker subsidiaries.
Arranged and conducted by Richard Evans — the Cadet Records staff producer and musical arranger who was behind the fabulous studio group The Soulful Strings — The Rubáiyát of Dorothy Ashby is a fascinating album that crosses many boundaries between soul, jazz, and spirituality. Cosmic and beautiful, Ashby plays a Koto (a Japanese stringed instrument) here, as well as her trademark harp. This recording doesn't feel gimmicky or odd at all. It just works.
Perhaps the only dated detail on this album is Ashby's periodic singing and spoken-word passages. However, they were no doubt essential to the album concept that was inspired by the writings of Omar Khayyan, the Persian polymath known for his contributions to mathematics, astronomy, philosophy, and poetry (at least as the interwebs tell us). In effect, the LP's aural presentation is part of the vibe of the times.
This new 180g edition of The Rubáiyát Of Dorothy Ashby is solid. My copy arrived housed in a simple, clean paper inner-sleeve revealing a dark, quiet, and well-centered disc, so all those vinyl essentials check off on my list. The cover uses a less costly oaktag cardboard construction with the album art printed right on it, as opposed to the fancier paper-printed laminated design found on the pricier Alice Coltrane LP reviewed above. But at least they reproduced the original Cadet Records label — which, in some ways, is more authentic than the earlier VMP edition that for some reason had a much more modern Geffen Records logo added to it.
All in all, The Rubáiyát Of Dorothy Ashby is a cool release, and given its $29.99 SRP, it seems like quite the fine and affordable way to get this music in the form for which it was originally recorded.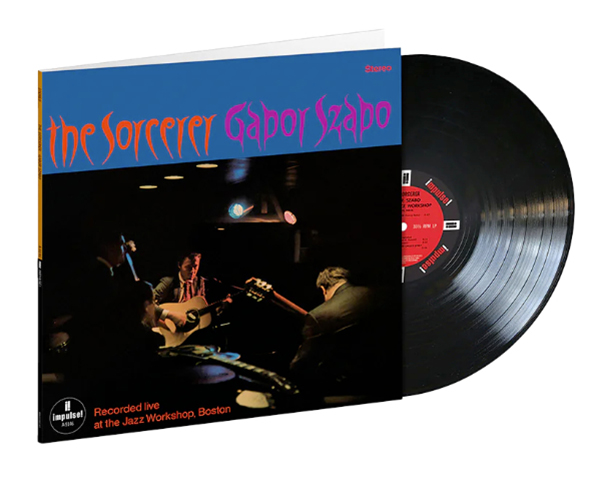 GABOR SZABO
THE SORCERER
180g 1LP (Impulse!/UMe)
MUSIC: 8
SOUND: 7
I'm reviewing this reissue because I know a lot of people really like the music of Gabor Szabo, and a number of folks have pointed me toward this album as being one of his best. Honestly, I have long been on the fence about whether I am a fan of Szabo's music or not, but I was willing to give this one a try.
Presently, I have a later-1960s second pressing on the red-rimmed Impulse! label of Szabo's acclaimed November 1967 LP, The Sorcerer. It sounds pretty good, just as live small-club recordings by a then up-and-coming artist made at The Jazz Workshop in Boston across two nights in April 1967 might expect to sound. The performances are fine, and the interplay of the bandmembers is tight. Marty Morell is on drums here — and some of you will know his name since he became a member of the Bill Evans Trio shortly after this outing, from 1968 to 1974.
I made a refresher listen to my '60s pressing of The Sorcerer before putting on the new reissue from Verve/UMe, and I can say the new edition sounds quite good and close to the sound of the original, albeit mastered a little more quietly.
That said, the new lacquers for The Sorcerer were cut from digital sources, as confirmed directly by our contacts at UMe. It doesn't quite surprise me that this edition sounds somewhat similar to my '60s LP, as The Sorcerer is not the world's most dynamic or amazing live recording to begin with. It has always sounded boxy to me, so a digitally sourced master is probably more than adequate for recapturing what was on the original tape to begin with.
Either way, if you enjoy Gabor Szabo's electrified acoustic guitar sound, you'll probably dig this album despite the obvious commercial concession for covering Sonny & Cher's mega-hit "The Beat Goes On" for an album opener. Even so, I enjoyed digging down into more exploratory originals like "Mizrab" and the appropriately titled jam, "Space," which takes listeners to some interesting places.
This new 180g vinyl pressing of The Sorcerer is dark, well-centered, and quiet, so all those necessary details stack up quite neatly. They even attempted to recreate the original design of the 1967-era Impulse! label — but, for whatever reason, printed it in red instead of orange. So, those of you with original pressings of The Sorcerer don't have to worry, per se, as those LPs will still be cherished collector's items. And, just like the Dorothy Ashby album reviewed above this one, the gatefold cover is printed on oaktag type stock, not the thick laminated cardboard of the original. That probably helps to keep its price down to the $29.99 SRP, for sure.
If you are into collecting color vinyl, there is also a curious yellow vinyl variant Third Man Records has issued for The Sorcerer — alas, it is now sold out, but you might e able to find a copy of it if you look around out there. (We're showing it below, for reference.) Used copies of The Sorcerer do indeed show up quite regularly out in the wilds, so it's not like this is a super-rare title. But if you just want a clean new version of one of Gabor Szabo's early live excursions, this new edition of The Sorcerer isn't a bad way to go.
(Mark Smotroff is an avid vinyl collector who has also worked in marketing communications for decades. He has reviewed music for AudiophileReview.com, among others, and you can see more of his impressive C.V. at LinkedIn.)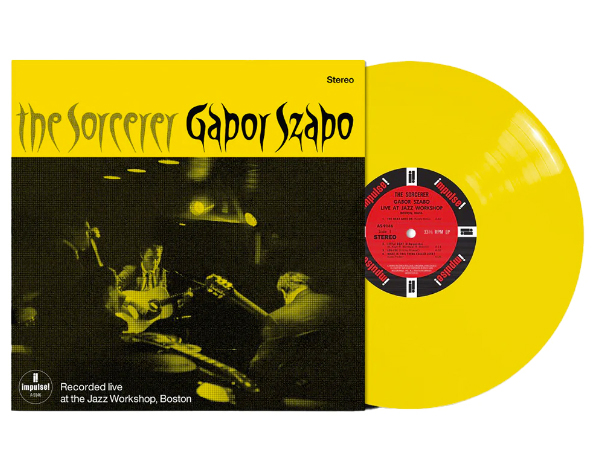 <!- ------------------------------------>