Review Explosion Short Cuts Edition, Vol. 8: VMP's The Story of Cadet Records Almost Entirely AAA 180g 8LP Box Set Anthologizes Rare LPs From the Likes of Muddy Waters, Etta James, and Ramsey Lewis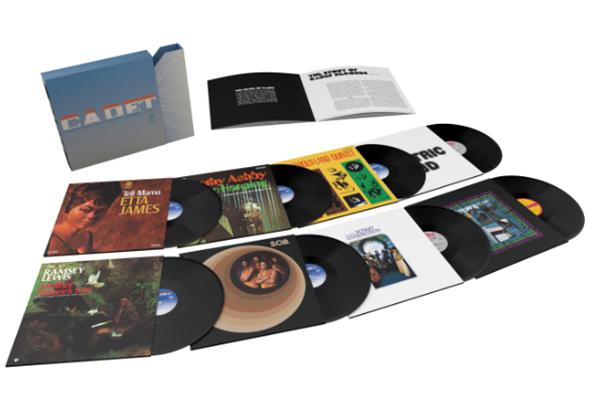 For the first time, while I was reading all about the new VMP Anthology series box set The Story of Cadet Records, I learned that there really was a branded intent differentiating parent company Chess Records from its ubiquitous subsidiary label. For decades, I have seen (and owned) albums issued on the Cadet label, but I never connected the dots as to why the albums appeared on Cadet as opposed to being on Chess. Turns out, there was indeed a rhyme and a reason.
From VMP's official press release, we learn, "Just as Chess Records' lean electric blues of the '50s and '60s informed the first generation of rock and roll, the impact of the ambitious music released on the label's imprint, Cadet, can be heard in everything from the R&B and jazz fusion of the '70s to the beats and breaks of golden-age hip-hop," said Stephen Anderson, the box's executive producer. "Several of these albums have been out of print for decades, and it's an honor to bring them back to vinyl sounding better than ever in this box set. VMP Anthology: The Story of Cadet Records is a tribute to these under-celebrated artists and a toe-dip into the singular sound of Cadet."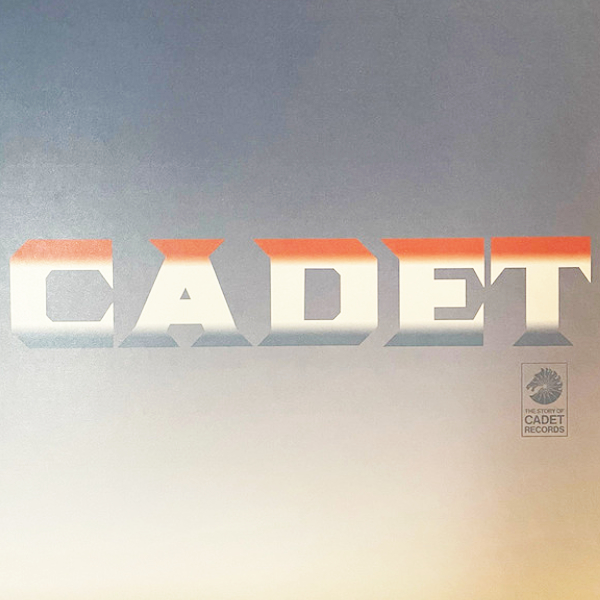 Created with direct input from label founder Marshall Chess, this 180g 8LP super deluxe box set comes with in-depth listening notes (including a foreword by Chess himself) and a multi-episode podcast exploring the collection in depth. The eight albums offered here are indeed a healthy cross-section snapshot of the expansive sounds Cadet was pursuing as the mid-1960s exploded socially and musically. The albums in The Story of Cadet Records box set are as follows: Etta James: Tell Mama (1968); Dorothy Ashby: Afro-Harping (1968); Harold Land Quintet: The Peace-Maker (1968); Muddy Waters: Electric Mud (1968); Ramsey Lewis: Mother Nature's Son (1968); Shades of Brown: S.O.B. (1970); The New Rotary Connection: Hey, Love (1971); and Terry Callier: Occasional Rain (1972).
Before I get to the box set's key stats, I need to underscore a few details that might tempt a few of you reading this. Some of the records in this collection are very rare and genuinely hard to find on vinyl in their original form, especially in any kind of top condition. For example, at least one of these albums sells for upwards of $500 on Discogs. Another one that maxes out at VG+ condition on Discogs sells for as much as $700!
Add to the fact that there is some genuinely great music contained on The Story of Cadet Records collection that it seems that, taken as a whole, this box set may indeed be a strong value proposition — dollar for dollar — at its SRP of $399, or $349 for VMP club members. Go here to see how you can order your own copy of this box set.)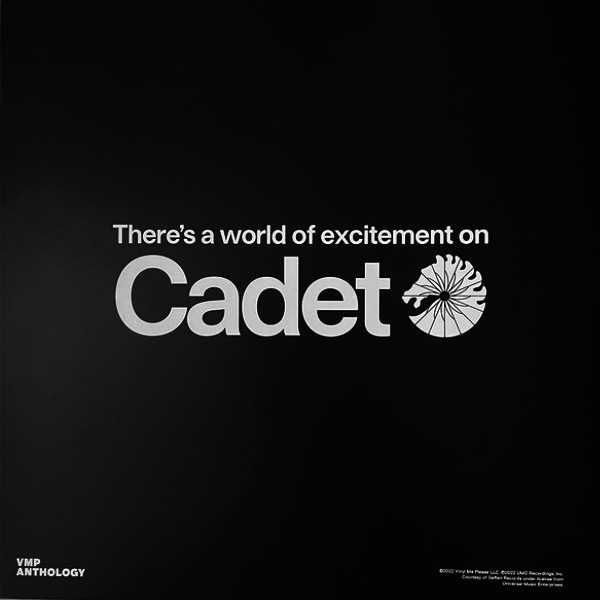 Now, I don't know about you, but I do have a budget to live by that has always been part of why I've enjoyed cratedigging out in the wilds most of my life at garage sales, thrift shops, and flea markets. After all, if I bought every rare record I wanted at full price, I'd go broke real quick!
The reality I can attest to is that some of the records included in The Story of Cadet Records box set are ones I've never even seen show up at well-stocked collectors record shops and/or record swap meets, much less in a moldy crate in the back of someone's ancient storage locker clear-out sale!
So, in buying this box set that's comprised of eight generally wonderful — and wonderful sounding — albums as a whole, you'd be paying about $50 per LP, which, compared to the street cost of any top-condition original, seems to be a relative bargain in our book.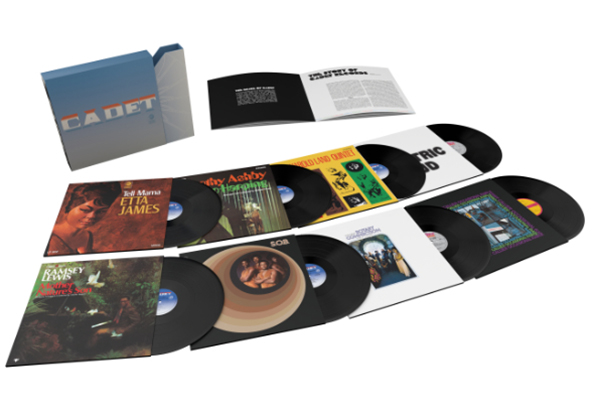 Now, let's get back to chronicling those all-important and beloved box set stats. To do so, we first turn to the VMP site's page supporting The Story of Cadet Records — a box set that is also officially designed at VMP Anthology 16 — which tells most of the back story:
"Our box was created in close concert with Cadet's original label head, Marshall Chess, who writes the foreword to the liner notes, is featured heavily in this season of the VMP Anthology podcast and who welcomes you to the box directly. . . [the] first edition is limited to 1,000 on 180g black vinyl. . . . Lacquers for all titles except for [Muddy Waters'] Electric Mud — which was cut AAA by Barry Grint at Alchemy Mastering — were cut by Bernie Grundman at Bernie Grundman Mastering. Of those cut by Grundman, all were mastered AAA with the exception of Side B of [Ramsey Lewis'] Mother Nature's Son, which was transferred from the master tapes and cut from a digital source to amend a passage of tape degradation. All eight titles are pressed on 180g black vinyl at GZ."
That's some pretty fine production DNA right there! And lest you be worrying about any sketchy pressings from GZ, someone at VMP seems to have been closely watching the QC of these releases, as every one of them I've played has been quiet and well-centered, so I can report there are happily no problems on that front. Additionally, each disc comes housed in an audiophile-grade plastic-lined inner sleeve.
Taken as a whole, the Music on The Story of Cadet Records rates a 9, and the Sound rates an 8.5. As I feel quite strongly about six of the included LPs in the box, I'm going to include separate ratings for each one as a baseline comparison. I will also offer some comparo/contrast notes for any of the LPs I have originals of in my collection.
And, with that, let's begin the evaluative portion of this hybrid Review Explosion Short Cuts review with my two particularly eye-and-ear-opening "a-ha" titles in this box set.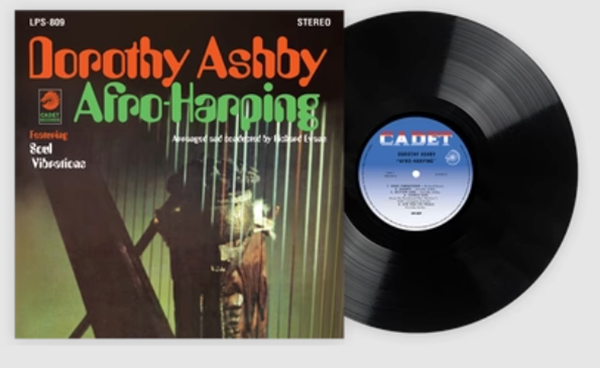 DOROTHY ASHBY
AFRO-HARPING
MUSIC: 10
SOUND: 9
I'm pretty sure this is one of those albums that was obscure for ages until DJs started sampling this fine artist's grooves and sounds. Up until the past several years, I'd not really heard anyone talking about Dorothy Ashby's music, and never saw her albums show up in stores or in the wilds of collecting. Even the interwebs refer to Ashby as one of the "unjustly under-loved jazz greats of the 1950s."
A quick check of Whosampled reveals more than 35 samplings of tracks on the Afro-Harping album alone, including samples by noted artists like Flying Lotus, Jill Scott, and Mac Miller. This kind of reverse-engineering is one the best things to come of sampling technology, as once the copyright issues were cleaned up, new generations of curious fans can discover this great music by tracking the music backwards in a granular level from the samples and beats. That is, at least in part, why many of these great lost rare records are getting reissued, folks — it's about supply and demand.
Afro-Harping is a cool, soulful spin. This album contains super-groovy masterful harp improvisations run through an ever-so-slightly psychedelic soul-jazz blender. It's a tasty musical trip! This album was brought together by producer Richard Evans, who himself had a number of popular records with The Soulful Strings (and I have all those albums too!). Evans apparently was in Sun Ra's band for a stint in the '50s, playing on 1957's Jazz By Sun Ra Vol. 1 — talk about street cred! What else can I say? Afro-Harping is lovely stuff.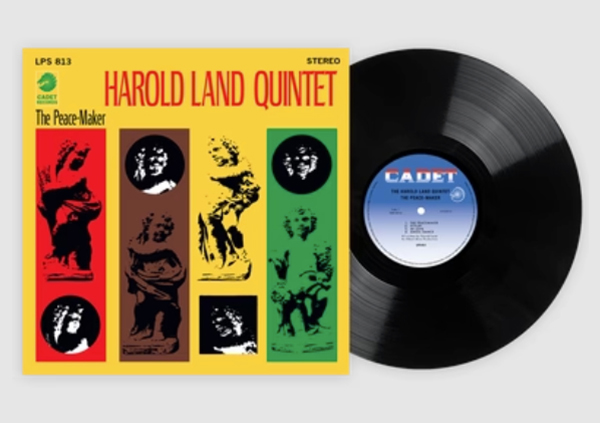 HAROLD LAND QUINTET
THE PEACE MAKER
MUSIC: 10
SOUND: 10
This is another one of those revelatory albums that makes me wonder why more Harold Land albums aren't being reissued. And why aren't more people buzzing about this album in particular online? Just look at the lineup here: Bobby Hutcherson on vibes, Buster Williams on bass, Joe Sample on piano, and Donald Bailey on drums. (The latter two musicians hail from The Jazz Crusaders.)
Clearly, Harold Land Quintet's 1968 album The Peace Maker didn't sell very well, as originals are scarce. On Discogs, at the time of this posting, there are just two copies for sale selling for about $400 (in G+ condition here in the U.S.) and $165 for VG+ (from Europe). Heck, the Japanese CD reissues are commanding prices from $65 to just under $200! And over on Popsike, the most recent OG copies sold have all been in the $150-$200 range.
The Peace Maker is a lovely, if straight-ahead sort of post-West Coast vibing jazz session, which might be why it got overshadowed in the face of the tumultuous social movements of the 1960s, not to mention the then-rise of psychedelic rock, free jazz, and other subgenres. All that aside, this is a great time to discover this music anew from a musician whom guitarist Kenny Burrell deemed on the interwebs as being "one of the major contributors in the history of the jazz saxophone."
RAMSEY LEWIS
MOTHER NATURE'S SON
MUSIC: 10
SOUND: 9
I love this Ramsey Lewis album, which I was turned on to about 10 years ago while cratedigging at the Pasadena City College flea market and record swap. A vendor there was playing it on his portable sound system, and I was immediately hooked. As I soon found out, Mother Nature's Son was the brainchild of brilliant arranger/musician/composer Charles Stepney, and Lewis put his faith in his producer's vision for it.
Said vision involved arranging, recording, mixing, and releasing an entire album of instrumental soul-jazz interpretations of music pulled exclusively from The Beatles' then-brand new eponymously titled 2LP set released on November 22, 1968. Issued a mere month after what also became known as The White Album, Ramsey Lewis' December 1968 release Mother Nature's Son is a both a remarkable achievement and listen. It includes some of the earliest interpretations of Beatles music made using the then-new Moog synthesizer (later used by The Beatles themselves on September 1969's Abbey Road).
As acknowledged earlier in the stats portion of this Short Cuts post, Side 2 of Mother Nature's Son is the only album side in the entire The Story of Cadet Records box set that is in part digitally sourced. That said, I think the producers did a good job with it overall, sonics-wise. It's a respectable reissue.
Also, analog purists can take some solace knowing that Mother Nature's Son is one of those albums where, if you do fall in love with it, you can find an original fairly easily — and usually for a reasonable price. My only real nit here is that the cover art is a little dark and murky compared to the original, one of the only disappointments in the entire box set.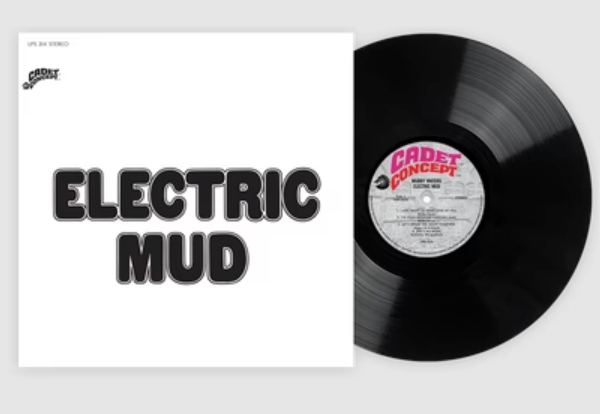 MUDDY WATERS
ELECTRIC MUD
MUSIC: 8
SOUND: 7
Electric Mud is one of those albums that polarizes blues fans, with Muddy Waters backed by psychedelic rock band Rotary Connection (a group that includes the aforementioned Charles Stepney, as well as future soul singing sensation Minnie Riperton).
People seem to either love or hate Electric Mud. I am on Team Love, as it just works for me. And I also appreciate that Waters got into the spirit of the moment, donning a hippie-flavored Dashiki and sandals while holding his badass guitar in the center gatefold photo. This album sounds a bit brighter than my original Electric Mud LP, but it's not bad. It wasn't a tremendous audiophile-leaning recording to begin with, and it is more about the raw spirit of the recording sessions. Again, a minor nit here is that the Electric Mud cover is not quite as clear and crisp as that of my vintage copy.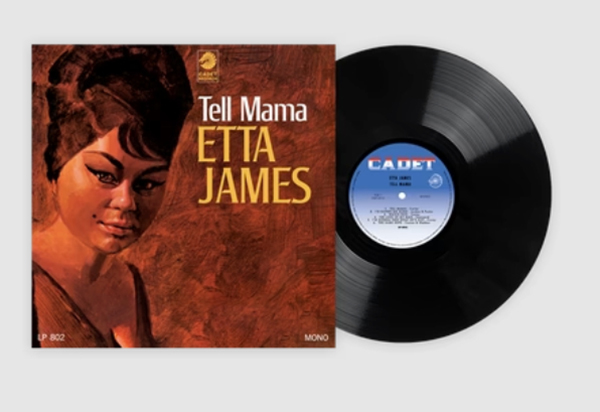 ETTA JAMES
TELL MAMA
MUSIC: 9
SOUND: 8
If you like Janis Joplin, you owe it to yourself to hear Etta James' original version of "Tell Mama," a song Joplin covered quite well. (For one thing, it's the opening track on Joplin's fine posthumous 1982 rarities compilation LP, Farewell Song.)
Tell Mama is one of those Etta James albums I've been hoping to pick up for some time now, but finding originals are, not surprisingly, elusive. Just ten first pressings are listed on Discogs, ranging in price from $50 for a G copy to $250 for a NM copy. Of course, there have been many Tell Mama reissues over the years, and this one is a particularly nice reproduction with beautiful cover art. What else can I add? A high-quality Etta James classic like Tell Mama in original mono is a sweet thing indeed.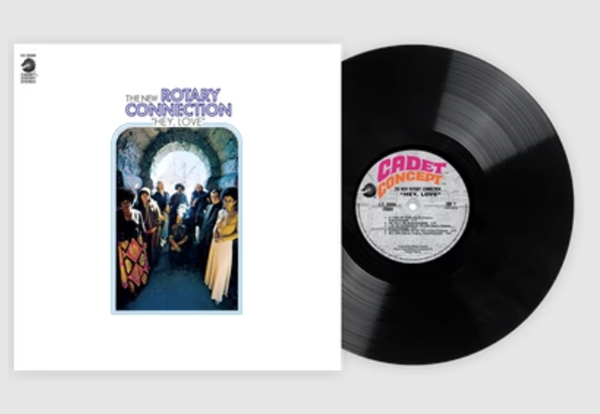 THE NEW ROTARY CONNECTION
HEY, LOVE
MUSIC: 7
SOUND: 9
This is another one of those Rotary Connection albums I have never come across anywhere, or even heard anyone buzzing about. Rechristened for the new decade as The New Rotary Connection, the group's 1971's LP Hey, Love was their last album before lead vocalist Minnie Riperton's solo career took off. (Her 1974 LP Perfect Angel was a No. 4 smash hit, produced by Stevie Wonder.)
Interestingly and stylistically, The New Rotary Connection's Hey, Love fits in squarely with the sunshine pop flavors emerging out of the late '60s into the early '70s. Lush string arrangements and shimmering production are featured. This album feels rooted in the harmony pop blend of The Fifth Dimension mixed with the dynamic composition styles à la Burt Bacharach/Hal David along with a dose of theatricality this side of Hair and Godspell.
Hey, Love is yet another fascinating side to this band that includes the great Charles Stepney on keyboards and Phil Upchurch on guitar, and it is also another one of those albums that is scarcely available online. Pricing for Hey, Love runs into the hundreds online for NM copies, making obtaining a clean, lovely reproduction like the one in The Story of Cadet Records box set all the more appealing.
(Mark Smotroff is an avid vinyl collector who has also worked in marketing communications for decades. He has reviewed music for AudiophileReview.com, among others, and you can see more of his impressive C.V. at LinkedIn.)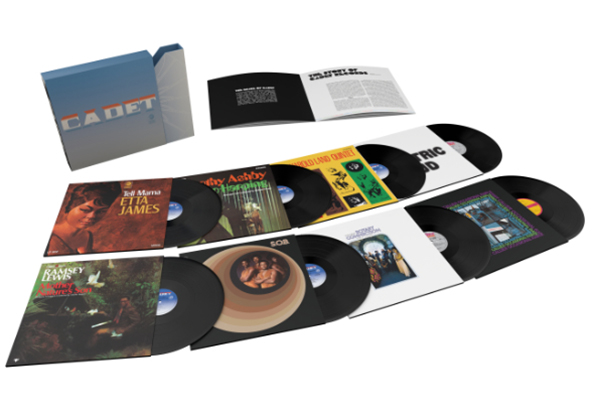 <!- ------------------------------------>