Review Explosion: The Weeknd, A Certain Ratio, Angel Olsen, and Screamin' Jay Hawkins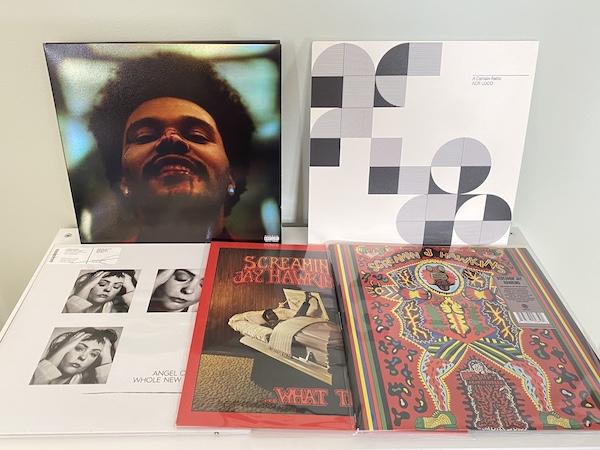 (Review Explosion is a recurring AnalogPlanet feature covering recent releases for which we either don't have sufficient time to fully explore, or that are not worthy of it. Curated by AnalogPlanet contributing editor Malachi Lui, Review Explosion focuses on the previous few months' new releases.)
The Weeknd - After Hours
XO/Republic B0032248-01 black vinyl 2LP (with signed holographic cover)
Produced by: Various
Engineered by: Various
Mixed by: Illangelo, Serban Ghenea, and Matt Cohn
Mastered by: Dave Kutch (digital) and Mark Santangelo (vinyl) at The Mastering Palace
Music: 9
Sound: 8
Despite music industry revenues being the highest in 20 years, average major label recording and promotional budgets are relatively scant. Aside from social media marketing and a few TV appearances, labels most often sit back and hope for the TikTok (or whatever relevant app) machine to work its magic. But The Weeknd isn't the average artist; with a presumably massive budget to spend on the best working pop producers, for 11 months and counting, Republic has relentlessly promoted his latest LP After Hours. With elaborate TV appearances, high-budget music videos, advertising, and many physical album configurations, the rollout won't stop until the artist born Abel Tesfaye can tour the LP (currently set for summer 2021, but likely to change). Rarely do such extensively marketed albums artistically deliver, but After Hours is a pop masterpiece.
When The Weeknd broke out a decade ago with the Trilogy mixtapes, over dreamy instrumentals Tesfaye portrayed himself as dark, drugged out, and sex-obsessed. Those tapes left an indelible mark on modern music, but afterwards his records became even more overlong, inconsistent slogs that were musically generic and lyrically a facsimile of his earlier work. On After Hours, released in March, Tesfaye transformed his performance character into an 80s coked-up celebrity vampire reeling from a breakup, wearing a red suit, dripping blood in brightly-lit casinos, speeding through cities in the ghostly night. And in a year where many chart-topping songs have already disappeared from public consciousness, this record's second single "Blinding Lights" became the longest-running Billboard top 5 single in history.
This is all a testament to the album's excellence, as the first Weeknd record that flawlessly executes its concepts. Produced mainly by longtime collaborators Illangelo and DaHeala, pop hitmaker Max Martin, and Metro Boomin (with contributions from Oneohtrix Point Never and Kevin Parker), the psychedelic, sometimes trap-tinged synthpop instrumentals are dynamic and slick but never contrived. Tesfaye's voice, although heavily pitch corrected (somewhat for artistic effect), is a commanding presence yet doesn't show off, and nearly every word is memorable. After Hours was made and presented like a film; even without watching all the music videos, the lyrics are vivid and the performances passionate.
The album's narrative arc is that of the typical breakup album, with more dramatic imagery and flashbacks. (For this review I'll avoid the celebrity tabloid gossip regarding Abel Tesfaye's real-life breakup, as I prefer not speculating about an artist's personal life). Opener "Alone Again" starts with atmospheric synths, and as The Weeknd exposes his personal pain builds up with frantic trap drums. The rest of side 1 is excellent, but thematically follows the oft-used "strung-out failed romantic tries to reconnect with reality" narrative. Side 2 meanwhile has the most engaging storytelling of the Weeknd's career; "Snowchild" harkens back to House Of Balloons, while "Escape From LA" is the record's 6-minute climax sometimes bordering on too direct ("We had sex in the studio/Nobody walked in/I cut my verse and then she popped it for me, for me" is repeated twice) but with sharp personal and observational detail. An already iconic vocal performance and Metro Boomin beat distinguish the dark lead single "Heartless," and on "Faith" Tesfaye's character ends up arrested (presumably for a DUI).
Then, of course, there's "Blinding Lights," the bright, dancefloor-ready synthpop megahit that would be omnipresent if anything actually happened this year. It sums up both the album's artistic elements and commercial success; After Hours is the rare record that's simultaneously creative and interesting yet with mass appeal, a work that combines past and present for a time capsule heard in the future. "In Your Eyes" and "Save Your Tears," also produced by Max Martin, follow the same musical path with lyrics about trying to get his lover back in a club setting complimented by the "retro" instrumentals (in case you haven't noticed, there's a wave of 80s nostalgia among artists and audiences who didn't witness the 80s). After Hours ends on the expected heartbroken wave of denial and self-destruction, cutting his ex "out of my dreams 'til I'm bleeding out." It's an endlessly replayable album, a "brain melting psychotic chapter" successful in every way. 2020: the year of the coronavirus, a historically significant election, and the Weeknd.
There are several vinyl editions: standard jacket with clear/red splatter vinyl ("variant 001"), standard jacket with red/black splatter vinyl ("variant 002"), normal black vinyl, signed holographic jacket with black vinyl, clear/red vinyl with three bonus tracks, and some retailer-exclusive color variants. (There's also the After Hours (Remixes) EP dropping on purple vinyl for RSD Black Friday.) All sell for $40-45, just 'cause they can. I ordered the signed holographic cover/black vinyl edition. The standard weight discs, digitally mastered at 44.1/24 by Dave Kutch and cut by Mark Santangelo, sound as expected: bright but detailed and far more engaging than the file. The difference feels like a completely different album; the synths immerse you right into the Weeknd's world. GZ plated the vinyl, which is either pressed there or at Precision (there are no Precision runout codes, but the shrink wrap says "made in Canada"). The LPs are a bit noisy, although not problematically so. The Weeknd/UMG webstore-exclusive signed edition had a shrink-wrapped holographic LP set with the additional signed jacket, silver-Sharpied by Abel Tesfaye himself (although his simple "a" can be easily forged). The inner sleeves are made of translucent red paper, and the holographic gatefold brilliantly lights up the cover photo. No matter which version you get, despite the high price you'll be satisfied with the sound and packaging (although for $40 it should've been 180g).
Angel Olsen - Whole New Mess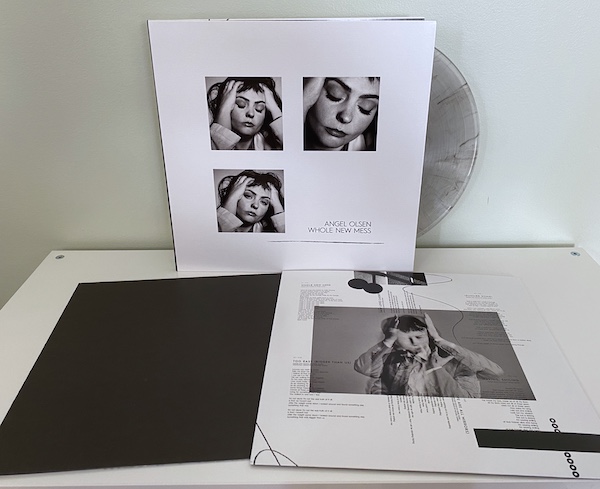 Jagjaguwar JAG354 indie-exclusive "clear smoke" LP
Produced by: Angel Olsen and Michael Harris
Engineered by: Michael Harris at The Unknown
Mixed by: John Congleton
Mastered by: Joe Lambert (digital), Chris Muth (vinyl)
Music: 7
Sound: 8
Before recording last year's beautifully orchestral breakup album All Mirrors, singer/songwriter Angel Olsen in late summer 2018 recorded solo versions of her new songs at Phil Elverum's studio. Accompanied only by her guitar and producer Michael Harris' organ embellishments, this is Olsen at her rawest and most emotionally vulnerable. The All Mirrors songs, while great on the finished record, truly shine unfiltered; in that sense, Whole New Mess is conceptually and stylistically equivalent to the New York test pressing version of Blood On The Tracks. There are also two outtakes here, "Whole New Mess" and "Waving, Smiling," both as well-written and moving as the other songs. While I far prefer All Mirrors' track order, Whole New Mess' recordings are even more powerful and make for a better listen.
The vinyl edition, of which there are several color variants, retails for $22. The tape recording, digitally mastered by Joe Lambert and cut to vinyl by Chris Muth (audibly from a file), is somewhat "lofi" (aesthetically imperfect but not actually low-fidelity) yet with natural spaciousness still sonically pleases. An anonymous US plant pressed the heavy (but not 180g) indie-exclusive clear smoke LP, which has some light surface noise. The packaging consists of a tip-on gatefold, a thick printed inner sleeve, and a 24"x24" foldout poster; it's reasonably not as elaborate as All Mirrors' vinyl edition (with a booklet and foil-stamped jacket), but if you own that, Whole New Mess is a necessary companion.
A Certain Ratio - ACR Loco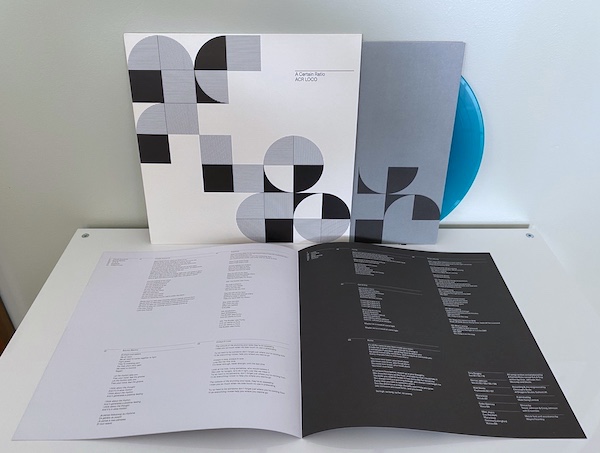 Mute STUMM454 limited edition turquoise LP (different color variants randomly packed)
Produced by: A Certain Ratio
Engineered by: Christophe Bride at Oxygene Studio, Salford
Mixed by: Christophe Bride at Oxygene Studio, Salford
Mastered by: Kevin Tuffy at Alchemy
Music: 6
Sound: 7
Originally a post-punk band, Manchester group A Certain Ratio unlike their Factory Records peers took a funkier direction when the label's other lesser-known acts became increasingly monotonous. While in their realm ACR never stood out, their early 80s records are fun listens. Following a 12-year hiatus, this fall they released ACR Loco, an upbeat album that also highlights their gloomier post-punk roots. The core trio of Jez Kerr, Martin Moscrop, and Donald Johnson is joined by guests including the Smiths' Mike Joyce and the late singer Denise Johnson (known for her vocals on Primal Scream's "Don't Fight It, Feel It"). While it's nothing unexpected or innovative, ACR Loco is enjoyable dance punk, reminiscent of their classic sound with a modern touch. Although lyrics like "Brothers and sisters, we are family/One world united/Love, peace, harmony" won't mend any complex world tensions, most of us could probably use some positivity right now. ACR Loco won't convert any new fans, but for their existing audience it's a small light in these dark times.
The first vinyl run comes in four randomized color variants: turquoise (1200 copies), red (edition of 900), blue (600 records), and white (300 units). My turquoise copy, mastered by Kevin Tuffy at Alchemy and pressed at an anonymous European plant, is physically good but sonically underwhelming. Compared to the 44.1/24 download, the vinyl is annoyingly smooth with a weaker soundstage. The top end on both is thin, but the digital file is heavily compressed. I'd rather be annoyed than fatigued, though neither are ideal. Also worth noting is that the LP edits most tracks, but the vinyl edit cuts the fat and is more enjoyable. Trevor Johnson designed the package, which consists of a debossed jacket, a printed inner sleeve, and a four-page art and lyrics insert. (I ordered a Newbury Comics copy, with an exclusive art card signed by the band and Trevor Johnson.) Especially for the $30 cost, ACR Loco's lackluster vinyl quality disappoints, but at least the package looks nice.
Screamin' Jay Hawkins - …What That Is! and Because Is In Your Mind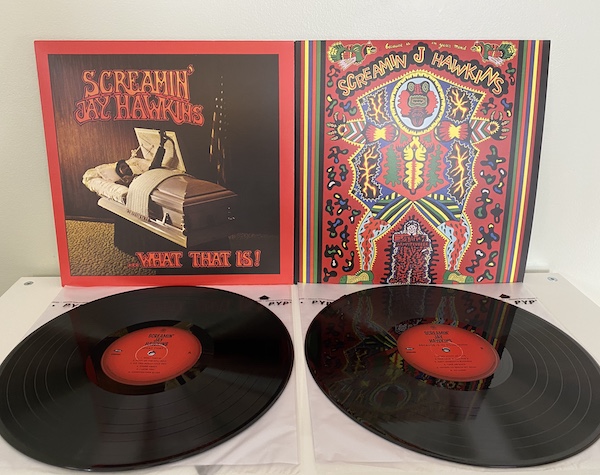 Third Man/Mercury TMR-663/664 standard 180g black vinyl reissue LPs
Produced by: Milan Melvin (…What That Is!), Huey P. Meaux (Because Is In Your Mind)
Engineered by: Hank Cicalo (…What That Is!), Burt Frilot (Because Is In Your Mind)
Mixed by: N/A
Mastered by: Bill Skibbe
Music: 6
Sound: 6
The legend of Screamin' Jay Hawkins' larger-than-life antics has far surpassed recognition of his actual music, which while understandable is still a disgrace. Perhaps attempting to fix that, Third Man (initially on RSD colored vinyl, now on standard black vinyl) just reissued his two Philips albums, 1969's …What That Is! and 1970's Because Is In Your Mind. The former is billed as a "live" album, although the "venue" ("Club Amigo, North Hollywood") is fictional and there's no audience present. Yet, save for the presumably overdubbed backing singers and strings, …What That Is! feels very natural. The cover depicts Hawkins emerging from a coffin (one of his signature theatrical moves), and the opening title track shows him opening the "show" with his trademark, somewhat comedic eccentricity. "Most people record songs about love, heartbreak, loneliness, being broke… Nobody's actually went out and recorded a song about real pain," Hawkins says before launching into probably his best known later composition, "Constipation Blues." Over a 12-bar structure, he moans in pain before finally relieving himself. "Ask Him" is freakish gospel of sorts, and "Reprise" plays snippets of the album's previous tracks, like a commercial for a record you already heard/bought. …What That Is! is a thoroughly enjoyable listen, a unique twist on blues that doesn't at all feel forced.
Because Is In Your Mind (aka Armpitrubber), released the following year, has a clean studio sheen typical of its era. Thankfully, though, Hawkins' vocal performances still have character, and "Bite It" (based on the Mar Keys' "Last Night") is one of his most joyfully bizarre songs. As highlighted on "Trying To Reach My Goal," the album at times gets dangerously close to generic blues territory, but his unconventional screams and brilliant dynamics save the record.
While I don't have originals to compare, these reissues unfortunately lack the usual Third Man attention to detail. These probably weren't hi-fi recordings to begin with, but the new LPs cut by Bill Skibbe sound digitally dead and clinical in the worst sense. Screamin' Jay's vocal presence is diminished, the soundstage two-dimensional, and the reverb sucked out. The cover scans are also less than ideal, with light but noticeable wear from the scanned jackets still present. Still, Third Man's 180g pressings have few pops and are well-made (though the slightly oversized disc labels collide with the runout groove). There's an undeniable appeal to owning new LPs, but for these Screamin' Jay Hawkins albums you're better off streaming them or buying original copies.
(Malachi Lui is an AnalogPlanet contributing editor, music lover, record collector, and highly opinionated sneaker enthusiast. Follow Malachi on Twitter @MalachiLui and Instagram @malachi__lui.)
<!- ------------------------------------>