Revox Re-Enters the Turntable Market With T700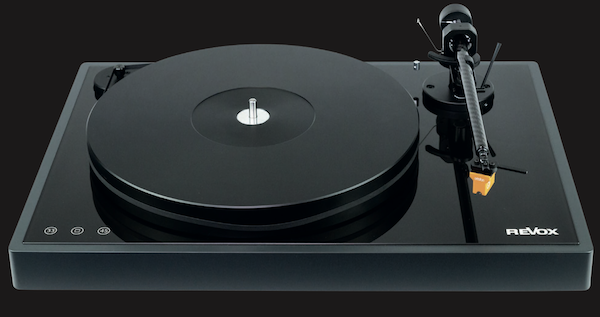 Revox recently introduced the $4000 T700, its first new turntable in many years. The company's first platter spinner, the Revox 60 was originally introduced in 1956. A series of tangential trackers followed. The new T700, manufactured in Germany, features a built-in MC phono preamplifier and comes standard with an Ortofon Quintet Bronze moving coil cartridge.
The T700 also features an approximately 6 pound POM platter riding atop an aluminum, subplatter, a "high-precision" electronic PLL speed control (33 1/3/45rpm) with contact-free optical sensor, a backlit touch sensor controlled control panel and a tonearm made of "high grade metals" with a carbon fiber arm wand. A hinged, solid acrylic platter is also included, along with an accessory kit that features a stylus pressure gauge, spirit bubble level, and a carbon fiber record brush.
The built-in phono preamp includes 6 loading options: 47,100,220,470, 1k and 2k Ohms and 4 input sensitivity settings: 150µV, 300µV, 600µv and 1.2µv. All phono preamp adjustments are via rear panel DIP switches.
<!- ------------------------------------>