Rhino Reissues Love's Classic "Forever Changes" Album From Analog Tape! (Corrected)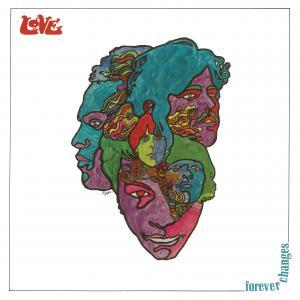 Rhino recently reissued Love's essential
Forever Changes
album in conjunction with last November 23rd's "Record Store Day." The album was cut by Chris Bellman at Bernie Grundman Mastering and pressed at RTI.
Finally! One of the great records from the 1960s properly reissued (we hope!). Certainly with Chris cutting and RTI pressing we have every hope. However, Sundazed's Bob Irwin issued it some years ago and as he told me, the differences between the tape and what the late Arthur Lee intended were major.
For instance the album is supposed to open with a fade-up that's not on the tape. There are apparently dozens of "mastering moves" that separate the tape from the original pressing. Irwin labored long and hard to duplicate the original LP's "moves" and as I recall Sundazed's version, he got them all or mostly correct. Unfortunately, the LP's sound, for whatever reasons, was an opaque rendering of the original.
We fervently hope Bellman's remaster matches or approaches the original's sonic brilliance. We'll know immediately because if the opening doesn't fade up then it's not likely the rest will go much better.
1500 copies pressed for Record Store Day contain a bonus single.
I'm sorry I didn't alert you to this sooner, but I didn't know about it until alerted to it today by a reader, who I thank profusely!
You could argue that I should be on top of the entire vinyl reissue scene but that's almost impossible for one person (which is a good thing!). The fact is, despite asking Rhino to put me on its email public relations list, I haven't gotten as much as a response of any kind from them. Never mind that I interviewed co-founder Harold Bronson back in 1986.
Never mind, because Bronson and co-founder Richard Foos have not had a Rhino connection for years. Oh, sorry to be venting my disgust here about how Rhino doesn't treat me. It's not really about me, it's about my ability to keep you informed.
In any case, my recommendation is to pick up a copy before they are all gone. As soon as the copy I bought arrives, I'll listen and review. This is an album that belongs in every serious rock record collection. I picked up a less than pristine original copy for $50 in New Orleans back in September so $24 for a new RTI pressing strikes me as a bargain!

LATEST VIDEO
<!- ------------------------------------>