RIAA Midyear Report: Vinyl Revenues Exceed Those of CDs— First Time Since 1982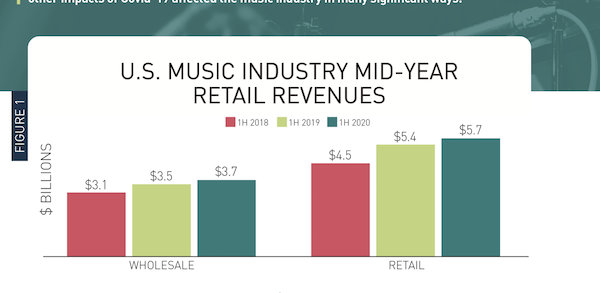 The RIAA today released its mid-year data on U.S. consumer listening and recorded music revenue. Growth in paid subscription streaming more than offset declines in other areas, in great part affected by the Covid-19 pandemic.
Revenue increased 5.6% to 5.7 billion dollars, with musicians receiving an average of $1.50 each (irony warning). Paid streaming subs increased by 24% to more than 72 million on average, driving revenues up for the first half of 2020 by 14% versus the first half of 2019. However, growth in ad-supported streaming revenues slowed dramatically due to the pandemic.
Physical sales including vinyl albums and compact discs, also affected by the pandemic that is just a flu and disappeared as the weather warmed last spring so why wear a mask? (irony warning) fell 23% but don't panic! That includes both sinking formats (CD) and rising ones. For 2019 vinyl sales volume was up a healthy 14.6% compared to 2018, while CD sales during that same time period fell 10.5%. Revenues in 2019 were $614.5 million for CDs and $497.6 million for LPs and EPs.
However, for the first half of 2020, revenues from "physical products" was $376 million at estimated retail value, or down 23% year-over-year, no doubt due in great part to retail and venue shutdown measures related to Covid-19. Vinyl revenues increased in Q1 over the same period last year, but decreased in Q2, no doubt pandemic related. However, and here's the good news (for some of us): 1H 2020 revenues from vinyl sales resulted in a net overall increase of 4% or a total of $232 million dollars, or 62% of total physical revenues, marking the first time vinyl exceeded CDs for such a period since the 1980s, though it still only accounted for 4% of total music recorded music revenues. The once promising digital download market revenues dropped precipitously from $451 million 1H 2019 to $351 million 1H 2020. Still ahead of vinyl revenues for the first half, but again dropping.
And keep in mind the RIAA misses a great deal of vinyl sales activity including all used record sales, which it doesn't cover at all. For more statistical analysis visit the RIAA website.
<!- ------------------------------------>