Richard Thompson's New "Electric" Album on New-West Recorded Analog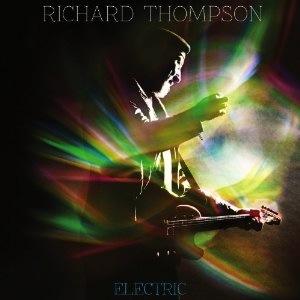 Richard Thompson's new album
Electric
due out February 5th was recorded analog at Buddy Miller's Nashville home studio, according to Mr. Thompson in a short interview published in a Florida newspaper. (Thanks to Home Theater's other MF Mark Fleischmann, for sending to me the URL of the interview).
Thompson volunteered the information, saying it was recorded analog and has a "different sound." Yes, that's one way of putting it.
Miller plays rhythm guitar along with Thompson's regular rhythm section and Thompson is joined on various tracks by guests including Alison Krauss.
A 'deluxe' CD edition includes songs not on the LP or standard CD edition so Thompson addicts will have to double dip.
There's no guaranty lacquers will be cut from analog masters and New West usually presses at United in Nashville so there's no guaranty the results will be awesome, but if you were fortunate enough to get a copy of the limited to 1000 copies 2.5 LPs Buddy Miller's Majestic Silver Strings (New West 5028) you know that United is capable of pressing quiet 180 LPs and that however this was mastered it sounds fabulous.
I bought copy # 849 and was lucky that a friend found it on the Internet for me. Apparently New West was out of them almost as soon as it was issued but it's worth a search.

LATEST VIDEO
<!- ------------------------------------>