R.I.P. Armando ("A.J.") Conti (Updated 10/13 10:22 PM)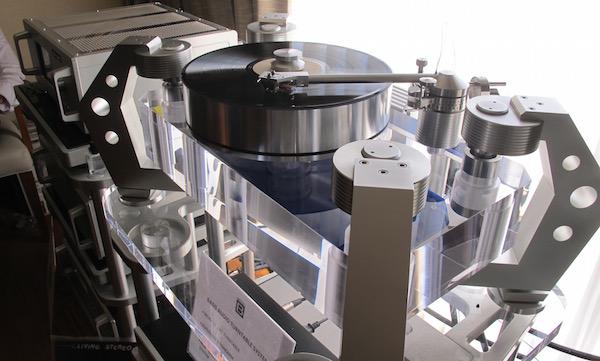 I am so sorry to report the passing of Basis Audio's Armando ("A.J.") Conti, one of the audio industry's nicest, most interesting and talented turntable and tone arm designers.
This comes as a shock to all. A.J. was 59 years old and seemingly in excellent health. He was a cyclist and fit and trim. On Saturday October 8th while attending his son's soccer game, he suffered a massive heart attack and could not be revived.
Shown in the photo is his top of the line "Work of Art" turntable, exhibited for the first time with a metal alloy platter instead of the usual acrylic.
For more about the man, please read this just published obituary.
This afternoon I spoke with Armando's wife Jolanta and his brother Anthony. These are incredibly resilient, strong people. Here is a statement Tony emailed me late this afternoon:
"It is with deepest regret that we inform the audio community of Armando (AJ) Conti's unexpected passing. AJ's lifelong passion was designing and manufacturing precision audio products in pursuit of "The Truth", as he called it, for the most accurate sound reproduction.
We first want the industry to know that AJ has left Basis on extremely strong financial ground as confirmed by the company's CPA. We are in deep gratitude to Basis long term employees, both present and past, who are committed to the company's continued success. As many of you know, Basis is an industry leading organization, but also a close 'family'.
There will be little to no delay in fulfilling all of the company's obligations to customers, suppliers, and business partners, although there may be some interruptions over the next few weeks. Please do not hesitate to contact Basis senior management for any pressing matters, specifically, Jolanta Conti, AJ's wife, and Anthony Conti, AJ's brother, at Basis. They will be assisted by AJ's longtime engineering colleague, Jim McAndrew, who has deep knowledge of Basis technology and products.
Jolanta's professional experience includes practicing commercial and corporate law for 10 years in both the United Kingdom and Australia. Jolanta has expertise in complex commercial matters including contract negotiations, business development, and patent and intellectual property. Jolanta has worked with global companies including Morgan Stanley, Shell, BP, BHP and many others. Prior to meeting AJ, she was carefully evaluated and selected to be Bristol-Myers Squibb's lead attorney for all of Eastern Europe.
Anthony, like AJ, is an engineer educated at both Georgia Tech and Northeastern University. He has extensive experience managing and scaling technology companies for over 30 years. Anthony's experience has included Managing Director of European Operations based in London, England and senior executive positions in Toronto, New York, Atlanta and Boston where he now resides.
We are excited to continue AJ's pursuit of the most 'truthful' and accurate sound reproduction, extreme precision and uncompromising commitment to quality in all Basis products.
Further, AJ has a number of products in the company's pipeline that are ready for release. All design, testing and prototyping work is finished with completed units and parts already in inventory.
We are so grateful to the many industry friends who have already reached out to Basis and the management team to support the company and its continued success.
For funeral arrangement details go here."
<!- ------------------------------------>