R.I.P. Legendary Mastering Engineer Stan Ricker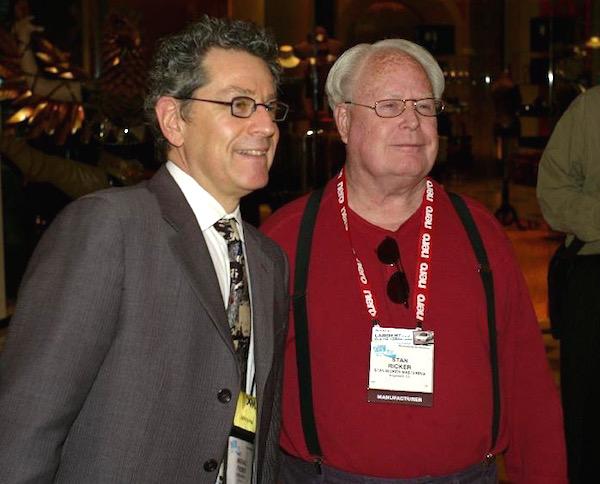 Legendary mastering and recording engineer Stan Ricker passed away today. That is all I know at this time. As I learn more I will update this news item.
Ricker first made his mastering presence known as a disc cutter along with Jack Hunt, for the original Mobile Fidelity 1/2 speed mastered LPs released in the 1970s and 1980s.
Ricker mastered the controversial original Mo-Fi Beatles box set in the early '80s. It was controversial because the equalization seemed extreme and not in keeping with the original sound. The treble and bass were boosted, which left a "midrange valley".
Ricker told me many years later that the EQ choice was not his, but rather that of another Mobile Fidelity employee, whose name I won't repeat here because this is second-hand information. However having known Stan over the years I take his word for it.
Like the late Doug Sax, Ricker cut lacquers until his passing. He was a vinyl enthusiast throughout his life and cut many, many great records during his long career.
This is from his website:
"Stan is Owner/Engineer Of SRM, a musician (acoustic and electric bass and tuba,67 yrs.) who understands the importance of serving the needs of music. He has a BME from the University of Kansas. [1962] Over the last 48 years, his path has taken him through teaching, performing, conducting, recording, producing, engineering and mastering many projects. Stan is well known for his keen hearing and attention to details that some others simply do not understand. "The difference REALLY is in the details," says Stan.
Stan Ricker belongs to the Hollywood Sapphire Group, and formerly was a member of the Audio Engineering Society. He was voted "Disk Cutting Engineer of the Year" in 1981 by "Playboy Readers Poll" and was voted "Recording Engineer of the Year" in 1984."
The photo above was taken at The 2007 International Consumer Electronics Show in Las Vegas.
<!- ------------------------------------>