The Rolling Stones Announce Tattoo You 40th Anniversary Reissue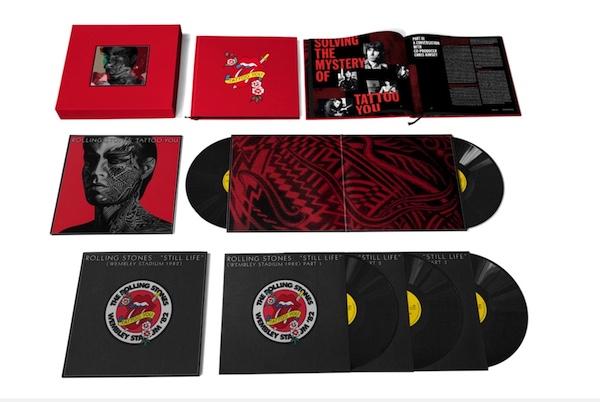 The Rolling Stones just announced a series of 40th anniversary, expanded editions of
Tattoo You
, the group's multi-platinum 1981 release from Polydor/Interscope/UMe.
The remastered set will include "no fewer' than nine previously unreleased tracks from that era. The rocker "Living In The Heart Of Love" is available now on all digital services. The album due out October 24th is available for pre-order here.
The 11 tune album, originally mastered on vinyl by Bob Ludwig and still sounding great inlcudes "Waiting on a Friend" (with Sonny Rolling on sax), "Hang Fire" and of course "Start Me Up", which I predict one day soon will be licensed for a laxative commercial. Meanwhile The Stones hit the road September 26th on a 13 date No Filter tour starting in St. Louis and running into November with Charlie Watts sitting it out this time due to post-op recovery from unspecified surgery.
The deluxe format editions wil include Lost & Found: Rarities and Still Life: Wembley Stadium 1982 that the press release describes as featuring 26 tracks including "newly completed and enhanced..." tracks with "additional vocals and guitar by the band".
The standard CD edition contains the original 11 songs. The Deluxe 2CD set includes the original album plus the 9 tune Lost & Found:Rarities on disc 2. The 4 CD "Super Deluxe Boxset" includes the above 2 CDs plus on 2 additional CDs 26 tunes from the 1982 Wembley Stadium concert.
The vinyl offerings include the original album on 180g black vinyl, a 2 LP Deluxe black vinyl edition in a "gatefold sleeve" (sic) containing the above referenced rarities set, a 2 LP set as above but on clear vinyl (a The Rolling Stones Store exclusive) and a 5 LP Super Deluxe Box Set that includes the contents of the 4 CD set plus a 124 page hardback book featuring over 200 rare photos from recording sessions and world tour+ interviews with producer Chris Kimsey and photographer Hubert Kretzschmar and more.
As for who mastered from what source and to what format and from what the LP editions were cut and by whom and who pressed, apparently neither The Rolling Stones nor the labels care to share that information. So I'm left to guess the best case real world scenario (best case fantasy scenario is "cut from tape with full dynamic range preserved"), is Bob Ludwig mastered to 192/24 from the original analog tapes and GZ Media cut lacquers from the files. That's the best case real world scenario. Worst case is that it's horribly dynamically compressed so it matches the low standards set for most of the rest of the group's Rolling Stones Records catalog.
I'm not being cynical. I'm being realistic. As with automobile commercials these days that don't tell you a thing about the car, like horsepower, engine, braking system etc. physical media publicity announcements leave out what's really important.
However, it should be said that the 2020 Goat's Head Soup set returned the album to #1 in the U.K. as did the unacceptable and shitty reissue of Exile on Main Street. Unless and until you hear the original Artisan Sound mastered vinyl edition cut while Mick and Keith sat there having rushed the tape over following overdubs and final mixing at Sunset Sound, you really haven't experienced Exile on Mainstreet's full musical and sonic power.
In a Rolling Stones interview for the 2010 Exile... reissue that also includes deluxe editions featuring bonus tracks (some of which also had new parts added), Mick Jagger says he was surprised to find the original tapes in excellent condition though in need of baking before digitizing. But as we all know, a tape can be baked and then played so lacquers can be cut to produce an all-analog facsimile of the original and there's no reason to not do that and to not dynamically compress the living shit out it (especially since some compression was originally done). As many of you know, the original was not well received by the rock press in 1972, in part because there were not immediate hit singles (though there surely were some great candidates) and the press characterized the sound as "muddy and messy", which of course is simply not true! The problem was that the rock press at the time almost uniformly listened on crappy "record players". An original pressing on a good rig sounds incredible. "Tumbling Dice", "Sweet Black Angel" and most of the rest are sonically amazing.
I'm hoping to get the full Tattoo You reissue production details and if I do, I'll fill you in.
<!- ------------------------------------>