Roxy Music Box Set Coming March 16th From Universal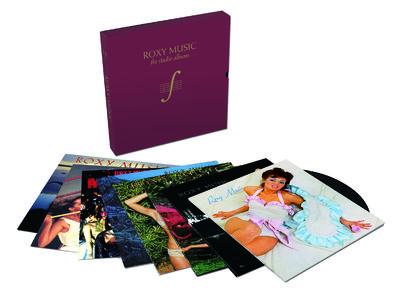 Roxy Music, the art-rock band that spawned the music careers of lead singer Bryan Ferry and producer, music experimenter (and who knows how to adequately describe him) Brian Eno will get the full and well deserved box set treatment from UMe.
The set's box reprises one used for an '80s era set issued in Europe (I got one a garage sale back then for $8.00-- a $1 a records seemed fair to the seller and who was I to argue?). The set contains Roxy Music, For Your Pleasure, Stranded, Country Life, Siren,Manifesto, Flesh and Blood and Avalon.
There's not a bad record among them, though they greatly differ in style and tone. The first two, in which Brian Eno contributed him tape loops and other effects are favorites among "art-rockers", but Stranded the first minus Eno was another step forward in the band's evolution and among the group's most enduring efforts.
The publicity blurb informs that the the records were mastered at Abbey Road Studios by Miles Showell, formerly of Metropolis—a storied mastering facility—who's scribe mark "MILES" will be familiar to many readers. The lacquers were half-speed mastered the press release says, but from what it does not say.
So I called the very cooperative Universal publicist who got the information directly from Mr. Showell:
"They were cut from archive high resolution digital non-mastered or limited flat transfers of the original tapes. I then applied some very clean mastering just to subtly enhance what was there but at no point was any digital limiting applied as this is not required for vinyl."
So yes, we are somewhat disappointed that it wasn't mastered from tape but as in the case of Tommy mastered by Kevin Gray from 96/24 files, we should approach this with cautious optimism.
So far, nothing beats original Island "pink rim" Roxy albums for the early ones and the best Avalon I've heard is the British Polydor Deluxe, even though it, like the American edition, lists Bob Ludwig as mastering engineer. In my opinion the American Avalon doesn't remotely compare to the UK original.
Previous digitally mastered vinyl from Virgin was brittle and generally unlistenable but with Miles doing the mastering from flat archival transfers let's be optimistic! All of the records are pressed by GZ Media in the Czech Republic. That is good news. Roxy Rules!
<!- ------------------------------------>