Shinola's "Plug'n'Play" Runwell Turntable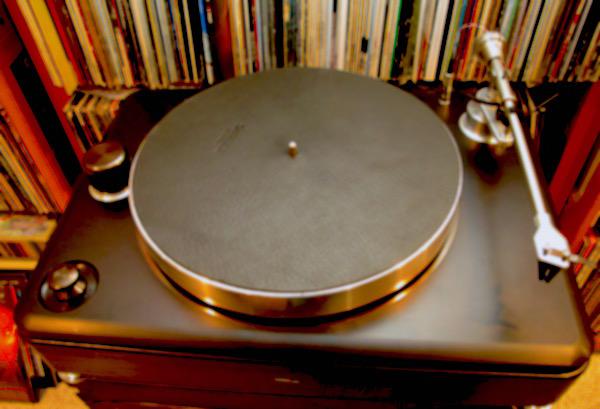 It's no secret that when
Shinola
decided to add a turntable to its product roster, the Detroit, Michigan based manufacturer chose to consult for the design with New Jersey based VPI Industries.
That made complete sense because of VPI's many decades of experience manufacturing at a wide variety of price points, American-made turntables.
However, it would be incorrect to call the new $2500 ready-to-play Shinola Runwell turntable a re-badged VPI or a VPI clone. Have you ever seen a VPI turntable driven by a crowned pulley and a flat belt? No.
On the other hand some of the Runwell's component parts and/or design concepts will look familiar to VPI customers, including its stocky pre-lubricated inverted ball-topped bearing and pleasingly massive and damped full-sized aluminum alloy platter.
The Runwell's key machined components are manufactured to Shinola's specs at the same machining facility used by VPI. The American-made motor is from Hurst, driven by a Shinola-initiated electronic controller. A few cosmetic parts are sourced overseas. You will find more, including a video here.
The handsomely designed, generously-sized base (18.5" W x 13.5" Dx4.3" H) of wood damped with a heavy aluminum top-plate weighs, including the platter, a hefty forty pounds.
The approximately nine and a quarter inch effective length damped aluminum tone arm (or pick up arm, choose your favorite) is a custom version of the one VPI uses on its Scout, Jr. 'table, but featuring a head shell and counterweight unique to the Runwell and a more cosmetically pleasing finish. Both are particularly "beefy" as well as being attractively machined parts of what appears to be a three-piece press-fit assembly.
The bearing assembly, borrowed from arms found on lower cost VPI 'tables, consists of a traditional gimbaled vertical one and for the horizontal, what appears to be an unusually large-diameter (for a tone arm) platter type bearing—an idea VPI founder Harry Weisfeld showed me during a visit last year or perhaps two years ago.
The arm wire, terminated in a LIMO-type connector, exits atop the arm slightly forward of the vertical bearings and plugs into a socket mounted to the top of the Runwell's thick, massive aluminum top plate.
VPI owners are well-familiar with this wiring arrangement, which is also found on all VPI arms, both gimbaled and uni-pivoted. While arranging the wire in a neat loop is important on both kinds of arms, its positioning is somewhat less critical on a gimbaled bearing arm where wire back-force can't affect azimuth as it can on a unipivot, it's nonetheless important to carefully loop it to minimize friction.
Anti-skating is not included here, but side force compensation is less needed on this arm because there's somewhat more horizontal friction due to the large diameter horizontal bearing (more about this later).
Built-In MM/MC Phono Preamplifier
A Shinola-designed and built in America modular MM/MC phono preamplifier is onboard and accessible via a rear-mounted slot load tray. The output via a pair of gold plated RCA jacks is fixed, meaning that at this time you cannot use an outboard phono preamplifier.
However, because the design is modular, Shinola says it will at some point soon offer a variety of optional plug in cards that will include a non-line level output and perhaps an ADC or even Bluetooth.
MM gain @47kohm loading is specified at a somewhat low-ish 35.4dB (40dB is more typical). Signal-to-noise ratio (unweighted) is spec'd at 82dB, while RIAA accuracy is said to be "less than" (do they mean "greater than", which would be better?) ± 0.25dB, 20Hz-20kHz (exclusive of the 13Hz infrasonic filter—a good idea).
Jumpers on the phono board permit switching to MM to MC, which adds approximately 20dBs of gain. You can find other specs on the company's website.
Plug'n'Play Operation
Attractive, even elegant packaging is part of the Shinola experience and the Runwell's presentation meets expectations. It comes in two boxes, one containing the base and accessories, the other the platter and arm with pre-mounted Ortofon 2M Blue moving magnet cartridge (until Shinola's own design has been completed).
Open the big box and you're greeted by an opaque black inner box cradled in black foam. Remove the foam, lift out the handled box, open and you'll find a large one-sheet with basic instructions. You'll also find an LP present from Shinola, in this case St. Vincent's 2014 eponymous Grammy Award® winning release, in which, unfortunately, the producers lavish more care and attention on the gold-leafed jacket than on the recording and pressing quality (I already have a copy). Cool musical choice though! But the sound is A.M. radio quality. Meaning it sounds as if you're hearing it through an A.M. radio.
Place the turntable down on a sturdy level surface (the feet are adjustable), remove the platter and arm (carefully!!!) from the second box, lower the platter onto the bearing, then the arm into its base (it will be "grabbed" either by a magnet or by a suction vacuum typical of a platter bearing).
At this point you're almost ready to play records because the cartridge is mounted and aligned and the counterweight is already adjusted to the correct tracking force. The sleek design makes difficult accidentally nudging the counterweight and changing the tracking force. You will have to carefully remove tape that holds in place the counterweight and secures to the arm tube the cable and connector.
Though Shinola tries its best to make this truly "plug'n'play" without your having to buy accessories, it's a good idea to buy a VTF (vertical tracking force) gauge and an inexpensive bubble level to be sure the 'table is level and the down-force is correct (the 2M Blue's recommended tracking force is between 1.6 and 2.0 grams). Despite Shinola's best efforts to further secure with tape the snap-on stylus guard, it came loose during shipping.
When I lifted the arm from the packing I was surprised to find an unprotected but thankfully undamaged cantilever and stylus (whew!). Also, I think Shinola should provide instructions for removing the stylus guard. It's neither self-explanatory nor easy to get on and off! If I have trouble with it, I can only imagine the struggles of a first-timer!
Shinola provides a generously long, fabric-covered A.C. cord and a thin leather platter mat into which is stamped the Shinola logo. Carefully place the belt around the stepped pulley (easier for the experienced, more tricky for first-timers), plug in the A.C., connect the supplied RCA cables to a line level input and you are ready to play records.
Runs Well, But Fast!
While your first job will be to play records, mine was to measure the Runwell's speed accuracy. Using the Feickert test record and Platterspeed App I found that the Runwell spun a bit more than .2% fast. I double checked this with the Clearaudio strobe disc and light.
In other words a 3150Hz tone was 3165.8Hz. Wow was ±0.12 or ±0.09 depending upon how it's calculated and if you look at the other numbers, the Runwell's speed consistency (low-pass filtered to remove the contributions of record eccentricity) was very good regardless of price. Here's what the speed chart looked like: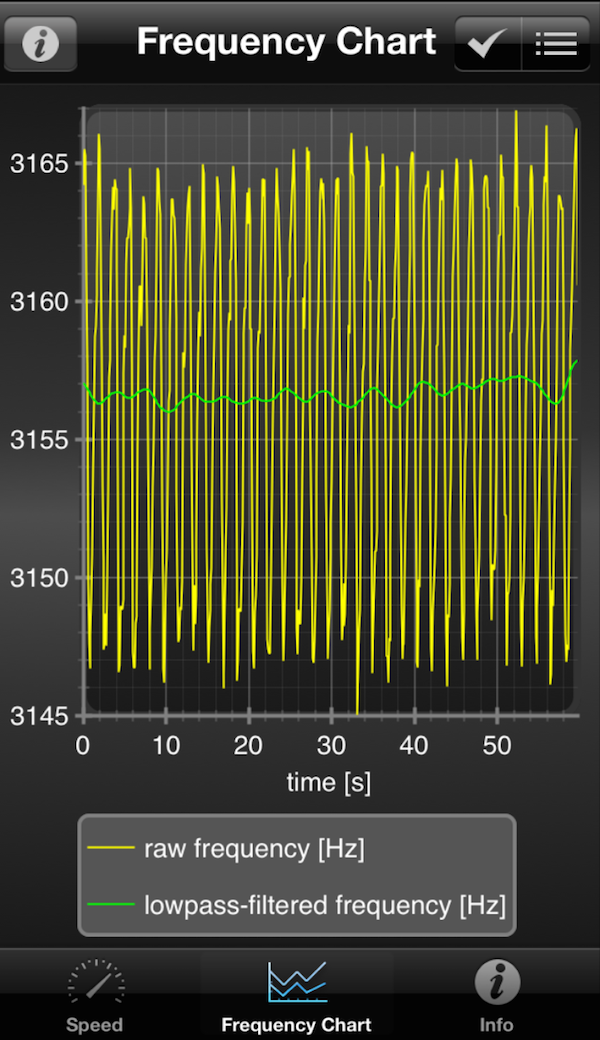 That too looks very good, other than the location of the low pass filtered green line, which shows the speed error. I decided to try a trick someone once showed me, I don't remember when, which is to twist and so invert the belt at the pulley. That done, I again measured and got this: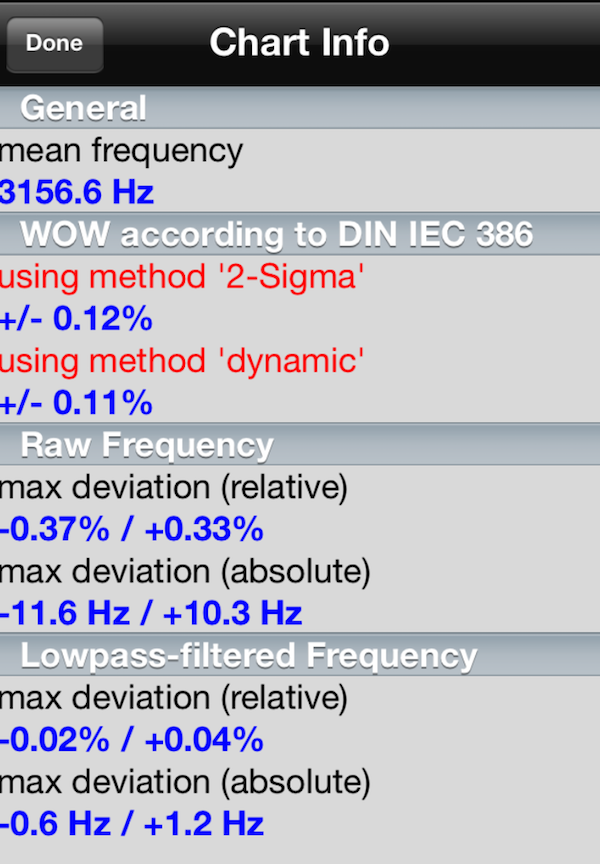 Note that this produced very close to the desired 3150Hz without any appreciable loss of speed consistency. It's a useful trick, but QC should have caught the speed discrepancy and replaced the Delrin pulley, which on the 45rpm segment also suffered from noticeable vertical wobble (the initial 45rpm measurement was also +.2% fast).
The pulley machining tolerance also needs addressing as this video shows (will post ASAP). This should have been found in QC and replaced.
Tone Arm Concerns
The relatively high friction horizontal bearing, which any experienced turntable owner can easily feel was cause for concern (as it was when I first saw this design) as was the gimbaled bearing's easy to feel "play". Even the higher tolerance (meaning looser) bearings found on less expensive Regas cannot be felt moving as one can feel on the Runwell's arm.
The Runwell's arm was susceptible to actually "sticking" in the grooves unless both the stylus and the record were kept scrupulously clean. This was something I've not experienced playing records in a very long time. A clean stylus on a clean record produced no actual sticking but dirt on either (and not a great amount of it) did.
When I played a blank (grooveless) record, the arm remained in place wherever I plunked it down. That is not good, even if you don't "believe" in anti-skating. The arm should "skate" inward due to friction. This behavior does not mean there's just enough bearing friction to produce the right amount of anti-skating without there being mechanical compensation!
More troubling was audible, muddy, inner-groove distortion on highly modulated passages. In the fourth movement of a 1995 Alto Analogue reissue of Tchaikovsky's "Manfred Symphony" with Andre Previn conducting the LSO (EMI ASD 3018) cut without limiting or compression of any kind, when the organ entered, the arm could not handle it and the sonic picture turned to thick mud.
I am not happy reporting this but it's what I found even tracking the Ortofon 2M Blue at 2 grams or 2.1 grams. Is this a QC problem? I'll wait for a manufacturer's response after they get this 'table back and have a chance to examine the arm. I'll publish it ASAP.
Swell Sonics
I hope Shinola sorts out the speed issue and that the review sample was an outlier because the Runwell's sonic performance was in every way attractive, if not the final word in terms of resolution. Because it is sold as a ready to play system it was neither possible nor appropriate really, to separately assess the phono preamp's performance or the cartridge's or the 'table's for that matter.
Taken as a whole, though, the combo produced a pleasingly warm "full-figured" and well-detailed analog experience, though I recommend tracking the 2M Blue at the top end of its recommended range (2 grams). At the recommended 1.8 grams the couldn't quite deal with the "Mallet of Death" drum thwacks on Winds of War and Peace (Wilson Audiophile/Analogue Productions APC 8823) or the above referenced "Manfred". On the other hand at the Consumer Electronics Show two years ago that same "thwack" vaporized a ceramic midrange driver on a speaker that I'll not name! It's quite a "thwack"! At 2.1 grams the Runwell had no problems reproducing the "thwack" without mistracking.
Chad Kassem once told me that his SMT presses (Southern Machine Tool) were like '50s era Chevys: they just run and run and never break down. The Swedish Toolex Alpha's though, which are high performance and semi-automatic (they load records into sleeves and stack too), are more finicky—like European high performance cars.
The Runwell is a quintessential American product: rugged, probably ultra-reliable and extremely well-built but in terms of sonic performance—at least as supplied—its bottom end though very well-developed and robust, was somewhat sluggish compared to even a Rega Planar 3, which specializes in "fast and nimble" somewhat at the expense of weight and "slam".
On the other hand, the Runwell's generously sized bottom and rich, full mid-band made a record like Mike Flanigin's Hammond B-3 saturated The Drifter (Black Betty BBST-4068), much of which was recorded in Austin at Jim Eno's (he's Spoon's drummer) Public Hi Fi Studios, sound as no digital source can ever manage.
Were I in charge of "gifts" for Runwell customers, I'd be packing this record, which features, among other guests Billy Gibbons, Alejandro Escovedo, Gary Clark, Jr. and Jimmie Vaughan. Great music and it shows off the Runwell's best, velvety-smooth sonic attributes.
Don't get the wrong idea about the Runwell: it's got sufficient buoyancy and resolve to make a record like The Modern Jazz Quartet's European Concert (Atlantic 2-603) sing. Milt Jackson's vibes had fast bell-tone attack and sustain, and Connie Kay's cymbals so well recorded here, had fine shimmer, especially considering the moderately priced ($236) cartridge.
In fact, I compared this record through the Runwell with a 192/24 bit MQA version through a well-executed streaming DAC and while had the digital version been CD sound in 1984 I'd not have gone on my anti-digital rampage, in the ways that analog beats digital every time, the Runwell expressed it.
The Runwell's well-developed midrange helped produce full-throated female vocals and rich, sonorous string tones that will attract the ears of those subsisting on a thin digital diet. Play for a turntable skeptic Nina Simone's High Priestess of Soul from the must-have The Philips Years box set and he or she will "turn".
Don't forget: I put the Runwell in a system costing hundreds of thousands of dollars and still it provided an abundance of warm, rich, velvety musical pleasures without showing any serious sonic weaknesses (other than when it couldn't properly track and record). In fact its smooth sonic personality complemented the best sounding records while covering to some degree the poorly recorded ones.
Conclusion
I suspect the sample Runwell I got for review was early in the first production run. I don't think it was QC'd with sufficient attention paid to the pulley wobble or to the vertical gimbaled bearing. There will inevitably be some bearing "slop" on an arm at this price point but it should not be so great that it can actually be felt by manipulating the arm as it was here.
As for the horizontal sticking issue, I can't imagine that what I experienced was normal because I believe the VPI version of this arm has been in the field for a while now and it's difficult to believe either VPI, or its customers would tolerate performance of this kind.
The Shinola Runwell has many outstanding attributes both physically and sonically. As a "lifestyle" turntable, it's difficult to fault in either category. It looks retro-cool and is beautifully turned out. Sonically, it goes where no digital audio goes in the ways that only analog provides. It's sins are those of omission and of pleasing additives.
Assuming the tracking issues experienced here were "outliers", I have no doubt Runwell buyers, especially first timers and older folks returning to their format roots, will be happy with their Runwell purchase. It's a solid "piece of kit". It needs better QC.