Shinola Launches New Runwell Turntable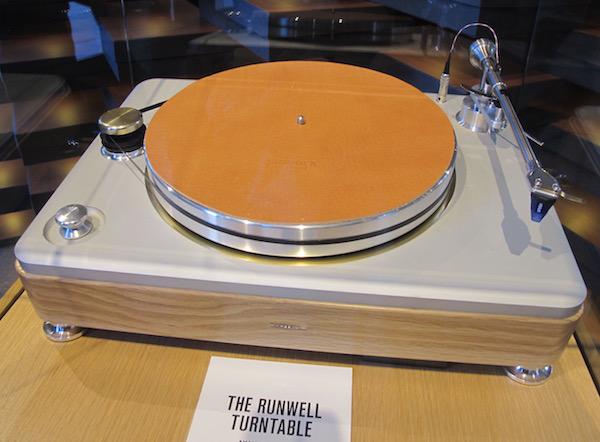 Last Monday, November 21st, AnalogPlanet editor Michael Fremer along with a few other journalists visited Shinola headquarters in Detroit. Project head Alex Rosson (Audeze headphone company co-founder) conducted the tour where we watched the new Rumwell turntable being built within the company's main retail store, where it also assembles bicycles. Later we toured the main manufacturing and design facility where the company also produces its line of watches and superb leather goods.
The new $2500 turntable was designed in association with, but not by VPI Industries. The project took in excess of a year to come to fruition. Those familiar with VPI products will note the inverted main bearing topped by a ceramic ball, that's similar to the one used in the company's Classic line. Also, the arm is a gimbaled bearing arm similar but not identical to those found on VPI's lower cost 'tables.
One major difference is the drive system: VPI uses "O" rings, whereas the Runwell uses a flat belt with a crowned pulley. Another major difference is the attention paid to design esthetics, which is a key Shinola attribute throughout its range of products.I expect future VPI turntables to pay greater attention to this very important aspect of product design, which was a "learning experience" for all involved on both sides of the production fence..
The Runwell features machined components produced in NJ at the same factory that supplies VPI, but the work was done to Shinola's specifications. It's a heavy turntable that weighs in at around fifty pounds. It includes a made in America Hurst motor controlled by a bespoke electronic control system.
For now the 'table comes with a pre-fitted and aligned Ortofon Blue MM cartridge but project head Alex Rosson says the company is working on a dedicated MC cartridge to be manufactured in Los Angeles.
Also of interest is the dedicated modular MM phono preamplifier also designed and built "in-house". Because of its modular design, it can easily be pulled out of the 'table for either servicing if necessary, or for replacement with other modules currently being created, including one for MC as well as wireless Bluetooth and of course one that just outputs the cartridge voltage so you can use the Runwell with your choice of phono preamps.
We hope to soon have a review sample. The company launched the Runwell today with a full color, full-sized fold-out "Black Friday" supplement with today's New York Times. Shinola will bring vinyl to a new audience by selling the Runwell a non-audio high end retailers like Neiman-Marcus. This is a win-win for everyone—including the city of Detroit and the workers now employed to build the 'table.
<!- ------------------------------------>