Soundmatters' "Moment" Is A Mini Bluetooth Speaker Sensation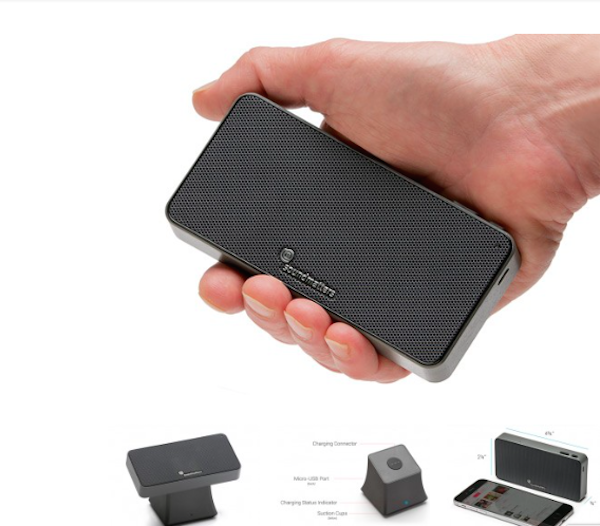 True that Bluetooth speakers are not AnalogPlanet's beat, but over the past few years I've found these devices super-useful for when I jog, or when traveling or just sitting outside during the summer. Longtime AnalogPlanet readers know that for large box Bluetooth speakers I like the ones from
Riva Audio
, but even the smaller of the two is too large for taking on a jog or a hike. For that I've used the
Soundmatters FoxL
, which is a flat-out amazing sounding tiny stereo speaker that uses as a "passive radiator" its flat battery encased in a rubber surround.
The FoxL is small enough to be carried on a jog but the new Moment from Soundmatters makes a better fit for a shirt pocket and is easier to grip in one's hand. It's also in a carbon fiber infused case that's more impervious to damage. Though it doesn't have the FoxL's exterior "passive radiator", something inside the thing has a seemingly large excursion that produces if not bass as deep, bass that's equally satisfying (as long as you're not expecting the impossible).
The Moment's form factor and its pleasing timbral balance, surprising dynamic punch, plus its ability to play ridiculously loud without distortion or compression (for its size and beyond, but in a near field listening situation only) make it a really attractive small portable Bluetooth speaker that I'm comfortable packing in a suitcase without worrying that it might get squashed like the FoxL's protruding speaker grill once did (I took the case apart and pushed it back out but....).
I have taken it on a few recent trips and have enjoyed streamed music in my hotel rooms via iTunes, TIDAL and SiriusXM. The remarkably wide and smooth frequency response produced enjoyable sonics beyond what one might expect from so compact a speaker. The Moment made my trips much more pleasant and without any worries about damage. The Moment's frame is stronger and its flat architecture make it a better suitcase or briefcase fit, especially since it's also surprisingly thin.
It pairs easily with a phone or computer and stays connected over a considerable distance (an adjacent room, but I didn't measure). The built-in magnets allow it to attach to a refrigerator or other magnetically attracted metal surface and it can be charged either via a USB cable plugged directly in, or wirelessly on an Energizer® stand that is normally a $49 option but through January of 2017 comes free.
The Moment has an MSRP of $249 but through January it's $169 including the wireless charger/stand, the angle of which makes it perfect for desktop listening. A fully depleted battery charges in about ninety minutes. A charge is supposed to give you about ten hours of play.
But wait! There's more! I ran into the Soundmatters Veep of sales+marketing at The New York Audio Show. He handed me a Moment to try and said if I reviewed it, I could offer AnalogPlanet readers an additional 10% off on the Moment or the FoxL or any other product you find at the Soundmatters store. Use the promo code: SOMACHEER.
Sound matters was founded by the late, great Dr. Godhead Guenther, who passed away in 2014, and who many of you might know as the founder of the loudspeaker company ADS, best known for compact bookshelf speakers and car audio speakers including the legendary ADS "power plate" speakers developed by Michael Kelly who now owns Aerial Acoustics. Dr Guenther literally was a "rocket scientist" who also worked for NASA. I'm glad the company continues on after his passing, especially with cool products like the Moment, which makes a great stocking stuffer (I'm stuffing mine with one).
Here are a pretty amazing specs, which you will find live up to the claimed numbers:
,Battery Life: up to 10 hours, or more (Bluetooth Off, 76dB @ 0.5m)
Charging Time (Energizer Charging Stand) ~90 minutes to full charge
Weight: 7.0 oz
Frequency Response: 70-20kHz +/-3dB @ .5m
Dimensions:
• Width: 4.75″
• Height: 2.25″
• Depth: 0.75″
Output Level:
97dB @ 0.5m 5V
94dB @ 0.5m 3.6V

<!- ------------------------------------>