Is Swan Song Audio's New Cygnet Phono Preamplifier Worth Its Weight In Copper?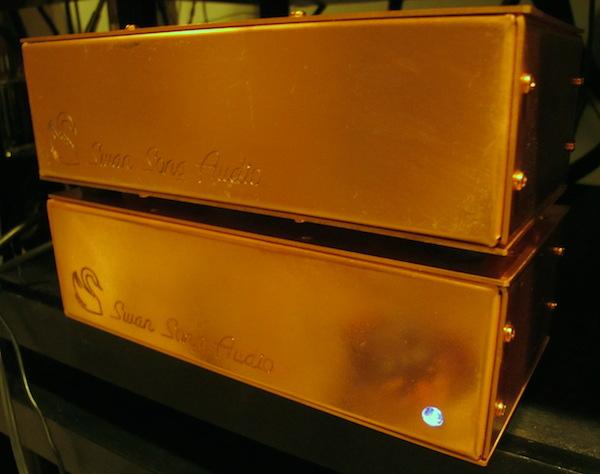 Swan Song Audio (www.swansongaudio.com), newly arrived in the audiophile electronics market will make its show debut at October's Rocky Mountain Audio Festival 2014. Earlier this year Anthony Crocker (who I think at this time
is
Swan Song Audio), emailed and offered for review his Cygnet Phono Preamplifier.
The photos on the company's website displayed an orderly circuit board inside that uses surface mount technology and attention to sometimes fanciful detail outside including using as a power "on" indicator an LED illuminated 7mm Amethyst gemstone.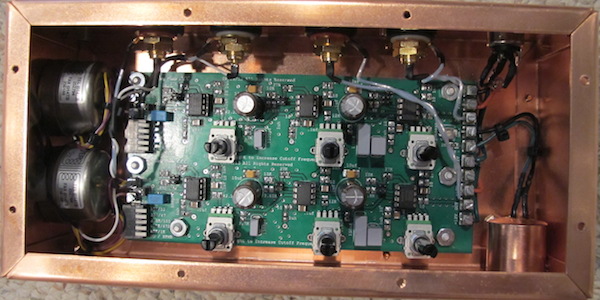 But more attractive I found was Swan Song's "Philosophy" page. It comes across as genuine. The phonopreamplifier primer page contains much useful information about gain, noise, loading and the RIAA curve. It's definitely worth your while to read.
Stereophile requires for a product review a minimum of five domestic American dealers, but analogplanet.com has no such requirement. We're open to reviewing products from start-ups and new companies but we do so with the warning that while products from new companies are often attractively priced, the resale value often will be lower than that of established brands and if the company folds, lower yet—unless you happened upon a short lived product that achieves legendary status but you'll first win the lottery.
The Cygnet is a compact, polished and oxidation-proofed copper chassis design featuring an outboard copper chassis power supply connected to the main unit via a multi-pin umbilical cord. The copper is of course handsome, but it's used because of its shielding effectiveness—5X that of steel and twice that of aluminum. (The photo stacks the two boxes for display purposes only. The two should be separated).
Custom Tailored to Meet Your Needs
The Cygnet's base price is $2100. Add $300 for Sowter 9570Z 1:10 step-up transformers. Add another $300 for the Special Edition version that moves loading, RIAA and balance controls to the front panel, though loading options are reduced from 8 in the standard version (via internally mounted jumpers) to 4.
Because the Cygnet uses socketed op-amps, Swan Song also offers a selection of op-amp upgrades at various price points. They'll sell you a Shunyata Venom 3 S power cord for $75.00 and silver colored screws. You can even customize the "on" indicator gemstone. Seriously.
Unusual and Unique Operating Features
Making the reasonable assumption that cartridges used with the Cygnet can range from 1.mV to 6mV and that amplifier input sensitivity can vary from .25 to 2 volts (a wide range), Crocker's design offers an unusual 30 different gain options to assure optimum matching. The point of this is to allow you you utilize the full range of the preamp or integrated amp's volume control.
Each of the unit's 3 gain stages can be adjusted to low, medium or high gain settings, to optimize both cartridge gain and what the amplifier "sees" for a total of 36 steps (32-61dB) in the standard version and 52dB to 81dB in the step-up transformer equipped version.
In other words, with the standard version you can run both MM and MC cartridges but the step up transformer version is for MC cartridges only.
Once gain is optimized you can adjust channel balance via a +3dB variable gain control but the 0.1% tolerance resistors generally assures that you won't need to make this adjustment.
Even more unusual and perhaps questionable is the end user (that's you) ability to adjust the RIAA filter. While the 500Hz bass turnover frequency is fixed, the 2122Hz treble turnover filter can be adjusted from 1879Hz to 2283Hz, while the 50Hz filter is user adjustable from 37Hz to 60Hz. Obviously the lower and higher filters will have greater effect on low bass and treble response. However, since these are standardized, why would you allow user-adjustability here? Read on!
Setting Up the Cygnet
I requested a review sample that included the $300 transformer option. Otherwise the Cygnet was standard, for a total price of $2400. While the multiple gain stage settings might at first appear daunting, Swan Song's instructions, which come on a USB stick, includes a less than easy to follow Excel spreadsheet. The instructions make it sound simple enough: you open the spread sheet, enter the two numbers (cartridge output voltage and amplifier input sensitivity) and locate the highlighted suggested gain settings. Those are in green in the photo below. Once you open up the unit, what this means might become clearer but it's been made too complicated here in my opinion.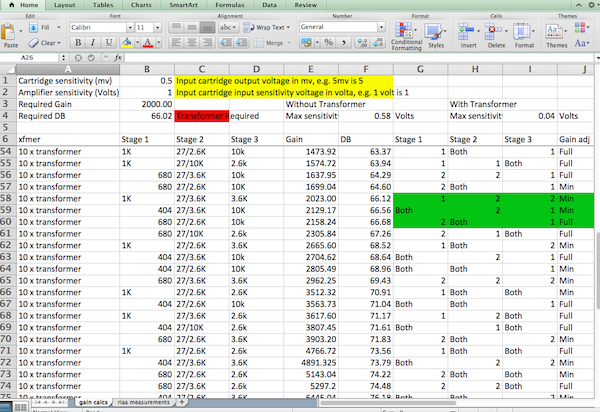 For each of the three stages there are two sets of pins (positions 1 and 2). What's highlighted means, in plain English: Stage 1, jumpers are used on both position 1 and 2. Stage 2, jumper only on position 2. Stage 3 jumper only on position 1. I think the spread sheet could be made more user friendly but if you follow the prose in the directions and look at the manual, the spread sheet and at the circuit board it will be clearer.
Properly set, the Cygnet will provide the optimal gain for the cartridge and for the amplifier's input sensitivity. The Cygnet's adjustability in this regard is unique in my experience. Virtually all phono preamps provide cartridge output gain settings but not overall output gain settings. Swan Song also includes final level trim pots that acts as a balance control but under most circumstances they will not need adjusting.
Five internal dip switches used individually or in pairs set loading and then there are the very unusual RIAA adjustments that act as tone controls. Increase or decrease gain above 2122Hz and add or attenuate the top end.
The manual has an unfortunate typo:
"The first black shaft, on the left when facing the Cygnet, is the upper midrange RIAA setting. Adjusting this to the right will increase the gain of all frequencies above 2122hz. This will help the system to sound more open with more treble response. The first black shaft is the lower bass RIAA setting….."
That is less of an issue than the concept of using the RIAA as a tone control, which I'm less than comfortable with and the fact that there's no click or detent or other indicator showing where the 2122Hz and 50Hz settings are on the two potentiometer shafts. So if you get a Cygnet and decide to "play" with these, first carefully mark the starting position!
Once you've confirmed your settings and screwed on the top plate, cable connections—no matter how large the plugs or thick the wire—— are facilitated via the use of recessed high quality Neutrik RCA jacks. All internal signal path connections are via .999% silver wire.
By the way, the claimed specs for this unit (see website), particularly in terms of noise and distortion are impressive regardless of price.
Sound
Analogplanet.com readers overwhelmingly voted in a blind test among moderately priced phono preamps for the $1100 Lehmann Black Cube SE II and I concurred. It produced both warmth and detail plus excellent spatiality. The easiest way to describe the Swan Song Cygnet's sound would be take a Black Cube SEII, expand laterally somewhat the soundstage, maintain much of the Cube's wonderful warmth but in order to increase tonal neutrality carve away the warm part that made its character obvious, increase transient speed and clarity and improve transparency.
And where does that bring you? Next door to the similarly priced LKV Research Phono 2 SB. These two similarly priced products do not sound identical or look identical but they operate on a level playing field in that both start with ultra-low noise floors.
One offers balanced operation and balanced and SE inputs and outputs (LKV) one doesn't, one is op-amp based (Swan Song) and one is based upon discrete transistors. Both designers advocate well in the instruction manuals and information blurbs for their choice, which is as it should be.
Timbrally, the LKV is somewhat leaner and more "analytical" and the Swan Song is somewhat warmer; the LKV slightly "faster" the Swan Song lingers longer on the note.
ORG's outstanding double 45rpm reissue of Peter, Paul And Mary's eponymous debut album (Warner Brothers WS 1449/ORG 069) arrived during the evaluation (this one and In the Wind were mastered from the original tape not a copy and they sound it!). The gold label original issued May of 1962 is a sonic gem engineered by Bill Schwartau. It places the men L/R (Paul Stookey usually on the right channel, Peter Yarrow on the left) and Mary center stage. All are closely miked and sound as if they are in your room as opposed to you being in the studio, which is how Kingston Trio albums were miked—plenty or reverb, somewhat distant vocals often bunched in the center. Play this album with headphones and the perspective is almost too close!
Make no mistake: this was more a #1 pop album that sold more than 2 million copies than a "purist" folk album, with PP&M and Milt Okun curating great tunes and delivering them with chill producing exuberance and stunning 3 part harmonies. Yet PP&M delivered the material with sincerity sufficient to produce emotional resonance with the material. They epitomized clean cut "coffee house" and that is from where they came.
I first evaluated the reissue with the Lyra Etna cartridge into the Swan Song configured for a .5mV cartridge and a 1 volt sensitivity amplifier. Load was set to 100 ohms.
Without reference to the original pressing I thought the reissue produced greater three-dimensionality, more low level detail, better textured and cleaner transients and a timbral balance that sounded remarkably similar to the original as I remembered it. The guitars were far better separated in space and more cleanly delineated than I'd ever heard them. I also thought I heard greater transparency and detail slightly at the expense of a pleasing warmth heard on the original but after a full play I decided the reissue betters the original by a wide margin.
Then I put on the original and I ended up coming to the same conclusion. The original sounded more similar than different to how I remembered it sounding through my considerably more expensive reference Ypsilon VPS100, which is transformer, tube and LCR based.
All of this says a great deal about the Swan Song's resolution, tonal balance and dynamic performance, though once I listened through the Ypsilon the differences were obvious in both micro and macro dynamics and in terms of ultimate "see through" transparency and overall stage expansiveness.
. But was it a more than 10X price differential? Well yes in the context of my system and listening experience but I have to admit I listened happily to the Swan Song Cygnet for well more than a week without switching back to my reference and wasn't made overtly aware that I was listening to a product not in the price league of the rest of the system.
Conclusion
The Swan Song Cygnet is an attractive and distinctive looking, well-made, compact phono preamplifier that as a few quirks best dealt with cautiously. I wouldn't mess with the RIAA settings for instance, unless I knew precisely how to return to "ground 0" before twiddling either knob. The Cygnet's adjustability in terms of gain and sensitivity matching are also unique and very useful in some circumstances. While the engraved script on the cover's underside has a "home-made" quality, the surface mount board components and high quality parts used throughout indicate a manufacturer serious about high technology. Incidentally, hopefully today, audiophiles have dropped their prejudices against SMT (surface mount technology) and the use of op amps for gain. When carefully selected and matched they perform well as this phono preamp, the Black Cube SE II and the battery powered $5000 ASR Basis Exclusive I reviewed way back in 2003 that's extensively updated and considerably more expensive today. It was the first high performance op-amp based phono preamp I'd heard.
So now I've reviewed on analogplanet two "factory direct" similarly priced phono preamps priced at around $2500 give or take a few hundred. The standard $2100 Swan Song Cygnet should have sufficient gain for all but the lowest output MC cartridges and based on the transformer equipped one reviewed here, it should be a sweet-sounding option.
Which would I choose if given the choice between the LKV Research and the Swan Song? You shouldn't care what I'd choose. And I'm not sure which I'd choose. Were my system balanced throughout I might lean towards the LKV. Otherwise I might lean the other way. The LKV offers greater transparency tending towards the analytical, the Swan Song offers greater richness and smoothness tending towards warmth but both get out of the way once your ears adjust. Neither produced gross colorations.
Designer Crocker supplies the Cygnet in a really nice "road case". He tests and listens to each unit for a considerable time before shipping to the customer.
Having spent a considerable amount of time (months) listening to the Cygnet in a variety of systems I can understand why he does that. He's created a really find sounding phono preamplifier. Whatever Mr. Crocker's background, it's obvious that the Cygnet was designed by someone who listens and not by a technocrat who only measures. He's produced a phono preamp that has excellent claimed measurements and sounds as good as it's said to measure.
Being mindful of the cautions to be considered and benefits to be derived when buying from a new company, I'd think once you've seen and heard the $2100 Cygnet you'd agree with my conclusion that buying one is a chance definitely worth taking.
<!- ------------------------------------>