The Tenth Annual Manila Hi-Fi Show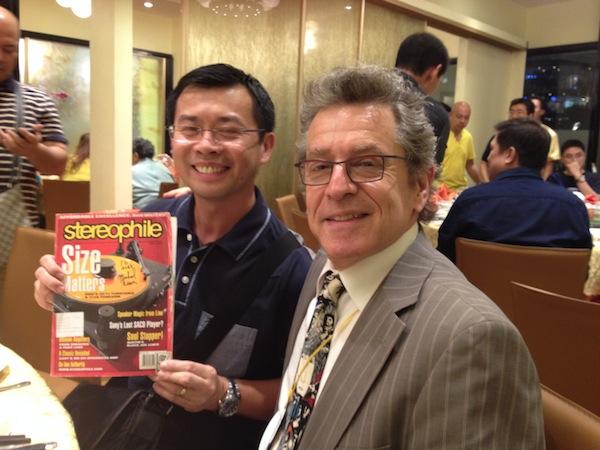 The Tenth Annual Manila Hi-Fi Show took place November 9th and 10th against a back-drop of an impending Typhoon. The multi-island nation has been hit by such storms before, but never one this big. In fact Yolanda as it was called in The Philippines, may very well be the biggest storm ever recorded on planet Earth. No one imagined it would cause such devastation and take so many lives.
The storm hit Friday but was hardly felt in Manila where it rained. There was no wind. The show would go on, though the show organizer Tony boy De Leon acknowledged that attendance might be down somewhat as audiophiles living on adjacent islands might not be able to fly in for the event.
Manila, The Philippines is a modern city filled with eye-catching skyscrapers and an abundance of enormous shopping malls as well as pockets of third world poverty, most noticeable around the airport. Filipinos do like to shop and the malls I visited were packed with middle class shoppers no different than the ones back home in NJ. shopping at many of the same stores. They also really like hi-fi.
The show began a decade ago as a record swap meet and has grown over the years to take up two floors of the "high end" Dusit Thani hotel.
Mr. De Leon emailed me last summer and invited me to attend and present a turntable set-up seminar. It sounded like an adventure worth pursuing. I asked him how many people there knew who i was. I won't repeat his response because it will sound self-aggrandizing but I was sure he was exaggerating in order to entice me to say "yes", which I did.
I didn't know what to expect of the show or of Manila, not to mention how I would be greeted but it was overwhelming on all counts. I was hosted by a few of the city's fervent audiophiles and got to hear two very fine systems, one of which was an enormous McIntosh stereo/home theater system braced by a pair of Wilson Watch Dog subwoofers in a room almost as big as a movie theater and I'm hardly exaggerating.
I was taken out for a few dinners as well. The food in Manila, both the ethnic and gourmet varieties, is excellent and my host does like to eat, though he was stick-thin. It was 3 squares daily including three at Chinese restaurants very different from the ones I'm used to. Slimy sea cucumbers? I passed. But I did get over my revulsion and eat a pigeon. They came on a large plate, including the heads. If you want to know what the presentation looked like, think of birds after an oil spill (I'll get in trouble for that one!).
The people with whom I had dinner and met throughout my stay were as passionate about audio as any I've ever met. The conversations mostly reminded of audio-talk in America during the early 1980s. Lest you think perhaps the Filipinos are behind the times and the audio-lethargy gripping America will soon come their way, you'd know otherwise if you walked the corridors at this show. The demographic was both young and way into vinyl. And it wasn't just the guys. Young girls were buying records in numbers I've never seen at an audio show.
As for what was on display, it was a mix of the familiar and some unfamiliar plus a local DIY contingent that the show organizer is happy to help subsidize. It helps make the show both interesting and fun.
The Dusit Thani is a great venue in the heart of Manila. When I arrived The 7th International Rice Genetics Symposium was about to wind down. It was about feeding the world. The Hi-Fi Show was about feeding the soul.
I presented a turntable set-up seminar on Saturday afternoon to a full house and sold and autographed dozens of DVDs. I was interviewed on a local television network and by the local online press. As for how I was greeted, all I can tell you is that it was beyond my most ego-inflated expectations. The Filipino people are an incredibly warm and gracious bunch. It was an experience I will never forget and I hope, like General McArthur, to return, but to another hi-fi show, not to liberate the people! They liberated me while I was there. There were a few Americans there, manning the rooms, but the one I'll not soon forget was a big 'ol Southern "dough boy" not associated with the show who came up to me at breakfast and drawled "Hey, I took one look at you yesterday in the lobby and I told my friend over there 'Here comes Dustin Hoffman!'". "I'm walkin' here! I'm walkin' here!", I responded. More YouTube videos to follow.
<!- ------------------------------------>