Thorens TD 1601 Turntable—It Might As Well Be Sprung Part II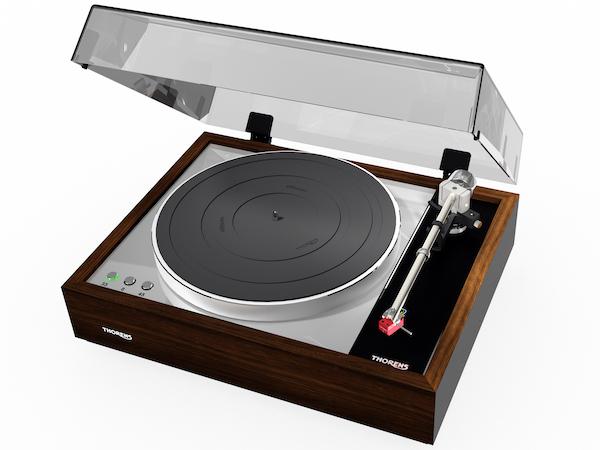 TP92 Tonearm
The familiar TP92 is a 9 inch arm featuring a "highly precise" internally damped aluminum tube. There's also an anti-resonance ring precisely placed around the arm's exterior. The arm's effective length is 232.8mm, overhang is 17.8mm and the offset angle is 23.66 degrees. The arm's effective mass is 11 grams, making it best used with a medium to low compliance cartridge. A magnetic system easily sets anti-skating via a small knurled knob and an easy to read indicator. SRA/VTA is also easily set using a supplied tool used to loosen an upper locking ring after which each rotation of the lower fluted ring changes SRA/VTA by 1mm. The head shell arrangement is the now familiar sliding cartridge carrier that sets overhang and is then locked. Azimuth (±5 degrees) can be adjusted by carefully loosening the allen bolt on the bearing housing top and then rotating the arm tube. This also provides additional overhang adjustment of ±3mm. A newly introduced heavier counterweight allows the arm to handle cartridges weighing above 11 grams.
Set-up and Use
Setting up the TD 1601 was quick and easy so I won't go into detail other than to say that the spring system comes factory "tuned" and pre-adjusted. If you wish to play with the spring suspension, you can knock yourself out doing so, but unless the platter level is off, (not likely!) or not pistonic when gently pressed at platter center do yourself a favor and leave it alone! And even then, unless you are experienced doing this kind of adjustment you are best off contacting the dealer to do it.
Using the totally manual TD 1600 is easy and pretty much self-explanatory, with but one caution especially if you've not previously used a sub-chassis suspended turntable: be carefully not to press or make contact with the black tonearm board while lowering the arm or after it's on the record. Bumping into it can set in motion the sub-chassis producing some nasty stuff from your speakers! If you are in the habit of resting or steadying your hand on the tone arm board area when doing manual cueing with your previous un-suspended turntable, break that habit fast!
That inconvenience is well worth it because the isolation produced by this system is (and I hesitate using this word), perfect. You can bang on the platform the 'table sits on, you can bang on the beautiful lacquered wooden frame and you can do likewise with the satin aluminum top plate and absolutely nothing will be transmitted to the playback system, nor will the stylus in the groove be at all affected. Just don't make contact with either the platter or the arm board!
Push 33 or 45 and the platter spins. Push 0 and it stops. You can go directly from one speed to the other without pushing stop.
The 1601 Semi-Automatic Function
The extra $500 gets you semi-automatic convenience. The 1600's arm is equipped with a standard cueing lever. The 1601 features a built-in electric lift mechanism and contact-less optically triggered auto stop function in which at the end of the side the arm automatically lifts and the platter stops spinning. You also use it to begin play by moving the arm over the record and pushing the "Lift" button. A ring around the button lights green when the arm is in the "up" position and red in the "down" position.
If the arm rises before a long side ends, there's a way to defeat and restore the auto-system, as well as a way to adjust by running time after which the auto lift function actuates (not going to detail that procedure here). Whether or not this is worth the extra $500 is, of course, your choice.
Firm Yet Supple Sound Set Against A Quiet Backdrop
Thorens supplied the turntable with a Goldring Ethos low output (.5mv) cartridge. This is a "sleeper" $1495 cartridge I know well because I almost published a review that was mostly written when Goldring's American distribution changed. In fact, as I write this if you go to "the usual suspect" sites it will say "no longer available" or "discontinued" but that's not the case. The importer now is American Audio Video, which also imports to America Thorens.
I also chose to use the new iFi micro iPhono3 ($999), producing a package price of around $6000 for semi-automatic turntable, phono preamp and cartridge. Not "chump change" but also not "break the bank" money either.
First things first: I chose to review the 'table "as is", not optional mats or record clamps. Second things second: the TD 1601 looks and feels like a high quality piece of kit, as opposed to an attractive shell covering something specious. It feels "whole" and sounds that way as well.
Immediately apparent is the quiet produced by the near-perfect isolation. Out of the black comes gracefully articulated detail and an overall smooth yet not soft sonic picture. Attack is clean—not as "fast" as some un-sprung tables, but not at all soft, sustain generous as suspended turntables can produce and decay into black is graceful and equally generous. Most importantly the presentation is top-to-bottom coherent. If you dig this kind of full, tactile, generous sonic picture you will like all of the turntable's presentation.
The bottom end has when called for a delicate, soft, suave touch. When the music features tighter, faster electric bass, the TD 1601 doesn't slow it down or turn it "plummy". The top to bottom timbral balance is seamless and sufficiently transparent and resolving for me to accurately compare the original promo copy pressing of Bob Dylan's Oh Mercy (Columbia OC 45281) with Mobile Fidelity's just released double 45rpm edition with a "Mobile Fidelity Sound Lab" top banner, not an "Original Master Recording" banner, meaning it was cut from a secondary digital source (the recording was originally mixed to and mastered from a "redbook" resolution DAT). The whole thing was recorded on Lanois kitchen table!
The original DMM cut by Greg Calbi has a faster, leaner and more direct sound that emphasizes the production's rhythmic qualities and brings Dylan forward in the mix. The Mo-Fi is bass-heavy and thick, emphasizing the New Orleans atmosphere and pushing Dylan back as if he's singing from a hallway. My point though, is that the TD 1601 is reliably neutral and fast enough to easily distinguish between these two versions. I confirmed that on my big rig.
The 1601's top to bottom performance was suave, sophisticated and made for totally pleasurable listening with every kind of music. Unlike some other suspended designs I've heard, that sacrifice rhythm'n'pacing for isolation background quiet, the TD 1600 strikes a well-positioned balance between the two.
Its presentation of dynamic gradations was impressive, especially given the relatively modest cost (I realize that in Stereophile $3000 is "budget" but here and generally online $3000 is "luxury").
If you like a leaner, faster sound there are non-suspended options, but most require an isolation accessory to optimize performance. Sometimes suspended designs can also produce less than ideal speed linearity due to the aforementioned "porch glider effect". I played a side of the Nimbus Direct to Disc Beethoven Piano Sonatas Volume One played by Bernard Roberts (D/C 901) paying careful attention to sustained note decay among other things and heard great stability and long-lingering decay set against a black backdrop. The TP92/Ethos also tracked the most difficult to negotiate passages. The cartridge/'table/phono preamp combo produced a believable picture of the Steinway Model D Concert Grand set against the natural acoustics of Nimbus's recording studio.
Honestly, based upon what I'm hearing now from the TD 1600 a direct comparison with a "tricked out" Linn Sondek would be interesting.
Conclusion
Simply put: the newly reorganized Thorens' attempt to reclaim with the TD 1600/1601 the original TD 160's rich legacy, both mechanically and sonically is a complete success. I'd say if all you listen to is rock, you might be more satisfied with a non-suspended "snappier" sounding 'table (emphasis on might), but if most of what you listen to is acoustically based jazz and classical and three grand is your target price point, The TD 1600/1601 should be on your radar. You'll appreciate its sonic performance, high build quality and outstanding cosmetics.
Here's what it (and the Goldring Ethos and iFi iPhono3) sounds like on a record that's not been cleaned and that I won't identify!
<!- ------------------------------------>