Too Much Death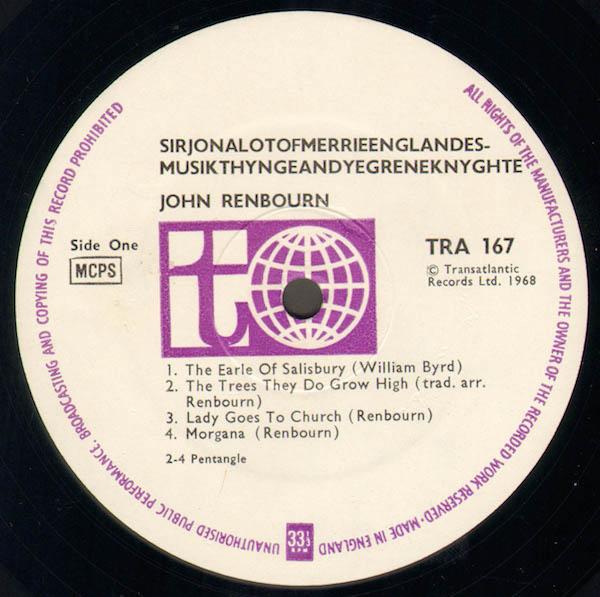 There's way too much death in the air lately. It's always there but it's coming now in Tsunami waves.
British guitarist John Renbourn died on Thursday. Got the news yesterday. He was 70. I also got the sad news that my friend and fellow Stereophile writer Bob Reina passed away yesterday. He was 61. On March 21st, Free's extraordinary bassist Andy Fraser died. The great Clark Terry passed away February 23rd at 94.
Left Bank keyboardist Michael Brown who wrote "Walk Away Renee" among other "baroque rock" tunes also died on March 21st. He was 65. Daevid Allen, founder of Soft Machine and later Gong, also died recently at age 77.
Musicologist/author/blues popularizer (etc.) Samuel Charters, who produced the great Country Joe and the Fish Vanguard LPs as well as the extraordinary three LP set Chicago: The Blues Today! died March 17th. And jazz trumpeter Lew Soloff who played that famous "Spinning Wheel" solo passed away March 13th.
I'd meant to write a Clark Terry obit, but time got away from me and then the others started dying. I was going to sit down today and write about my friend Bob Reina but then the Renbourn news hit. In fact, I was preparing an obit for the late Paul Rosenberg, who along with the late Tony Federici co-founded Mondial/Aragon, the electronics company that began a few decades ago by producing a reasonably priced powerful amplifier designed by Dan D'Agostino (still alive), who, at the time, designed far more expensive electronics for his company Krell. The industrial design was by Robbii Wessen (still alive), who, during its heyday, did most of the cover art for The Absolute Sound.
I looked forward to going to the New York Auto show every spring with Federici and Rosenberg. We spent the afternoon and evening talking cars, not audio and it was fun. Rosenberg also played guitar in the annual Mondial band extravaganzas in which I participated as one of the vocalists. I've got some of the tapes and CDs and really should put some of it online.
But now, I'm not going to memorialize any of them. It's just too much over too short a period of time.
Tomorrow I'll go to the funeral home for Bob Reina's "viewing" and then on Wednesday to his funeral.
Most of his friends had no idea he was sick. He didn't want anyone to know he had a particularly aggressive form of esophageal cancer. I had no idea. Bob was a Wharton graduate, trained musician, serious oenophile, audiophile and of course husband and father.
And then there were the 150 lost in that plane crash suicide. Like I said, too much death.
But life goes on: The British Transatlantic edition of that Renbourn album is a short, pleasant, incredibly well-recorded album as as all of Renbourn's Transatlantic recordings, solo, with Bert Jansch and of course with Pentangle. The American Reprise editions, with unnecessary added studio reverb are mediocre, while the Lost Lakes 'digitally remastered' edition of Sir John A lot of is what originally led me to say "Digital preserves music like formaldehyde preserves frogs: you kill it and it lasts forever". Except that it doesn't, nor do any of us.
Time for a Renbourn/Pentangle marathon.
<!- ------------------------------------>