This Turntable Was Amazon's Xmas Season Best Selling Home Audio Product!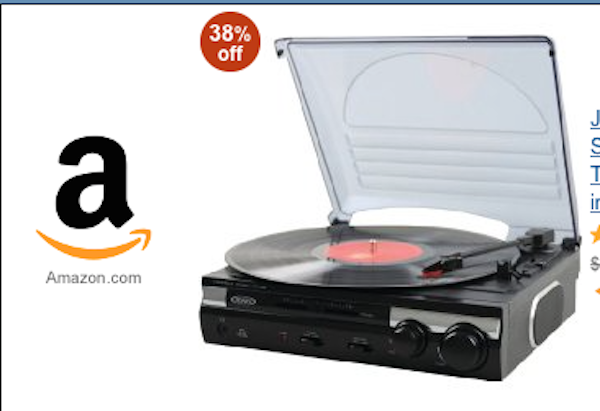 Amazon recently announced its top-selling home audio product of this past year. It was this Jensen JTA-230 3-speed stereo turntable with built-in speakers that includes an A/D converter and USB port plus an aux input for connecting a digital media player. All for around $50.00.
Amazon's second best seller was Yamaha's RX-V677 7.2 channel Wi-Fi network AV Receiver with built in support for Apple's wireless AirPlay feature.
In other words, vinyl beat Apple. This is both good news and bad news. At least people buying the Yamaha receiver will not be chewing up their files with each play. The same can't be said for the turntable. If buyers are truly using it to archive their vinyl and never again playing the record, well that's somewhat better, though they will not exactly obtain an "archive quality" transfer but at least they won't continue the chewing.
The problem here is that buyers may be using the Jensen to play records—even new ones—and those people will soon discover that "vinyl records quickly wear out". So it will be a short term good thing and a long term very bad thing.
My advice always is to save up for something that will take good care of your records rather than buying "on the cheap". There's something very wrong with buying a $50 turntable to play a $30.00 copy of DSOTM.
<!- ------------------------------------>