U-Turn Pluto Versus Schiit Mani: The Votes Are In!

With nearly 500 votes cast, File "A" received 23% (104 votes). File "B" garnered 54% (240 votes), while 23% of respondents (103) felt the two phono preamplifiers were either "identical" sounding or it was "too close to call."
Thanks to everyone who voted in this non-scientific "straw poll". Clearly the overwhelming favorite was File "B". File "B" was the $89 U-Turn MM phono preamplifier. File "A" was the $129 MM/MC Schiit Mani.
Both of these budget-priced phono preamps sounded very good to me heard "live" on a wide variety of material.
Just before writing this I played a double 45rpm direct to disk Groove Note release The Bill Cunliffe Trio Live At Bernie's (no catalog number) and the triple 45 rpm Analogue Productions reissue of Nat "King" Cole's classic Love is the Thing (SW 824) and based on that and the other listening I did, "Buelligan"'s assessment in the comments matches well in most ways with what I heard:
"Listening over my computer sound rig(AKG-K701s, Audioengine D1 DAC, Fiio Kilimanjaro Amp) A had a brighter and more dynamic presentation, while B seemed a bit easier in the upper mids/lower treble, and somewhat more solid and defined. Also, the lateral location of the voices are very slighly shifted to the right. The sound I would prefer would have the best of both, but B edges out A for me."
The Schiit was more dynamic and somewhat "punchier" in the bass. It was also definitely brighter on top with a bit of midband suck-out relative to the top and bottom.
The U-Turn was richer in the midrange and overall I found it more pleasant to listen over the long haul with the Shure M97xE, to but these are both very well made and compared to the usual ugly black boxes at this price point, visually remarkably appealing especially the U-Turn's stainless steel case.
The Cunliffe record was rhythmically more pleasing through the Schiit but the Nat "King" Cole was way better through the U-Turn. Nat's voice was rich and full sounding through the U-Turn and somewhat thin and gritty through the Schiit. Of course how this all plays out on your system is another story but the voting results and comments make a good case for those results being nearly universal.
Schiit says their Mani is 100% made in U.S.A. It comes with a money back guarantee. If you don't like it, you can return it within fifteen days of purchase for a refund minus a 15% re-stocking fee.
Schiit Mani Inside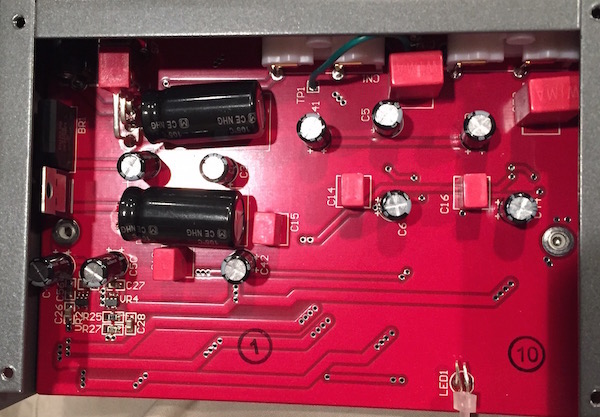 U-Turn Pluto Inside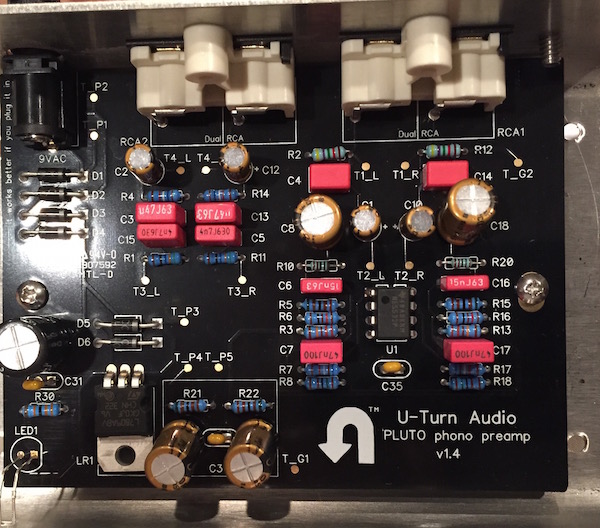 Obviously much of the Mani's components, including the IC gain stage chips are mounted to the bottom side of the board and thus are not visible.
U-Turn says its blank boards are made in China, with various components made overseas (Japan and Germany—1% resistors and 5% WIMA film capacitors). All board-stuffing and assembly as well as the chassis are made in USA. The U-Turn Pluto includes a 3 year warrantee.
Looking at the U-Turn Pluto both outside and in makes a strong case for excellent value for the money and high design competency. If you are MM at this time I'd get the $89 U-Turn. Why pay for something you don't now need? You can always add a step-up transformer or "head amp" to add a MC cartridge or just get a new phono preamp altogether. Speaking of something you don't need, the U-Turn also incorporates a subsonic filter, which I think is a smart thing considering the turntables likely to be used with an $89 phono preamp.
With two levels of MM gain (30dB and 48dB) the Schiit is somewhat more versatile though you'll only need the lower gain for very high output MMs like the Deccas.p> U-Turn Pluto Information
U-Turn Pluto Specifications:
Input impedance 47 kΩ
Input capacitance 100 pF
Gain 36 dB @ 1Khz
THD < 0.005% (A-weighted)
S/N ratio 90 dB (A-weighted)
RIAA accuracy +/- 0.2 dB (20Hz-20kHz)
Crosstalk -80 dB (20Hz-20kHz)
Dimensions 5.8 x 1.6 x 3.6"
Weight 0.9 lbs

Gain 1 = L, Gain 2 = L (Decca Mode)
Gain: 30dB
THD: <0.005%, A-weighted, at 1V RMS
SNR: >90dB, A-weighted, inputs shorted
Crosstalk: -75dB, 20-20kHz
Sensitivity: 9mV for 300mV output
Overload Margin: >20dB
Gain 1 = L, Gain 2 = H (Standard MM Mode)
Gain: 42dB
THD: <0.008%, A-weighted, at 1V RMS
SNR: >82dB, A-weighted, inputs shorted
Crosstalk: -75dB, 20-20kHz
Sensitivity: 2.3mV for 300mV output
Overload Margin: >20dB
Gain 1 = H, Gain 2 = L (Low Output MM/High Output MC Mode)
Gain: 48dB
THD: <0.01%, A-weighted, at 1V RMS
SNR: >80dB, A-weighted, inputs shorted
Crosstalk: -75dB, 20-20kHz
Sensitivity: 1.3mV for 300mV output
Overload Margin: >20dB
Gain 1 = H, Gain 2 = H (MC Mode)
Gain: 59dB
THD: <0.03%, A-weighted, at 1V RMS
SNR: >70dB, A-weighted, inputs shorted
Crosstalk: -75dB, 20-20kHz
Sensitivity: 0.3mV for 300mV output
Overload Margin: >20dB
Input Impedance: Selectable 47 ohms (typical for MC cartridges) or 47k ohms (typical for MM cartridges)
RIAA Accuracy: +/- 0.2dB, 20-20kHz
Output Impedance: 75 ohms
Topology: Fully passive RIAA network with ADA4897 and AD8066 gain stages, thin-film resistors, and film capacitors throughout
Power Supply: "wall wart" style 16VAC transformer, regulated +/- 5V rails
Power Consumption: 4W
Size: 5 x 3.5 x 1.25"
Weight: 1 lb
<!- ------------------------------------>