U-Turn's Orbit Theory Turntable Transforms High Performance, Imaging, Dynamics, and Tonality Expectations Into Playback Reality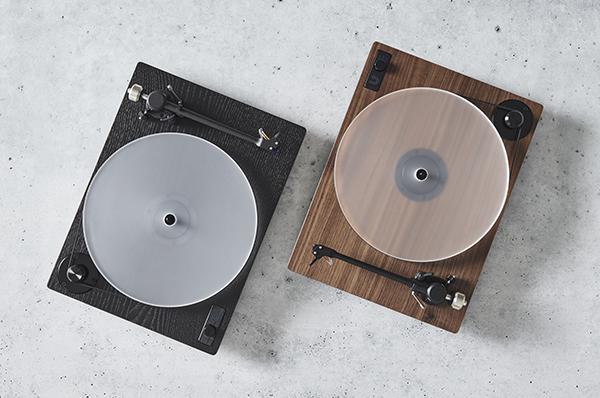 Did you know that U-Turn Audio's original Orbit turntable, which sells for $199 including cartridge, has sold a walloping 125,000 units to date? The Orbit's solid build quality — made entirely in the U.S., including the tonearm — plus easy setup and reliable performance made it a no-brainer purchase for post-MP3 young adults getting into vinyl for the very first time, not to mention veteran LP spinners pulling out their tattered OG copies of Kind of Blue and Meet The Beatles from their own (or perhaps their parents') dusty attic collections.
The popularity of U-Turn's Orbit turntable signaled and/or paralleled the back-to-analog shift in the way people imbibed music. This, in turn, fired a demand for stylus cleaners, levels, turntable mats, cartridges (MM and MC), lights, phono preamps, record cleaners, and the like. Even the big boys on the entry-level analog block — think Rega, Pro-Ject, and Music Hall — saw product sales moving in the right direction.
And now, this Woburn, Massachusetts-based company has seen fit to introduce the U-Turn Orbit Theory, a new turntable we previewed back in late August that has an SRP of $999 — a sign the company not only knows how to design quality turntables, but also understands the proper ceiling to hit when the price point is a factor. With all this in mind, let's dive a bit deeper into the specs and features to see what this Orbit Theory 'table is all about.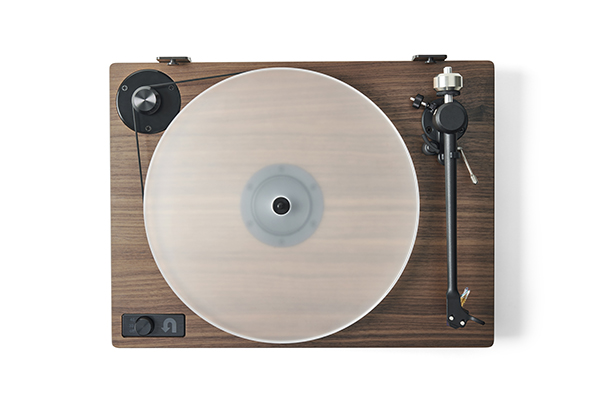 Stats and Facts
A visit to the U-Turn website reveals the following statement regarding the new Orbit Theory turntable: "Our next-generation turntable. Engineered for uncompromising playback." Following the PR copy, it's noted that the Orbit Theory's OA3 Pro tonearm with one-piece magnesium armtube comes with an included Ortofon 2M Blue cartridge. (If you want the Bronze cartridge, the SRP rises to $1,249.)
Other Orbit Theory features include an ultra-quiet motor with electronic speed control (33/45rpm), grooved acrylic platter with precision aluminum spindle, adjustable-height aluminum feet with Sorbothane for vibration isolation, natural hardwood plinth in ebonized oak or walnut, and an all-new seamless silicone belt.
Note that a number of more expensive turntables don't come with adjustable feet, acrylic platter, or a domestically sourced hardwood plinth — nor with the option of said plinth having a rift cut walnut or ebonized white oak finish to boot. At $999, you're paying less than the monthly nut on a rent-stabilized Manhattan apartment to enjoy prime vinyl playback. (Also note: Adding U-Turn's internal Pluto 2 phono preamp increases the price to $1,069. More on that in a bit.)
U-Turn delivers the Orbit Theory or any of their turntables free of charge. The 'table also comes with a three-year warranty and a 30-day return policy. Perhaps best of all, you have the knowledge that your cash is going directly to the 25 full-time employees at the company's Woburn, Massachusetts plant — always a plus in our book.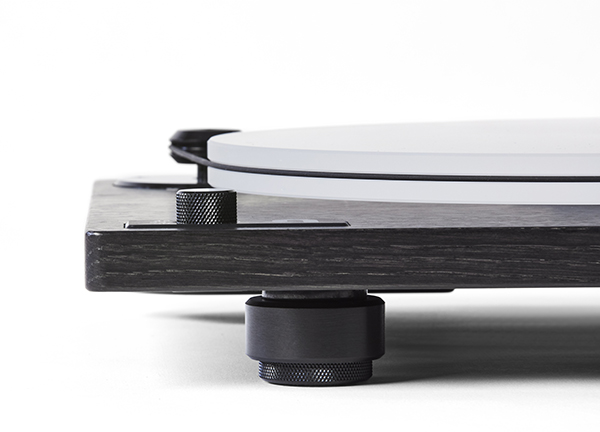 To clarify a few more of the facts about the Orbit Theory, I spoke with U-Turn founder Ben Carter, who in turn relayed my questions to principal designer and co-founder Bob Hertig, the man who designed the original Orbit series. (Electrical design was performed by Carter's longtime electrical engineer, Brian Coate.) The following responses I got are shared here in direct Q&A form.
AP: Tell me about the phono preamp, which is an add-on option with the Orbit Theory.
Ben Carter: We offer a built-in version of our Pluto 2 phono preamp as an optional add-on for Theory. The cost to add the built-in preamp is $70. It is an MM preamp with input impedance of 47k and capacitance of 100 pF. (More info on the Pluto 2 preamp can be found here.)
AP: U-Turn is serious. You design your own tonearm. What goes into that?
Bob Hertig: We've been designing our own tonearms since we launched the first ever Orbit 10 years ago. So much goes into engineering a tonearm — geometry, bearing design, material selection, and more. We use CAD software to design every part of the tonearm assembly and to begin the initial design analysis before building anything. Once we have an initial design, we prototype our designs in house, using our machine shop and 3D printers. From there, we test the design, make changes, and repeat the process until we are happy with the result.
Much of Theory's performance was verified using an Audio Precision audio analyzer. A lot of what goes into the design can be determined mathematically and proven using measurement equipment. In the end, we made sure to test the turntable on a variety of speakers and amps, but I would say we spent the most time using Theory with our Pluto 2 phono preamp and Ethos powered speakers. That way, we are confident that all our products work great together.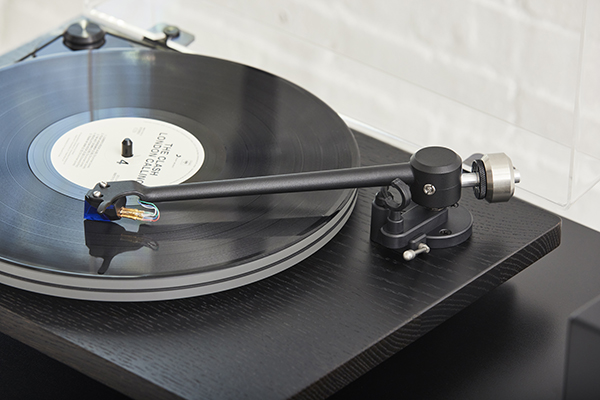 AP: Why a magnesium tonearm?
Hertig: Magnesium is a great material for a tonearm because it's very strong yet incredibly light. It also can be molded into complex shapes, which allowed us to make the entire armtube from the headshell to the pivot from a single piece. The anti-skate rod and anti-skate weight are aluminum. We made the counterweight and cue lever out of stainless steel because it's more dense.
AP: Can you shed light on the bearing?
Hertig: The main bearing is an inverted bearing design. It has a stainless-steel shaft with self-lubricating polymer bushings and uses a machined aluminum spindle.
AP: Why hardwood rather than MDF for the plinth?
Carter: We have two hardwood options for the Theory plinth. The main reasons we chose these woods: They are relatively stable, available domestically, and we think they look good. There is not a significant difference in sound between the woods. Oak is a bit heavier than walnut, so this plinth has a bit more weight to it. The ebonization has no effect on the sound. [Carter adds one other final note: Orbit is assembled in the U.S., but doesn't meat the FTC's "Made in USA" standards since some overseas parts are used on the turntable. That said, the OA3 Pro armtube is fully made in the USA.]
AP: What recordings were used to voice the Theory?
Hertig: Two records I listened to a lot were [August 1958's] Somethin' Else by Cannonball Adderley and a newer record, [June 2022's] Trios: Chapel, by Charles Lloyd. I like to listen to jazz when developing and testing turntables because there is often a mix of loud and soft passaged and difficult to track instruments like horns.
Setup
Duly satiated with the above-gleaned facts, it was time to get this 'table set up for some serious listening. Naturally, I put the Orbit Theory through its paces — first, with a system that made no practical sense per se, but one that told me how the record player would sound with much more expensive gear: namely, an Audio Note Meishu Phono 300B integrated amp ($19,500) and DeVore Fidelity O/96 loudspeakers ($13,500). Then I switched out that hi-finery for a Schiit Ragnarok integrated amp ("fully loaded" with DAC and phono-stage cards; $1,799) and GoldenEar Technology BRX stand-mount speakers ($1,599/pr). I sat the turntable atop a 1-inch-thick Mapleshade platform.
The Theory features a rubbery, tonearm-grasping resting mount, and solid aluminum cueing lever. It was easy enough to set the Theory's anti-skating nut on its small rod projecting from the tonearm base, loop the belt around the acrylic platter, and not use the dustcover. My Feickert Universal Protractor showed the 2M Blue cartridge to be perfectly aligned on the tonearm. After adjusting the counterweight, the cart tracking weight was also spot-on, using my Riverstone Audio Record-Level Turntable Stylus Tracking Force Gauge/Scale. Finally, the BPM iPhone app showed the Orbit Theory to be spinning exactly at 33.38 bpm.
Listening Sessions
And, with all that now in order — it was finally listening time! Out of the gate, the Theory turntable impressed me with its superbly punchy dynamics, extremely detailed and well-layered soundstage, succinct imaging, good tonality, and ample (if not especially weighty) low end. The Orbit Theory would seem to ascribe to the Rega philosophy of less is more — i.e., the 'table resounding with pace, rhythm, and timing. Its clarity and micro-dynamics were impressive, record after record.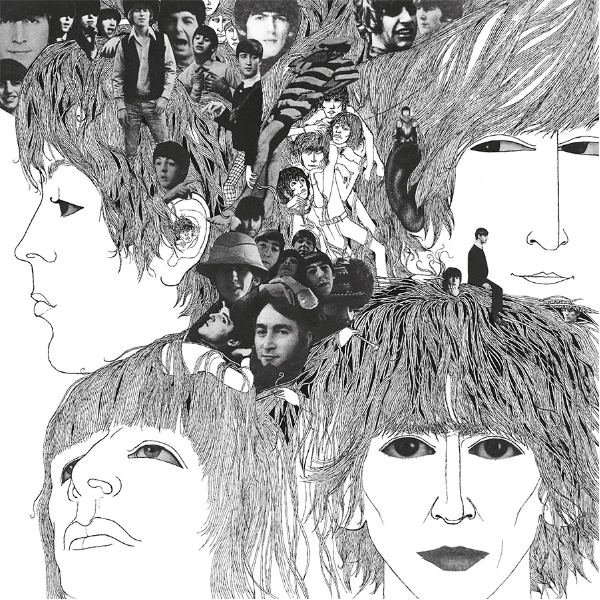 I played the new Giles Martin remix of The Beatles' August 1966 masterpiece Revolver (Apple/UMe 0602445599523), and was greeted with the rock 'em, sock 'em rhythm section of bassist Paul McCartney and drummer Ringo Starr slamming on "Taxman." George Harrison's vocal was clean and crisp, as were the guitars. The background vocals from John Lennon and Paul McCartney were as finely layered and clear as when played on my Thorens TD 124 ID IT 'table with Ortofon SPU GE Mkii cart. Vocals and instruments were clean, nicely full, and seriously outlined, imaging being one of this 'table-and-cart combo's strongest suits.
Vocals on "Eleanor Rigby" and "I'm Only Sleeping" were also crisp, clear, and extremely cogent. While not as large of soundstage or as weighty in low-end depth and warmth as my far more expensive Thorens and Kuzma turntables, the Orbit Theory held its own in clarity, layering, and punch. Transients coming off cymbals, snare drums, and vocals were leading-edge perfect, creating a surgical view of the music that was only revealing, never analytical.
I played "It's Good to Be King" from Tom Petty's posthumous 2020 compilation Wildflowers & All The Rest (Warner Records – 093624899105). The modern soundstage filled my room with, again, a focus on clarity, snappy transients, and physical dynamics. These feats were replicated on "Nothing Personal," from tenor saxophonist's Michael Brecker's 1987 self-titled Impulse! label debut, Michael Brecker (MCA Impulse! MCA-5980). Jack DeJohnette's cymbals could sound tinkly and Kenny Kirkland's piano thin, but the Theory swung hard and played the track with so much killer gusto and immaculate detail retrieval, I could forgive shortcomings.
Frank Sinatra's May 1957 mono release A Swingin' Affair! (Capitol Records W-803) confirmed the Theory's ability to cast a wide soundstage of very good scale. Playing the breakdown section of "Night and Day," the initial rhythm section "chug" was clear as a whistle, soon joined by undulating strings and trombone, and shouting brass, followed by Sinatra's triumphant vocal re-entry. His voice was big, resplendent, beautifully outlined, and crackling with energy. The Theory is a party animal with good manners, a clean presentation, and energy to spare.
Moving to the Schiit integrated amp and GoldenEar separates, I was no less impressed with the Orbit Theory. If anything, the sound of the 'table with the solid-state amp and stand-mount speakers seemed to focus the energy and dynamics while only losing a smidgen of layering profundity.
The Beatles' "Taxman" became more streamlined, with the vocals even clearer (the BRX ribbon tweeters are marvelous transducers, btw), the guitars more ear-gripping, and the bass more detailed, if no deeper. Tom Petty's "It's Good to Be King" sounded more condensed but equally punchy, dynamic, and detailed. I lost nothing of the 'table's spectacular detail retrieval when moving to less-expensive ancillary components, though occasional raspiness in the treble made me wonder what benefits a better cartridge would bring. And, except for a little stridency in the vocals' upper midrange to treble, Sinatra's "Night and Day" lost none of its exhilarating enjoyment and fun.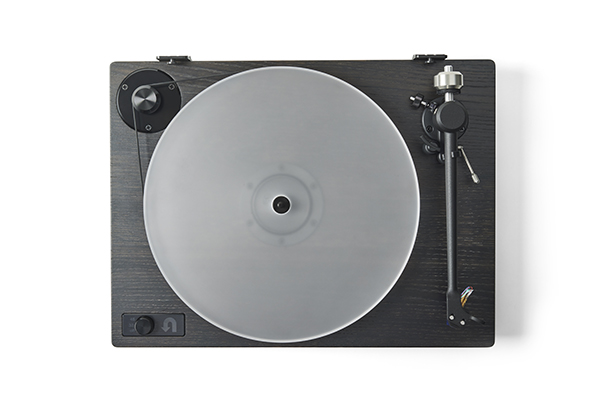 Conclusions
At $999, you might think the U-Turn Orbit Theory turntable would be a giant killer. That said, it has stiff competition. For example, a Rega Planar 3 Manual Belt Drive Turntable without a cartridge will run you $1,125, while the Mobile Fidelity StudioDeck with included cart goes for $1,199. Then there's the Pro-Ject RPM 3 Carbon with cart at $999, the Technics SL-1200MK7-S direct-drive professional turntable albeit sans cart at $1,100, and the excellent Pro-Ject Debut PRO turntable with cart at $999.
So, yes, there are indeed options in this price range, if you so choose. But know this: The U-Turn Orbit Theory turntable delivered mightily in terms of clarity, layering, punch, transients, and physical dynamics. Add in its three-year warranty — which is one admittedly longer than most — the 30-day money back guarantee, and its made-in-the-USA competitiveness, and I'd say the U-Turn Orbit Theory can stride into the Turntable Saloon in Dodge City with its cart held high, a worthy contender in every sense of the word. In short, the performance of U-Turn's Orbit Theory turntable is as real as it gets.
For more information on U-Turn, head to the company's official site. If you want to order an Orbit Theory for yourself, go here to get yours.
Author bio: Former musician, former artist, and former legal wastrel Ken Micallef has written numerous hi-fi equipment reviews for Stereophile and AnalogPlanet, and his byline has also appeared within Mojo, Electronic Musician, and The Grammys. You can also find him at YouTube (Ken Micallef Jazz Vinyl Audiophile).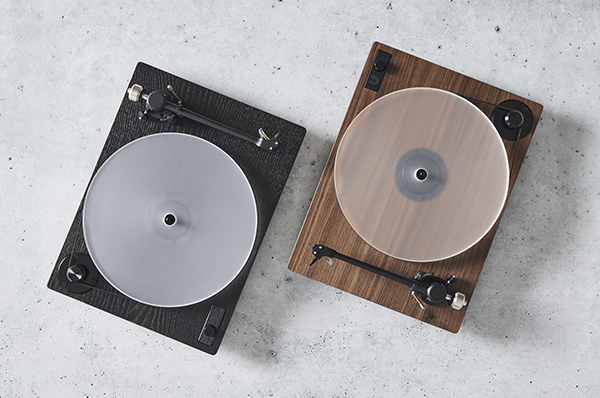 U-TURN ORBIT THEORY TURNTABLE
$999 / $1,069 with built‐in Pluto 2 phono preamp
Features
Tonearm: OA3 Pro molded magnesium armtube with adjustable anti‐skate and dial counterweight
Cartridge: Ortofon 2M Blue with nude elliptical stylus
Cue Lever: silicone‐damped
Ultra‐Quiet Motor: AC synchronous with advanced motor controller
Electronic Speed Control: knob-turned (33rpm / 45rpm)
Drive Belt: seamless silicone
Main Bearing: self‐lubricating polymer bearings with stainless steel shaft; precision aluminum spindle
Plinth: choice of solid hardwood ebonized white oak or rift-cut walnut
Isolation Feet: adjustable‐height aluminum feet with Sorbothane for vibration damping
Platter: grooved acrylic platter with frosted finish
Specs
Dimensions: 16.75 x 12.5 x 4.25 in
Wow & Flutter: < 0.1 %
Nominal Speed: +/‐ 0.5%
S/N Ratio: ‐79 dBA
Rumble: ‐72 dBA
Input Voltage: 115V/60Hz
Output Connection: RCA
Warranty: 3‐year limited warranty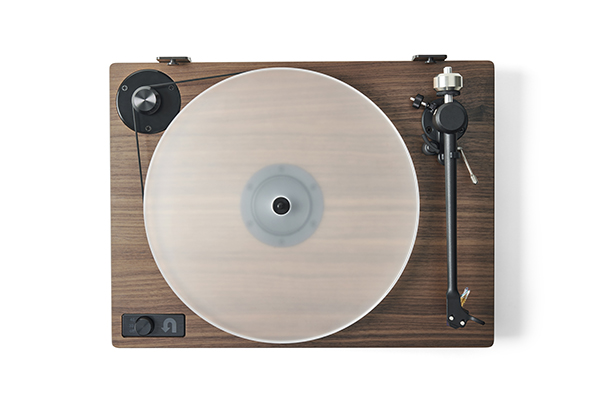 <!- ------------------------------------>